Design Planning
Planning healthcare facilities and improving patient experience with Value Partnerships.
Creating an efficient and pleasant hospital environment for patients and staff is a supreme discipline
Healthcare environments continue to evolve, with new pressures from patients, staff, and payers driving care providers to be more human-centric and value driven. Meeting the challenges of today's healthcare markets require a reexamination of the way care facilities are planned, designed, built, and operated to transform care delivery, and improve patient experience.
Digital technologies are a significant solution for enabling optimization of proposed as well as are existing facilities. Digital Workflow tools, and Virtual Reality (VR) simulations, can offer end-users and design planning staff a realistic view of the conceptual design. This enables them to optimize the efficiency and satisfaction of both patients and staff before committing to "real world" actions. These tools are part of a larger shift toward digitalizing healthcare, which will enable data-based decision-making on both clinical and non-clinical topics.
Key offerings of effective Design Planning partnerships
Creating an efficient and pleasant hospital environment for patients and staff is a supreme discipline.
Complexity of hospitals
shows of already at the design phase. It can be a huge challenge to consider all factors that create well-constructed facilities and efficient processes. Discipline-specific requirements
increase the complexity of designing hospitals and creating layouts that meet needs of all staff and patients while reducing operational costs.
Variety of stakeholder
creates the need for a unique combination of architectural, medical and technological knowledge. Those experts have to work together in one team.
Our Value Partnerships for Design Planning create efficient layouts around the world
We aim to be your partner of choice to design healthcare sites around the world.
Our expertise:
> 7,300 projects in 78 countries worldwide
> 600 multi-modality and departmental layout solutions
Interdisciplinary team of 60 medical planners, architects, 3D experts, workflow specialists, and CAD- and software developer. Furthermore, we closely collaborate with our Value Partners for Healthcare Consulting
We offer:
Greenfield and brownfield solutions
Layout review, redesign and design from the scratch
Workflow simulation and visualization tools
Decades of experience
Partner with Siemens Healthineers too optimize healthcare layouts and transform care delivery
Siemens Healthineers is more than a leading medical technology provider; we are also a trusted partner in facility planning and design. The company has a track record of working with cross-functional teams to develop innovative care facilities and healing environments.

Layout solutions for all clinical departments optimize processes enterprise-wide beyond technology
Value creation for all stakeholders
Healing environment e.g. orientation, access to daylight
Excellent patient experience e.g. path optimization, special cultural requirements
Great working environment e.g. improved procedures, pathways
State-of-the-art and flexible design
Technology adaption e.g. technology replacement
Future growth strategy e.g. usage, throughput, size, patient population
Cost saving e.g. space & functionality, avoid redesign while construction phase
Our solutions for value-creating layouts
Our joint process using the Lean methodology to create a new, validated, and value-creating layout
Optimized design for modalities and clinical departments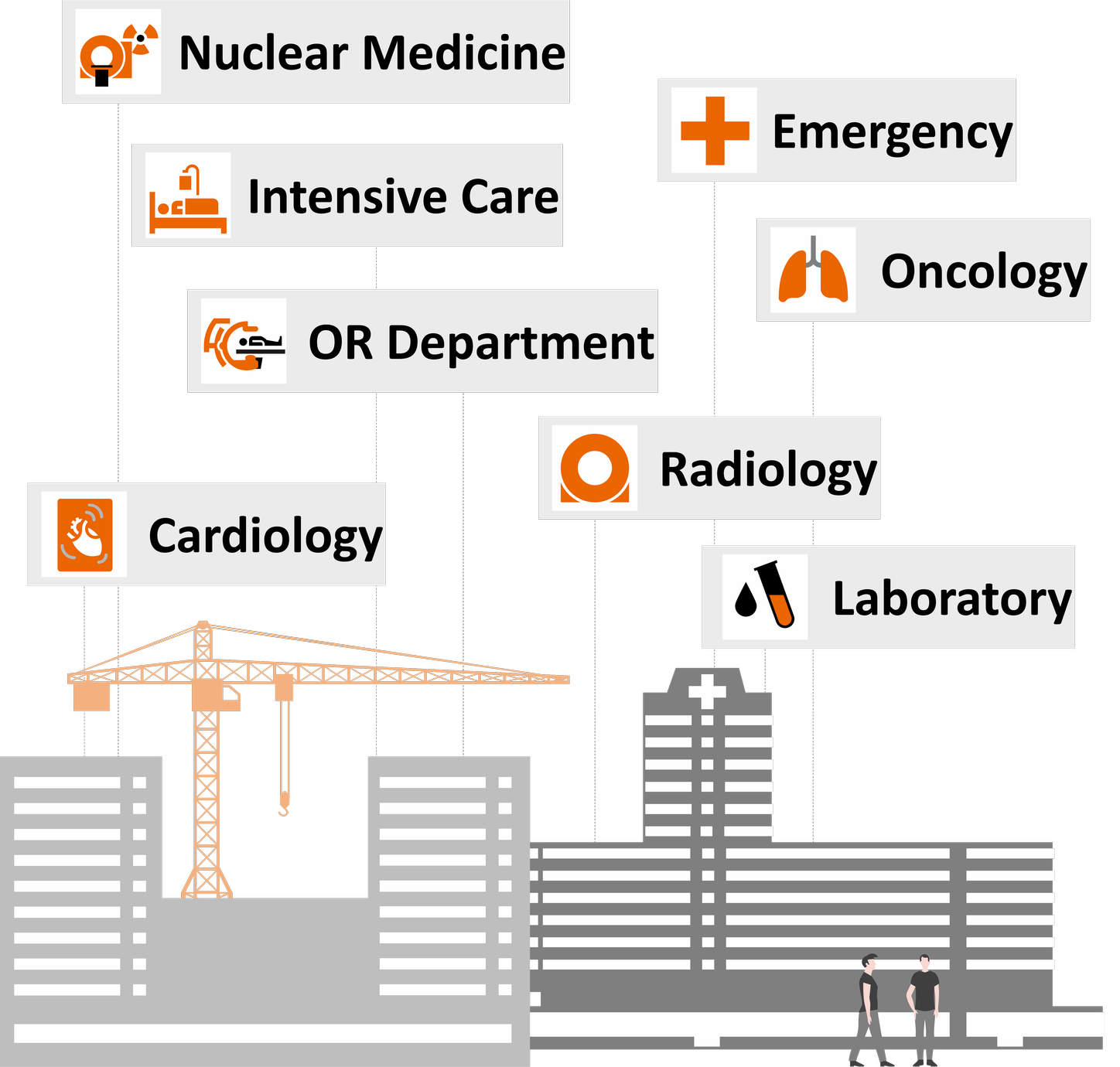 Our longtime expertise in modality planning …
Computed tomography
Magnetic resonance
X-ray, women's health, and urology
Fluoroscopy
Molecular imaging 
Advanced therapies including hybrid operating rooms
Laboratory automation
enables technology-adjusted, optimal workflows and departments.
Digital Workflow to optimize healthcare processes and patient pathways
The Digital Workflow practice brings together all essential planning elements in a virtual workflow simulation environment: 3D layout, clinical processes, and performance parameters.
Our Digital Workflow practice helps you achieve high-quality outcomes in a cost-effective manner. It allows you to predict the impact of operational changes in a protected and virtual 3D environment by forecasting processes and layouts of your institution.
A digital twin of your facility integrates patient pathways, staff scheduling and movements, utilization and performance data from diagnostic equipment, and other data sources to build a dynamic and comprehensive model that you can use as a testbed. Use the power of the digital twin simulation to assess various scenarios and predict their operational and financial impact, allowing your institution to optimally allocate efforts and drive change with confidence.
In addition, Digital Workflows can be used to conduct virtual stress tests to examine the robustness of operations (for example, increasing patient volumes, more complex patients, staff shortage).
Learn more by checking out our white paper
Our 3D and VR tools are as flexible as you providing you with a realistic layout experience
Images
Photo-realistic 3D images help to understand the room layout and arrangement of the components.
Video
A high-resolution video fly through enables you to explore your project before it's built.
SitePlanner
The SitePlanner combines 3D features with Virtual Reality making changes visible in real-time.
Unique real-time, interactive, and virtual experience.
Modern visualization solutions, including tools like virtual reality enable you to experience your future department before construction has even begun. This is especially useful for bringing to life those fewer tangible factors – like atmosphere, light, space, and privacy – that are more effectively designed in visualized form than in plane 2D layouts.
Users and even patients can experience the proposed environment as they virtually walk around the finished hospital department. Using interactive planning tools with a VR interface allows us to design process-oriented and human-centric layout solutions in close collaboration with you, our customers.

brings a brand-new experience to you:

Explore examples of rooms equipped with medical devices from Siemens Healthineers systems in realistic 3D
Switch between different modalities from diagnostic imaging, advanced therapies and laboratory to get an impression of our portfolio and the real room dimensions
Try the built-in augmented reality features for an immersive experience at your fingertips
Experience interactive project reviews with customized scenes
See what your peers achieved
A Value Partnership for Design Planning brings together the right blend of competencies under a single partnership contract, unlocking significant operational efficiencies. This enables a more efficient use of facilities and leads to greater staff satisfaction, better clinical outcomes and a more positive patient experience.
Transforming care delivery through intelligent facility design and planning
Kantonsspital Baden (KSB), Switzerland asked the Siemens Healthineers team for professional design advice on its new imaging center. Now, the joint team has designed a new departmental layout KSB can be proud of. It is well positioned to remain effective for many years to come, with an environment that is healing for patients and pleasant for staff.
See more Design Planning cases
Let's unlock value - together
Connect with us to find out how to implement the Value Partnerships concept in your organization.

Dive deeper into Value Partnerships
Learn more about how Value Partnerships can optimize care delivery to create more value for you.