Biograph mMR
Von der simultanen zur synergetischen MR-PET
Im stark umkämpften Gesundheitsmarkt ist Differenzierung der Schlüssel zum Erhalt der Wettbewerbsfähigkeit. Mit dem Biograph mMR (MR-PET-System) setzen Sie Maßstäbe in der diagnostischen Bildgebung, durch die vollständige Integration von state-of-the-art 3T-MRT und bewährter molekularer Bildgebung in einem System. Mit syngo MR E11 heben wir die Hybridbildgebung auf eine neue Stufe: Synergetische MR-PET für deutlich verbesserte diagnostische Präzision und Möglichkeiten sowie eine Standardisierung der Behandlungsqualität – in der Forschung ebenso wie im klinischen Bereich.
Biograph mMR has revealed additional findings and led to a change in therapy in 18%1 of oncologic staging and follow-up patients. With syngo MR E11, we enhance an already leading Synergistic PET-MR. Now, you can improve diagnostic accuracy and standardize quality.
Benefit from motion-free PET images with MR-based motion compensation beyond gating
Cancer rates are increasing globally. Over 14 million adults were diagnosed with cancer in 2012.2 At the same time treatment cost can become excessive.3 Biograph mMR is the key to more accurate diagnostic accuracy - for example with the Siemens' unique BodyCOMPASS. This technology enables motion-free PET images with MR-based motion compensation beyond gating, also in challenging body regions like the abdomen.
MR-based motion compensation with BodyCOMPASS
Static image
Motion corrected image
NYU, Langone Medical Center,
New York, USA
MR-based motion compensation delivers sharp delineation of lung lesion, with accurate SUV uptake.

Advance PET attenuation correction with whole-body 5-compartment model including bones and HUGE
Metabolic information from PET adds important data to the morphological and anatomical information from the MR. So far only air, fat, water, and tissue were included. Now, by including all major bones into the patient attenuation map, the evaluation of lesions in and close to bones is improved. Improve diagnostic capabilities with the unique whole-body 5-compartment model to reach the new level of Synergistic PET-MR.
Discover the unique whole-body 5-compartment attenuation correction model including bones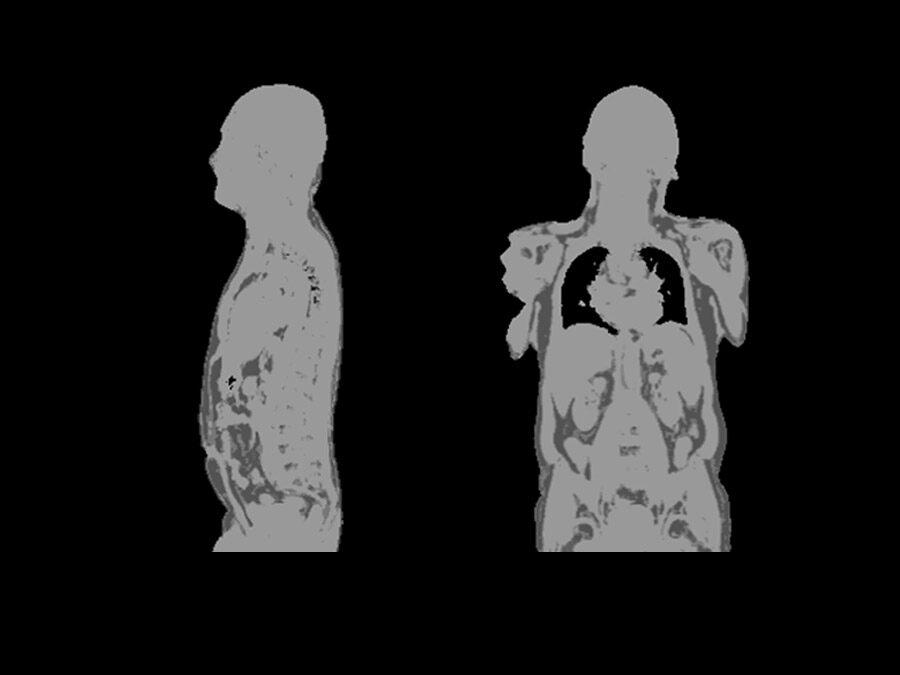 University Hospital Erlangen,
Erlangen Germany
Now, with unique 5-compartment attenuation correction model including all major bones you are able to better delineate lesions and improve diagnostics capabilities.
Improve diagnostic capabilities with these solutions:
Overcome truncations in the arms by extending the FoV of MR to the edges of the bore with HUGE
Achieve independence from tracer by utilizing fully MR-based attenuation correction
Deliver exceptional quality and speed in PET-MR with the latest MR innovations
Diverse requests from referrers and varying compliance of patients such as children4 or very ill patients places further challenges on an already competitive healthcare environment. With the latest software platform syngo MR E11, Biograph mMR helps answer these demands and provides a consistent and standardized quality of care.
FREEZEit - embrace motion in liver imaging
conventional
StarVIBE
University Hospital Grosshadern,
Munich, Germany
Bringing MR and PET together offers the potential for a more complete imaging picture and better understanding of neurologic pathologies. Current research and development of new tracers could add even more value. Scientific publications show, that Biograph mMR is widely seen as modality of choice for imaging of brain tumors. With new tracer development, the simultaneous PET-MR system may add to the capabilities of imaging in general for neurodegenerative diseases or psychological disorders.
We've designed the first PET detectors that allow the integration of whole-body MR and PET - without compromising the performance of either modality.
| | |
| --- | --- |
| | |
| | |
| | |
| Magnet length (cover to cover) | |
| | Zero Helium boil-off technology |
| | Passive and active; Automatic, patient specific shim; 3 linear and 5 non-linear (2nd order) |
| | |
| | MQ Gradients (45 mT/m @200 T/m/s) |
| | |
| | |
| Maximum number of channels5 | |
| Number of independent receiver channels that can be used simultaneously in one single scan and in one single FoV, each generating an independent partial image | |
| | |
| | |
| System length incl. patient table | |
| System weight (in operation) | |
| | |
| | |
| | |
| | |
| | |
| Crystal element dimension | |
| | |
| Transverse spatial resolution (NEMA 2012) | |
| | |
| | |
| Peak NEC rate (at ≤26 kBq/cc) | |
| | |
War diese Information hilfreich für Sie?
2Fact Sheet WHO on Cancer , Fact sheet N°297, Updated February 2015, http://www.who.int/mediacentre/factsheets/fs297/en/.
3Cancer's Super-Survivors | How the Promise of Immunotherapy IsTransforming Oncology By Ron Winslow, The Wall Street Journal, http://on.wsj.com/1ItUGv1.
4MR scanning has not been established as safe for imaging fetuses and infants less than two years of age. The responsible physician must evaluate the benefits of the MR examination compared to those of other imaging procedures.
5Channels (coil elements) that can be connected simultaneously.
6Minimum total space requirement for magnet, electronics, and console room.