CLINITEST® Rapid COVID-19 Antigen Test
The clinical accuracy you need for results you can trust
Get in touch
Monitoring Variants of Concern
Omicron Update
On November 26, 2021, the Omicron variant (B.1.1.529) was designated as a variant of concern (VOC) by the WHO, CDC, and ECDC. Siemens Healthineers' internal assessments demonstrate that the Omicron variant and its BA.2 sublineage are unlikely to impact the performance of the CLINITEST® Rapid COVID-19 Antigen Test. Siemens Healthineers is committed to monitoring all current and emerging variants of concern (VOCs) to ensure the test results remain accurate and reliable.
Scalable COVID-19 antigen testing in 15 minutes
The CLINITEST® Rapid COVID-19 Antigen Test provides fast and accurate results wherever you need them most. The test has been confirmed to detect all current Variants of Concern, including the Delta variant, and it is easy to administer using either the nasal or nasopharyngeal swab methods. Results are available in 15 minutes.  
Simple procedure, reliable results
The lateral flow CLINITEST Rapid COVID-19 Antigen Test, distributed by Siemens Healthineers, is easy to administer by any trained professional in virtually any setting, without special equipment. When used as part of a comprehensive strategy, the CLINITEST Rapid COVID-19 Antigen Test can help communities stay ahead of the spread of COVID-19, even in the face of emerging variants.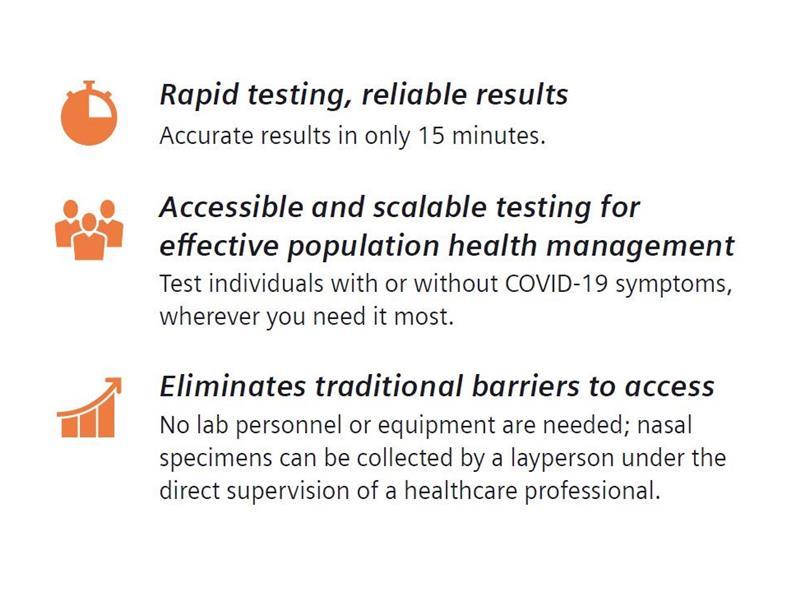 Download the IFU
Official instructions for use for the CLINITEST COVID-19 Rapid Antigen Test:
Accessible testing, where you need it most
The CLINITEST Rapid COVID-19 Antigen Test can be used to test symptomatic or asymptomatic patients in a wide variety of settings.
In the U.S., the CLINITEST Rapid COVID-19 Self-Test has not been FDA-cleared or approved but has been authorized by the FDA under an Emergency Use Authorization. This product has been authorized only for the detection of proteins from SARS-CoV-2, not for any other viruses or pathogens. The emergency use of this product is only authorized for the duration of the declaration that circumstances exist justifying the authorization of emergency use of in vitro diagnostics for detection and/or diagnosis of COVID-19 under Section 564(b)(1) of the Federal Food, Drug, and Cosmetic Act, 21 U.S.C. § 360bbb-3(b)(1), unless the declaration is terminated or authorization is revoked sooner.
CLINITEST and all associated marks are trademarks of Siemens Healthcare Diagnostics, Inc., or its affiliates. All other trademarks and brands are the property of their respective owners.