MAGNETOM Skyra
Massimizza il 3T.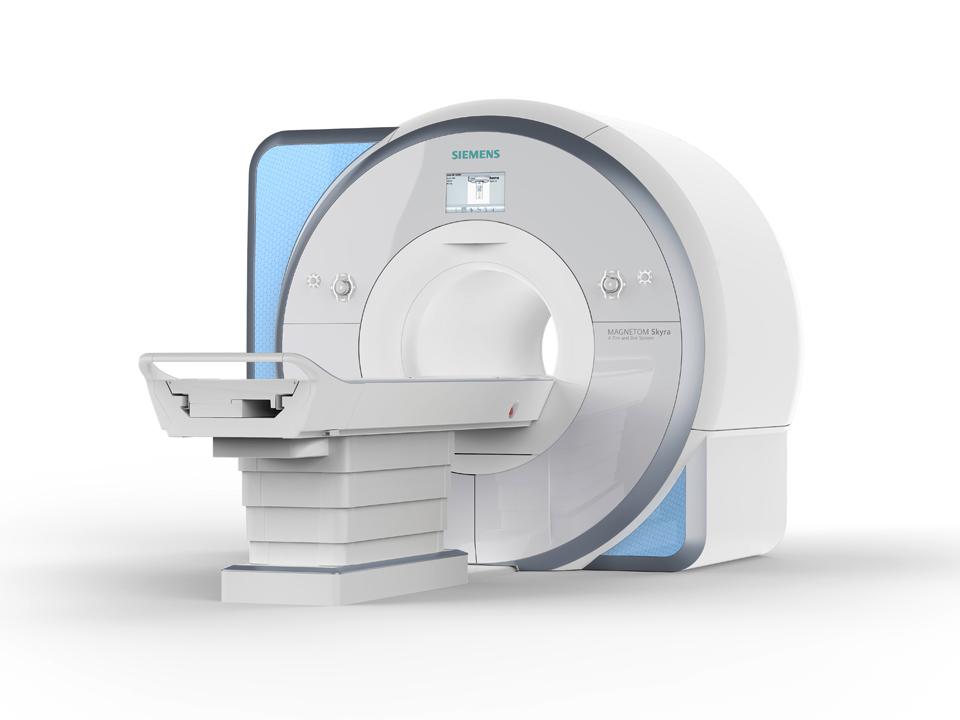 MAGNETOM Skyra
Healthcare providers worldwide are under increasing pressure to manage two contradictory forces: delivering highest-quality care with ever decreasing financial means. The number of MRI scans continues to rise, as MRI continues to prove its diagnostic value and expands growing clinical fields1. At the same time, global reimbursements continue to fall. MAGNETOM Skyra is 3T MRI designed to turn these challenges into opportunities.
Deliver exceptional quality and speed
Go for consistent results, efficiently
Expand your MRI services
Service and exchange
Caratteristiche e vantaggi
Grazie alla tecnologia Tim® 4G e Dot, MAGNETOM Skyra può consentire un aumento della produttività fino al 50%.2 Al contempo, MAGNETOM Skyra offre anche una buona assistenza incentrata sul paziente. Un'ampia gamma di applicativi avanzati e standard rendono MAGNETOM Skyra la scelta ideale per i sistemi da 70 cm e 3T.
"La nostra esperienza iniziale mostra che le immagini sono di buona qualità e che la gestione del sistema e del paziente renderà la diagnostica con imaging a RM più efficiente nel futuro. Pertanto, questo apre l'orizzonte all'ulteriore integrazione di innovazioni scientifiche all'avanguardia nella routine clinica."6
Prof. Stefan Schönberg, MD
Direttore, Istituto di Radiologia Clinica e Medicina Nucleare
University Medical Center Mannheim, Germania
"MAGNETOM Skyra è affidabile e presenta il miglior rapporto segnale/rumore, nonché il tasso di abbandono più basso."6
Prof. Henrik Michaely, MD
Responsabile del reparto di radiologia addominale e vascolare
Istituto di Radiologia Clinica e Medicina Nucleare
University Medical Center Mannheim, Germania
Tecnologia Dot integrata
Tim definisce lo standard di riferimento nell'imaging a RM. Tim 4G offre bobine ad alta densità in combinazione con un numero elevato di configurazioni di canali. L'architettura di Tim 4G colloca tutti gli elementi di trasmissione e ricezione sul magnete, generando una progettazione digitale in ingresso e in uscita.
Vantaggi per l'utente:
Aumento di consistenza e riproducibilità
Maggiore facilità d'uso
Aumento della produttività1fino al 50%
"Sicuramente, una delle funzionalità più importanti per i tecnici nell'attività di scansione quotidiana sono i motori Dot, che aumentano la produttività, ma anche la qualità e la riproducibilità. La tecnologia Dot aiuta i tecnici e i radiologi a produrre immagini di qualità elevata."6
William F. Muhr, MD
AD, South Jersey Radiology Associates, Stati Uniti
Tecnologia Tim 4G integrata
Vantaggi per l'utente:
Imaging ad alta risoluzione
Durata dell'esame e tempi di acquisizione ridotti
Alta qualità dell'immagine
Preparazione più veloce dei pazienti
La tecnologia Tim accelera la preparazione del paziente e fornisce un elevato comfort per il paziente. Le bobine Tim 4G SlideConnect e DirectConnect insieme al tavvolo Tim Dockable accelerano ancora di più la preparazione del paziente.
Tim 4G DirectConnect® e SlideConnect® garantiscono una comodità del paziente e una semplicità di utilizzo elevate grazie a:
Collegamenti rapidi
Impostazione semplice
Tavolo ancorabile Tim: la giusta mobilità
Preparazione veloce del paziente anche fuori dalla stanza degli esami
Bobina Spine 32 integrata
Trasporto semplice
Comodità ottimizzata per i pazienti immobilizzati
Capacità fino a 250 kg/ 550 lb per la sistemazione di più pazienti
TimTX TrueForm: tecnologia avanzata
TimTX TrueForm include tecnologie innovative nell'hardware di eccitazione RF, nonché nuovi applicativi e nuove funzionalità di elaborazione che consentono la distribuzione RF uniforme in tutte le regioni anatomiche.
La vera forma dell'anatomia.
Soluzione per:

Buona omogeneizzazione B1
Ottimizzazione specifica dell'anatomia
Riduzione del SAR

Vantaggi per l'utente:
Alta qualità dell'immagine
Alta velocità
Buone prestazioni cliniche
Sistema da 3T avanzato con tunnel da 70 cm
Gestione di un numero maggiore di pazienti, acquisizione di un numero maggiore di medici invianti e miglioramento della commerciabilità grazie al tunnel aperto da 70 cm e alla progettazione del sistema con una lunghezza ridotta di 173 cm.

Un'ampia gamma di applicativi avanzati e le tecnologie uniche di Siemens come TimCT (Continuous Table move) arricchiscono il sistema da 70,3T avanzato.
Comfort del paziente, aumentate la vostra commerciabilità
Il comfort del paziente è una combinazione di molteplici funzioni, tra cui un design adatto al paziente e bobine leggere. Ospitate una grande varietà di dimensioni, forme del corpo e condizioni con il design di progettazione del sistema cover-cover con Open Bore di 70 cm e tunnel ultracorto di 173 cm.
Incremento della commerciabilità

Riduzione potenziale degli esami respinti e aumento del numero di medici invianti
Immagini nitide grazie alla riduzione del movimento dovuto all'agitazione
Progettazione adatta ai pazienti claustrofobici3
Riduzione dell'uso di sedativi, della paura e dell'ansia
Offerta di un maggior numero di esami con testa scoperta
Copertura di un ampio intervallo di pazienti: pediatrici4, obesi, gravemente malati, cifotici, con problemi respiratori, di dolore e di mobilità, claustrofobici o ansiosi
Illumination MoodLight
Ambienti di scansione confortevoli per i pazienti
Il pannello con luci LED può essere impostato in base alla preferenza personale
Scelta dei colori in base alle preferenze del paziente
Costi di gestione ridotti
MAGNETOM Skyra offre costi di gestione ridotti e presenta diverse opzioni ecocompatibili.
Costi operativi bassi con costi energetici e di alloggiamento ridotti
Nuovo raffreddatore ecologico
Buona efficienza energetica grazie al workflow della tecnologia Dot e Tim 4G
Vaporizzazione senza elio
Pacchetto di raffreddamento ecologico con adattamento automatico alle esigenze di raffreddamento per una riduzione del consumo energetico fino al 50%2
Tim 4G + Dot – insieme per ridefinire la produttività
Con una potenza ottimizzata della tecnologia della bobina integrata Tim 4G e l'automazione del workflow intelligente di Dot, è possibile dotare il personale di strumenti intesi a consentire fino al 50% in più di produttività.2
Vantaggio del workflow veloce di MAGNETOM Skyra
Preparazione veloce dei pazienti
Preparazione veloce delle bobine
Acquisizioni rapide
TimTX TrueShape: applicativo avanzato
TimTX TrueShape4 è l'architettura Siemens della tecnologia di trasmissione parallela (pTX) ed è opzionale su MAGNETOM Skyra. TimTX TrueShape abilita la prima funzionalità di zoom per l'imaging a RM syngo® ZOOMit.5
L'architettura a trasmissione parallela del futuro
Modellamento dell'impulso a RF in base all'applicazione e un grado di libertà completamente nuovo
Qualità dell'immagine elevata e tempi di scansione brevi
Trasmissione parallela per uso clinico e di ricerca
TimTX TrueShape consente l'utilizzo di syngo ZOOMit
syngo ZOOMit può essere utilizzato per evidenziare regioni anatomiche, organi o i dettagli di un organo
Creazione di uno zoom della RM attraverso l'eccitazione selettiva
Il primo applicativo TrueShape per uso clinico

"Non riuscivo a credere che potevamo eccitare un campo visivo di dimensioni ridotte senza ottenere alias e artefatti. Siamo rimasti davvero colpiti! Questa è una tecnologia innovativa."6
Philipp Riffel, MD
University Medical Center Mannheim, Germania
To meet the increasing demands in clinical healthcare, MAGNETOM Skyra's broad application portfolio give the versatility to expand MRI services whether for research or clinical excellence. Combined with Tim 4G and DotGO, this comprehensive application portfolio brings even the most complex exams into clinical routine. Every case. Every day.
Clinical Image Gallery
See the full application range in the MAGNETOM Skyra Image Gallery:
Neurology
Benefit from fast protocols and quieter exams for uncooperative patients. Accommodate a wide variety of patients while benefiting from a superb SNR for both clinical and research imaging, e.g., with the Head/Neck 64. Your MAGNETOM Skyra's Neuro Suite includes advanced protocols for diffusion imaging, perfusion imaging, and fMRI. The Brain Dot Engine helps increase consistency, also when conditions change during the course of the examination.
Orthopedics
The standard Ortho Suite comes a comprehensive collection of protocols for joint imaging, including the spine. Tim 4G's ultra high-density coils for MSK imaging improve SNR and anatomic coverage. DotGO's customizable workflows feature AutoAlign and AutoCoverage for knee, hip, and shoulder and MPR planning for fast 3D measurements and Inline 3D multiplanar reformatting. WARP2 offers a comprehensive suite of techniques including Advanced WARP2, which provides susceptibility artifact reduction functionality (such as needed for MR conditional metal implants).
Body Imaging
Profit from new certainty in Body MRI: FREEZEit helps you overcome motion and incorrect timing to open up new diagnostic possibilities. With the Abdomen Dot Engine, standardized, efficient, and comprehensive workflows for the upper abdomen with excellent image quality are provided. With LiverLab you can perform quantitative liver evaluation, non-invasively, on the fly. Additionally, ultra-fast, high-resolution, 2D and 3D protocols are provided for abdomen, pelvis, MR Colonography, MRCP, dynamic kidney, and MR Urography applications.
Cardiology
The Cardiac Suite covers comprehensive 2D routine cardiac applications, ranging from morphology and ventricular function to tissue characterization. MyoMaps provides an additional layer of valuable diagnostic information about even subtle changes in tissue composition – on the fly. DotGO's on-board guidance helps make cardiac part of your clinical routine. The Cardiac Dot Engine simplifies complete cardiac localization with AutoAlign Heart.
Angiography
With the Angio Suite, excellent MR Angiography can be performed to visualize arteries and veins with or without contrast agent. For scans with contrast media, the Angio Dot Engine helps realize optimized bolus timing at every examination. Real-time graphics and AutoVoice Commands assist the user in organizing the ideal timing of breathing, scanning, and contrast media.
Breast MRI
A variety of breast coils are enabled by the Tim Coil Interface resulting in flexible breast imaging options to meet the variety of customer needs. From clinical imaging to biopsy guidance, you can count on a wide selection of breast coils and outstanding image quality. Additionally, MAGNETOM Skyra's 70 cm open bore makes it possible to comfortably accommodate more patients. The Breast Dot Engine offers different workflows for optimized image quality and consistency.
Prostate MRI
Prostate MRI utilizes high-channel surface coils, offering a non-invasive and highly accurate technique for the early detection of prostate cancer. Our top-of-the-line solution, the Body 60 coil, can be used to reduce scan times by up to 20%8 helping to improve your institutions´ process efficiency.
With MAGNETOM Skyra you benefit from a comprehensive solution portfolio for certainty in prostate cancer assessment, ranging from coils, scan applications, reading and reporting software, to therapy monitoring tools.
Pediatric MRI
Tissue relaxation times in pediatrics7 are very different compared to those of adults. The reasons for these differences are: developing tissues, body size, faster heart rates, and compliance with breathhold commands. With MAGNETOM Skyra, protocols are available to be adapted for imaging infants.
Oncology
MAGNETOM Skyra's Onco Suite features a collection of sequences, protocols, and evaluation tools that guide users through the detailed assessment of a variety of oncological conditions. Acquire whole body coverage for metastasis staging in a single, continuous move with the TimCT Onco Dot Engine. Together with Dot's on-board guidance, this innovative technology improves patient throughput and provides superb image quality.
 
MAGNETOM Skyra, as the top-of-the-line 70 cm 3T scanner, offers various technological features, aiding you in obtaining excellent image quality and maximizing 3T. Every case. Every day.
| | |
| --- | --- |
| | |
| | |
| | |
| | |
| | Zero Helium boil-off technology |
| | Passive and active shimming. Passive shimming during installation. Higher order shim standard. |
| | |
| | XQ Gradients (45 mT/m @200 T/m/s) |
| | |
| | |
| Maximum number of channels8 | |
| Number of independent receiver channels that can be used simultaneously in one single scan and in one single FoV, each generating an independent partial image | |
| | |
| | |
| | |
| System weight (in operation) | |
| | |
| | |
2Results may vary. Data on file.
3Sondaggio su base nazionale condotto da Siemens negli Stati Uniti
4Non è stata accertata la sicurezza della RM per l'imaging dei feti e dei neonati sotto i due anni. Il medico responsabile deve valutare i benefici della RMI rispetto alle altre procedure di imaging.
5The product is still under development and not commercially available yet. Its future availability cannot be ensured.
6*Le affermazioni dei clienti Siemens qui riportate si basano su risultati conseguiti nel contesto particolare del cliente. Poiché non esiste un ospedale "tipico" ed esistono molte variabili (ad es. dimensioni dell'ospedale, tipologia della casistica, livello di informatizzazione) non vi può essere alcuna garanzia che altri clienti conseguano gli stessi risultati.
7The MRI restrictions (if any) of the metal implant must be considered prior to patient undergoing MRI exam. MR imaging of patients with metallic implants brings specific risks. However, certain implants are approved by the governing regulatory bodies to be MR conditionally safe. For such implants, the previously mentioned warning may not be applicable. Please contact the implant manufacturer for the specific conditional information. The conditions for MR safety are the responsibility of the implant manufacturer, not of Siemens.
8MR scanning has not been established as safe for imaging fetuses and infants under two years of age. The responsible physician has to decide about the benefit of the MRI examination in comparison to other imaging procedures.
9Channels (coil elements) that can be connected simultaneously.
10Minimum total space requirement for magnet, electronics, and console room.