Monitoring Variants of Concern
Omicron Update
Siemens Healthineers is committed to monitoring all current and emerging variants of concern (VOCs) by directly testing with clinical samples and using a computer-based inspection tool called in silico analysis. The Omicron variant (B.1.1.529) is recognized by the WHO, CDC, and ECDC as a VOC. Siemens Healthineers internal data demonstrate that the CLINITEST® Rapid COVID-19 Antigen (Self) Test detects SARS-CoV-2 virus/coronavirus infection of the Omicron variant and its major sub-variants, including BA.1, BA.2, BA.2.75, BA.3, BA.4, BA.4.6, BA.5, BF.7, and XE.
Scalable COVID-19 antigen testing in 15 minutes
Simple procedure, reliable results
The lateral flow CLINITEST Rapid COVID-19 Antigen Test, distributed by Siemens Healthineers, is easy to administer by any trained professional in virtually any setting, without special equipment. When used as part of a comprehensive strategy, the CLINITEST Rapid COVID-19 Antigen Test can help communities stay ahead of the spread of COVID-19, even in the face of emerging variants.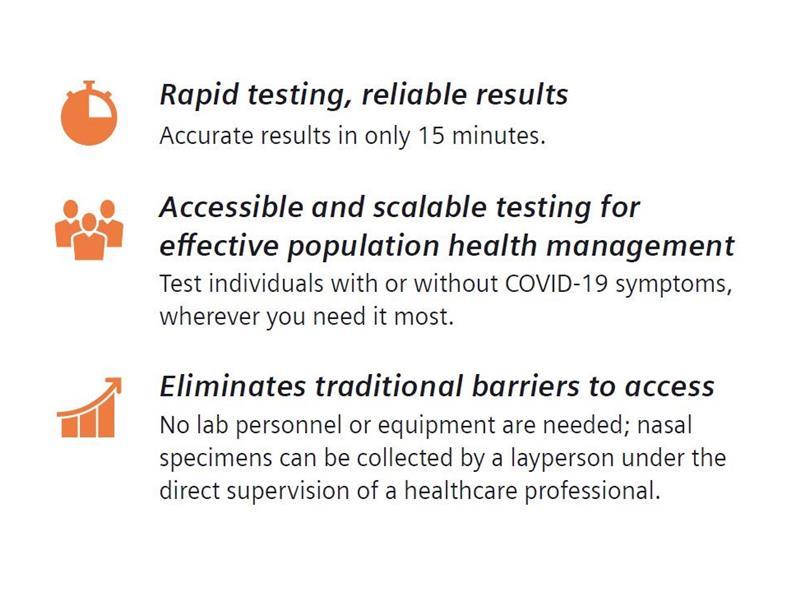 Download the IFU
Official instructions for use for the CLINITEST COVID-19 Rapid Antigen Test:
Accessible testing, where you need it most
The CLINITEST Rapid COVID-19 Antigen Test can be used to test symptomatic or asymptomatic patients in a wide variety of settings.