MAGNETOM Prisma
The 3T PowerPack for exploration.
MAGNETOM Prisma
The 3T PowerPack for exploration

The new Siemens MRI Scanner MAGNETOM Prisma is the 3T PowerPack for exploration – it offers a unique 3T MRI platform to help you tackle the most demanding MRI research challenges of today and tomorrow. Its breakthrough design delivers maximum performance under prolonged high-strain conditions. And, exciting new MRI applications deliver higher anatomical detail.
When it comes to tackling the most demanding MRI research challenges, MAGNETOM Prisma is the unique and powerful 3T MRI platform at your side. Excel with the finest in MRI technology. Enter new areas of research with innovative applications and drive the advancement of human health. All supported by the right tools, the right partner, and the right collaboration network.
The power to outperform
In the most demanding MRI research projects based on extensive long-term studies, you profit from a powerful, robust MRI machine. MAGNETOM Prisma is your 3T PowerPack for virtually unlimited imaging and innovation capabilities.
Outstanding gradient performance
80 mT/m @ 200 T/m/s simultaneously, on all three axes
Ultra-high-performance cooling
Force-compensated design for reduced vibrations
Benefits: Significantly increased SNR, unprecedented long-term stability and minimized acoustic noise.
Fully dynamic parallel transmit with TimTX TrueShape
Selective excitation to highlight regions, organs, or even features of an organ
Zoomed imaging with the first parallel transmit application syngo ZOOMit
Significantly higher resolution, reduced scan times and less artifacts.
Open architecture for new MRI applications
Tim 4G integrated receive architecture
New Tim 4G RF system with 48, 64 or 128 independent channels for faster imaging and higher SNR
New Tim 4G coil technology with highest coil element density, Dual-Density Signal Transfer, DirectConnect, and SlideConnect technology
Fully digital transmit and receive with DirectRF
Real-time feedback loop for excellent long-term stability
Unmatched 3T magnet
Based on the MAGNETOM Trio experience
Benchmark magnet homogeneity
FoV 50x50x50 cm3
Advanced higher order shim and optional SpectroShim
Zero helium boil-off 
The power to explore
Enter new areas of MRI research and set the future trends in healthcare. Exciting applications will open up new possibilities to help you visualize functional processes and better understand diseases.
Choose your own route with MAGNETOM Prisma
Advanced applications such as DWI, SWI, resting state fMRI, dynamic angiography, perfusion, and acquisition techniques like Diffusion Spectrum Imaging (DSI) – or your own research applications: MAGNETOM Prisma is your companion. It supports you with unparalleled 3T power and offers virtually unlimited imaging possibilities.
Explore new territories with MAGNETOM Prisma
Visualize detail in the finest anatomical structures and reveal functional information
Develop your own applications and sequences – adapted to your research needs
Boost your research with consistent and reproducible procedures
The power to succeed
Do you want to make a difference in the lives of others? Fight the most threatening diseases and understand disorders? Advance human health? With the new Siemens 3T MRI scanner MAGNETOM Prisma, you can. A valuable collaboration for your success.
"Research is driven by people. The more people you know, the better you are linked, the better research will be in the end."1
Henrik Michaely, MD
Associate Professor of Radiology, Section Chief Vascular and Abdominal Imaging
Institute of Clinical Radiology and Nuclear Medicine, Mannheim, Germany
Collaborate and succeed

In MRI research, there are two forces driving the future of healthcare: As a physician, you aspire to transfer ideas from the lab into the clinical routine. Here at Siemens, we strive to translate research results into products like the MAGNETOM Prisma. This shared impulse is basis for a solid partnership founded on collaboration, support, and trust.
Network and benefit
With MAGNETOM Prisma, we offer Dot. Dot is a new way of scanning in MRI – a better way. Dot scanning uses a suite of customizable engines. Allowing the user to personalize exams according to patient needs, build in step-by-step user guidance, and automate MRI exams – either "out of the box" or based on the institution's standards.
Be part of the IDEA network
As part of IDEA (Integrated Development Environment for Applications), the world's largest and most active research community, you are able to get in touch with like-minded people, discuss ideas, and easily benefit from in-depth exchanges.
Open development platform supporting the world's largest and most active 3T MR research and development community
Yearly IDEA users' meeting at the ISMRM
Yearly international IDEA courses at multiple locations worldwide
www.mr-idea.com

MAGNETOM Prisma equips you with the needed competitive edge – the edge that enables you to do what others can't. It might even facilitate access to research funding and could make your institution more attractive to top talents on the international academic market.
"MAGNETOM Prisma has the power to lead to better expertise and innovative research in the future. Beside the improved gradient system, the 64-ch Head/Neck coil allows us to get better signals from the cortex and also cover the cerebellum and the neck very well. That allows exploring new research fields which are difficult to do on other 3T scanners."1
Prof. Rainer Goebel
Professor, Maastricht University & Scientific Director,
Scannexus, Maastricht, The Netherlands
MAGNETOM Prisma - empowering your MRI research
Just like a prism, MAGNETOM Prisma unfolds the complete spectrum of MRI contrast. When powered by your ideas, scientific knowledge and expertise, the new Siemens 3T MRI Scanner MAGNETOM Prisma builds a perfect match to open up a broad range of applications looking to answer the many questions that MR research poses. From brain functionality, to body physiology, organ morphometry, tissue metabolism, and quantitative MRI, MAGNETOM Prisma delivers the answers you are looking for.
MAGNETOM Prisma offers you 
Diffusion Spectrum Imaging
Up to 514 diffusion directions
Sensitive to multiple diffusion directions within a voxel
Potential to characterize crossing fibers
TimTX TrueShape and syngo ZOOMit
Fine imaging details from the most hidden structures
High resolution DWI
DTI Depicting structural CNS connectivity
Most powerful shimming system
Benchmark magnet homogeneity
Advanced higher order shim, optional SpectroShim
Higher specificity in body and multinuclear spectroscopy 
Excellent flow sensitivity and time-resolved Angiography with XR 80/200
Depiction of smaller vessels without contrast agent with ToF angiography
Enhanced flow effects with XR 80/200 gradient system
Higher SNR
Extreme iPAT performance with Tim 4G
syngo DTI with up to 256 directions
High-resolution isotropic DTI for finer depiction of white matter tracts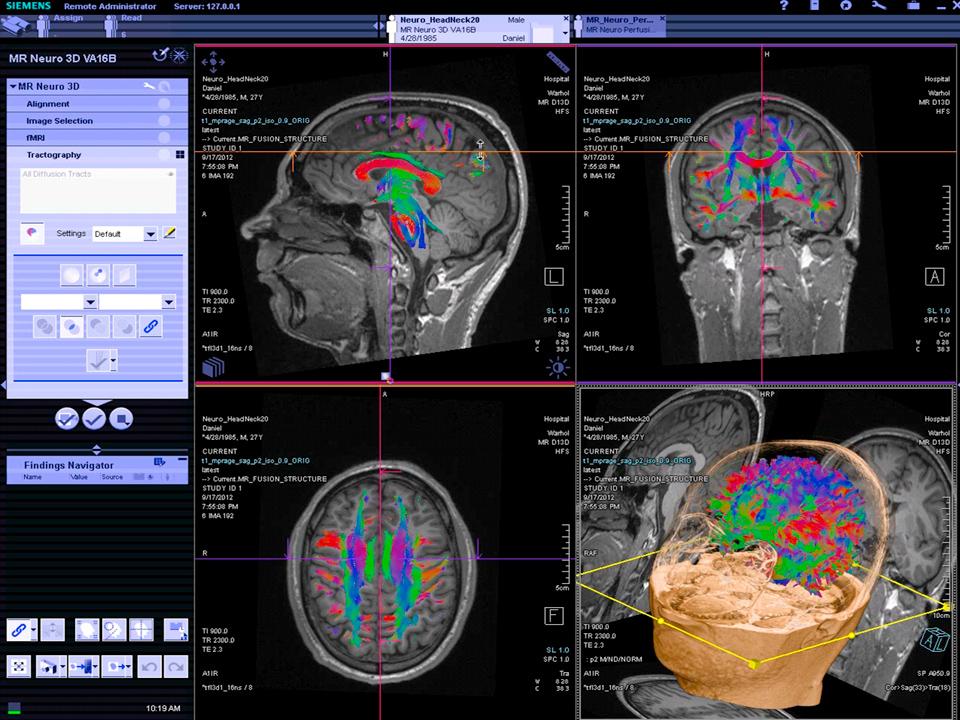 Most advanced tools in syngo.via
Fully integrated fMRI/DTI evaluation
Interactive track exploration mode with multiple VOI objects
Excellent long-term stability
Excellent signal stability even for demanding long measurements – thanks to the new XR 80/200 gradient cooling system 
And there is so much more...
Cardiac Flow Imaging
High-resolution joint imaging with excellent FatSat
Zoomed high-resolution imaging of the pelvis
High-resolution with isotropic 3D imaging
Up to 2x more SNR in diffusion studies
Advanced Flow Evaluation
Advanced multi-nuclear Spectroscopy
"With Dot, we can now ensure our examinations are far more reproducible and of excellent quality."1
Arnaud Lambert
Technologist, Imagerie Médicale Saint Marie
Osny, France
MAGNETOM Prisma's technology sets the trends in the industry. Its ultra-high power impressively indicate why Siemens is the number one in MRI research.
| | |
| --- | --- |
| | |
| | |
| | |
| System weight (in operation) | |
| | |
| | |
| | XR Gradients (80 mT/m @ 200 T/m/s) |
| | Zero Helium boil-off technology |
Overview Technical Details
Siemens' unique technologies
Tim® 4G: The 4th generation of proven Tim (Total imaging matrix) technology provides up to 204 coils elements with up to 128 channels for the accuracy you need.
Dot: The next movement in MRI. Dot is a new way of scanning in MRI – a better way. Dot scanning uses a suite of customizable engines. Allowing the user to personalize exams according to patient needs, build in step-by-step user guidance, and automate MRI exams – either "out of the box" or based on the institution's standards.
More information about Dot and all of the Dot engines.
TimTX TrueForm: Is Siemens' solution for overcoming B1 inhomogeneities at 3 Tesla. It includes innovative techniques in the RF excitation hardware as well as new application and processing features enabling uniform RF distribution in all body regions.
TimTX TrueForm Brochure
TimTX TrueShape: Is Siemens' parallel transmit architecture. It features selective excitation to highlight regions, organs or features of an organ leading to increased image quality and faster scanning. Builds the foundation for unique parallel transmit applications, like syngo ZOOMit, the first zoom function in MRI.

Magnet technology
MAGNETOM Prisma offers benckmark magnet homogeneity (typ. 1.1 ppm @ 50 cm DSV (diameter spherical volume)) and magnet reliability.
| | |
| --- | --- |
| | |
| | |
| | |
| | Zero Helium boil-off technology |
Gradient system
MAGNETOM Prisma comes standard with the XR 80/200 gradient system, the strongest gradients in the industry. The combination of the excellents gradients together with Tim (Total imaging matrix) enables the most demanding applications.
It offers largest anatomical coverage with a FoV up to 50 cm.

Maximum amplitude of 80 mT/m @ a slewrate of 200 T/m/s,
Simultaneously on all three axes
RF technology
Tim's revolutionary all digital-in/digital-out design Direct RF allows for higher SNR and improved stability. All transmit and receive components are located at the magnet.
Optical links between magnet and equipment room to achieve high RF stability and low noise
Transmit and receive components are integrated in the magnet housing
Dual-Density Signal Transfer enables ultra-high density coil designs by integrating key RF components into the local coil
Siting and installation
MAGNETOM Prisma allows for a fast installation. It requires only 33 m2 floor space. No dedicated computer room is required for the electronic cabinets.
| | |
| --- | --- |
| | |
| System weight (in operation) | |
| | |
By clicking Submit you consent to the processing of your above given personal data by the Siemens Healthineers company referred to under Corporate Information and for the purpose described above. Further information concerning the processing of your data can be found in the Data Privacy Policy. You are aware that you can partially or completely revoke this consent at any time for the future. Please declare your revocation to the contact address given in the Corporate Information and sent it to us via the following e-mail address: dataprivacy.func@siemens-healthineers.com
Did this information help you?