MAGNETOM Aera
Transforming 1.5T economics.
Through the groundbreaking combination of Tim® 4G's integrated coil technology and Dot - the next movement in MRI - MAGNETOM Aera transforms 1.5T economics. As a top-of-the-line 70 cm 1.5T system, MAGNETOM Aera offers a full range of applications and helps you to provide a next level of patient care.
High patient comfort with 70 cm Open Bore and in combination with ultra-short system design
Up to 50% higher productivity1 with Tim 4G and Dot
Full range of applications for the clinical routine and research
Case study: How Tipton Hospital Grew MRI Volume by More than 50%
What customers say after testing the prototype of the Cardiac Dot Engine:
"Before, only 2 out of 16 radiographers could perform a cardiac exam. Now all can do it, because it is easier to learn!"
Matthew Benbow
Dr. Russell Bull
Royal Bournemouth Hospital, UK
"With MAGNETOM Aera, we are confident we have one of the most advanced 1.5T MRI systems available on the market today."4
Prof. Christoph Bremer, MD
Head of the Department of Radiology
St. Franziskus Hospital, Münster, Germany
Dot integrated
Dot is the next movement in MRI. As a comprehensive workflow solution, Dot provides a customizable framework for patient personalization, step-by-step user guidance, and exam automation.
Your benefits:
Increased consistency and reproducibility
Greater ease of use
Up to 50% increase in productivity1
"On average, we were able to shorten the examination from 25 to 20 minutes per patient."4
Anton Quinsten, RT, Senior MRI Technologist
Institute of Diagnostic Radiology and Neuroradiology
University Hospital Essen, Germany
Tim 4G integrated
Tim sets the standard in MRI. Tim 4G brings ultra high-density coils combined with the highest channel configurations. The architecture of Tim 4G locates all transmit and receive components at the magnet resulting in a digital-in and digital-out design.
Your benefits:
High resolution imaging
Faster acquisition and exam time
Exceptional image quality
Faster patient set-up
Tim technology accelerates patient set up and provides high patient comfort. The Tim 4G SlideConnect and DirectConnect coils along with the Tim Dockable Table accelerate patient set-up even further.
Tim 4G DirectConnect® and SlideConnect® enable high patient comfort and ease-of-use thanks to:
Faster connections
Easier set-up
Tim Dockable Table – mobility done right
Fast patient preparation even outside of examination room
Integrated Spine 32 coil
Easy transport
Optimized comfort for immobile patients
Holds up to 250 kg/ 550 lb to accommodate more patients
"The MAGNETOM Aera's detachable table is beneficial as it is easier for transferring bed patients, such as those with cord compression and for use in emergency situations. Radiographers are benefiting from the system's ease-of-use and appreciate the integrated coil technology which is making for faster scans without compromising on image quality."4
Kim Robertson
Head of Radiology Service
Guy's Hospital, U.K.
Top-of-the-line 1.5T
Accommodate more patients, get more referrals, and improve your marketability with the 70 cm Open Bore and ultra-short 145 cm system design.
But there is more. MAGNETOM Aera was also designed with productivity and economics in mind, but also patient comfort. A full range of applications and Siemens-unique technologies such as TimCT (Continuous Table move) round out the top-of-the-line 1.5T system.
Patient Comfort - increase your marketability
Patient comfort is a combination of multiple features, including a patient-friendly design and lightweight coils. Accommodate more patients with a 70 cm Open Bore design and ultra-short 145 cm cover-to-cover system design.
Potentially fewer refused exams and more referrals
Sharper images due to less anxiety-related movement
Preferred design by claustrophobic patients2
Helps reduce sedation rates, fear, and anxiety
Offers more head-out exams
Cover a full patient range: pediatrics3, obese, critically ill, kyphostic, and those with respiratory problems, pain and mobility issues, and claustrophobia or anxiety 
Illumination Moodlight
Providing a more comfortable scanning environment for patients:
LED light panel can be set to personal preference
Choose colors according to patient preferences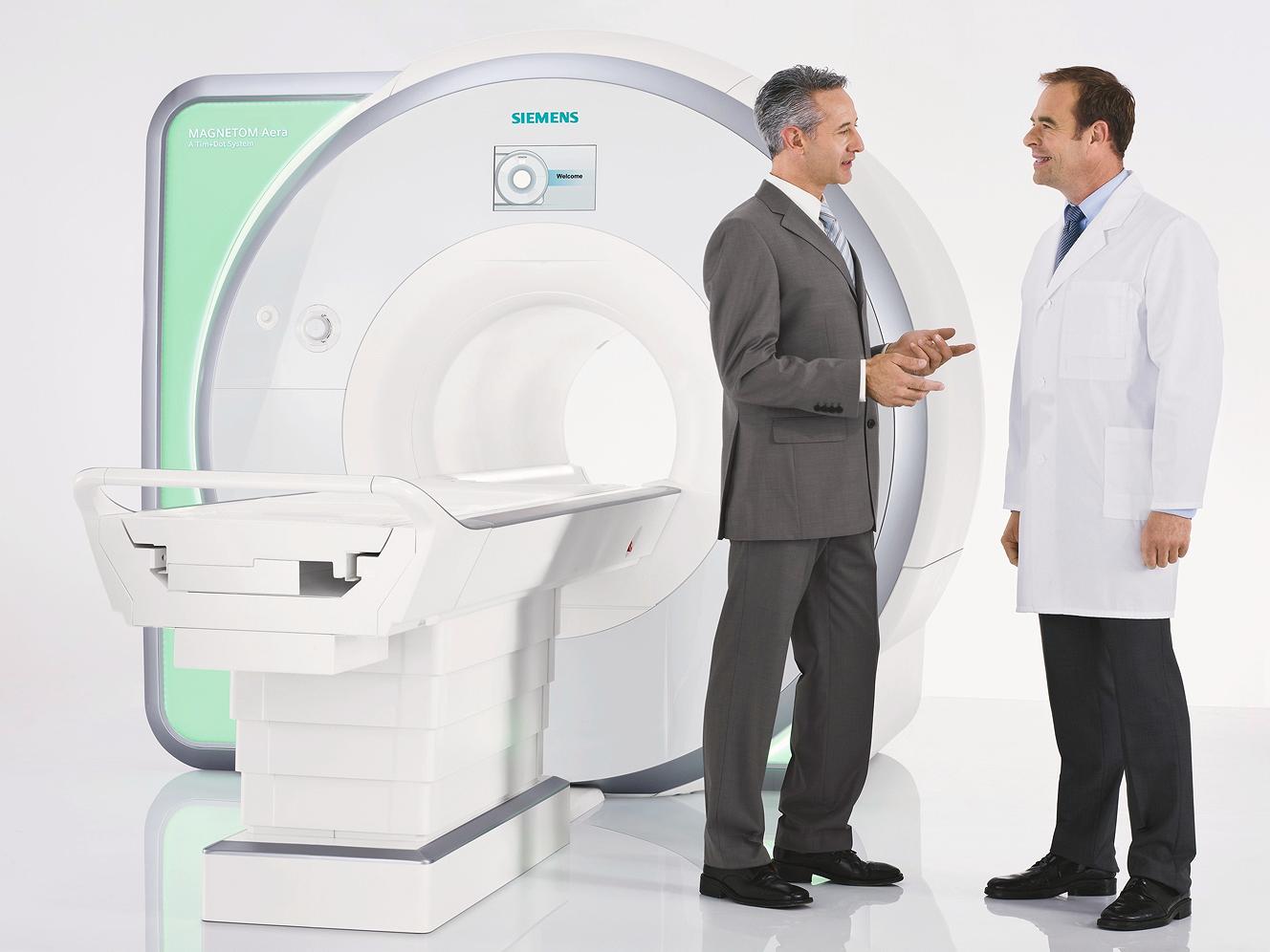 Reduced lifecycle costs
MAGNETOM Aera offers reduced lifecycle costs and has various environmentally friendly options.
Low operational costs with low energy and siting costs
New "green" Eco-Chiller
Better energy efficiency with workflow technology Dot and Tim 4G
Zero Helium boil-off
Green Cooling Package (optional) with automatic adaption to cooling requirements to decrease energy consumption for cooling by up to 50% 
Tim 4G + Dot – together they redefine productivity
With the enhanced power of Tim 4G's integrated coil technology and the intelligent workflow automation of Dot, you can equip your staff with tools to allow for an up to 50% increase in productivity.1
Benefit from MAGNETOM Aera's faster workflow
Faster patient preparation
Faster coil set-up
Faster acquisitions
With MAGNETOM Aera, the full applications coverage is standard and a comprehensive set of advanced applications is available. And, with the accuracy of Tim 4G integrated with the consistency brought to your scanning by Dot, you can achieve excellent image quality and exam reproducibility.
Neurology
MAGNETOM Aera offers high resolution and fast protocols even for uncooperative patients. The MAGNETOM Aera Neuro Suite includes advanced protocols for diffusion imaging, perfusion imaging, and fMRI. These are combined with Tim 4G coils with a high density of elements and latest iPAT2 reconstruction techniques help to enable fast imaging and an excellent SNR.
Orthopedics
MAGNETOM Aera's Ortho Suite is a comprehensive collection of protocols for joint imaging including the spine. Tim 4G's new ultra high-density coils for MSK imaging improve SNR and anatomic coverage. Dot's customizable workflows featuring AutoAlign and AutoCoverage for knee, hip and shoulder. The advanced syngo WARP techniques provide susceptibility artifact reduction functionality (such as from MR conditional metal implants) and MPR planning for fast 3D measurements and Inline 3D multiplanar reformatting help workflow efficiencies.
Cardiology
The cardiac suite covers comprehensive 2D routine cardiac applications, ranging from morphology and ventricular function to tissue characterization. Dot's on-board guidance and the increased SNR of Tim 4G helps you to make cardiac part of your clinical routine. The Cardiac Dot Engine helps eliminate one of the biggest challenges in cardiac MR simplifying complete cardiac localization down to just a few clicks.
Body
Tim 4G offers high channel body imaging thanks to the combination of the Body 18 and the Spine 32. MAGNETOM Aera is also equipped with dedicated clinical body applications. Ultra-fast high resolution 2D and 3D protocols are provided for abdomen, pelvis, MR Colonography, MRCP, dynamic kidney, and MR Urography applications. With the Abdomen Dot Engine, standardized, efficient, and comprehensive workflows for the upper abdomen with excellent image quality are provided.
(Image: St. Franziskus Hospital, Münster, Germany)
Pediatrics
Tissue relaxation times in pediatrics5 are very different compared to those of adults. The reasons for these differences are: developing tissues, body size, faster heart rates, and compliance with breath-hold commands. Protocols can be adapted for imaging infants.
(Image: University Hospital Saarland, Homburg, Germany)
Angiography
With MAGNETOM Aera's Angio Suite excellent MR Angiography can be performed to visualize arteries and veins with or without contrast agent. For scans with contrast media, the Angio Dot Engine helps to realize optimized bolus timing at every examination. Real-time graphics and AutoVoiceCommands assist the user in organizing the ideal timing of breathing, scanning, and contrast media.
Oncology
MAGNETOM Aera's Onco Suite features a collection of sequences, protocols, and evaluation tools that guide through the detailed assessment of a variety of oncological conditions. Acquire whole body coverage for metastasis staging in a single, continuous move with with the TimCT Onco Dot Engine. Together with Dot's on-board guidance, this innovative technology improves patient throughput and provides superb image quality.
(Image: Centre Republique, Clermont Ferrand, France)
Women's Health
A variety of breast coils are enabled by the Tim Coil Interface resulting in flexible breast imaging options to meet the variety of customer needs. From clinical imaging to biopsy guidance, the MAGNETOM Aera offers a wide selection of breast coils and enables outstanding image quality. Additionally, the 70 cm Open Bore of MAGNETOM Aera makes it possible to comfortably accommodate more patients. The Breast Dot Engine offers different workflows for optimized image quality and consistency.
Men's Health
With the high-density spine and body coils alone or in combination with an endorectal coil, MAGNETOM Aera enables excellent multiparametric imaging of the prostate in terms of morphology, physiology and function. Together with dedicated solutions for reading and reporting, the workflow for prostate MRI is comprehensively covered.
(Image: Centre Republique, Clermont Ferrand, France)
Dot (Day optimizing throughput)
Dot is the next movement in MRI. As a comprehensive workflow solution, Dot provides a customizable framework for patient personalization, step-by-step user guidance, and exam automation.
The following Dot engines are currently available for MAGNETOM Aera:
Brain Dot Engine
Cardiac Dot Engine
Abdomen Dot Engine
Angio Dot Engine
TimCT Angio Dot Engine
TimCT Onco Engine
Spine Dot Engine
Breast Dot Engine
Large Joint Dot Engine
syngo.via
syngo.via is a comprehensive imaging IT solution, helping you to process read and share images faster and easier. For both routine and advanced MR interpretation.
It can be seamlessly integrated with MAGNETOM Aera, improving workflow not only at the scanner, but throughout the organization.
Start your engines for routine, oncology, neurology and cardiovascular cases:
syngo.MR General Engine
syngo.MR Onco Engine
syngo.MR Spectro Engine
syngo.MR Cardio Engine
syngo.MR Neuro Perfusion Engine
and benefit from numerous applications transforming the way you view, read, and evaluate with your MR images. 
MAGNETOM Aera, as the top-of-the-line 1.5T scanner, offers various technological features, aiding you in obtaining excellent image quality and maximizing 1.5T. Every case. Every day.
System weight (in operation)

XJ Gradients (33 mT/m @ 125 T/m/s)
XQ Gradients (45 mT/m @ 200 T/m/s)

Zero Helium boil-off technology
 Overview Technical Details
Siemens' unique technologies
Tim 4G: The 4th generation of proven Tim (Total imaging matrix) technology provides up to 204 coils elements with up to 64 channels for the accuracy you need.
Dot: The next movement in MRI. This comprehensive MRI workflow solution helps take the complexity out of MRI scanning. Benefit from a customizable framework for patient personalization, step-by-step user guidance, and exam automation.
More information about Dot and all of the Dot engines.
Magnet technology
The 70 cm Open Bore 1.5 Tesla magnet on MAGNETOM Aera has a unique TrueForm Magnet and Gradient design for excellent image quality.
| | |
| --- | --- |
| | |
| | |
| | |
| | Zero Helium boil-off technology |
RF technology
Tim's revolutionary all digital-in/digital-out design Direct RF allows for higher signal purity and improved stability. All transmit and receive components are located at the magnet.
Optical links between magnet and equipment room to achieve high RF stability
Transmit and receive path is integrated in the magnet housing
Dual-Density Signal Transfer enables ultra-high density coil designs by integrating key RF components into the local coil
Siting and installation
MAGNETOM Aera allows for a fast installation and easy siting and small installation space due to the tight integration.
| | |
| --- | --- |
| | |
| System weight (in operation) | |
| | |
Min. total space requirement for magnet, electronics and console room
By clicking Submit you consent to the processing of your above given personal data by the Siemens Healthineers company referred to under Corporate Information and for the purpose described above. Further information concerning the processing of your data can be found in the Data Privacy Policy. You are aware that you can partially or completely revoke this consent at any time for the future. Please declare your revocation to the contact address given in the Corporate Information and sent it to us via the following e-mail address: dataprivacy.func@siemens-healthineers.com
Did this information help you?
3MR scanning has not been established as safe for imaging fetuses and infants under two years of age. The responsible physician has to decide about the benefit of the MRI examination in comparison to other imaging procedures.
4The statements by Siemens' customers described herein are based on results that were achieved in the customer's unique setting. Since there is no "typical" hospital and many variables exist (e.g., hospital size, case mix, level of IT adoption) there can be no guarantee that other customers will achieve the same results.
5MR scanning has not been established as safe for imaging fetuses and infants under two years of age. The responsible physician has to decide about the benefit of the MRI examination in comparison to other imaging procedures.