A Service Engineer Career with Siemens Healthineers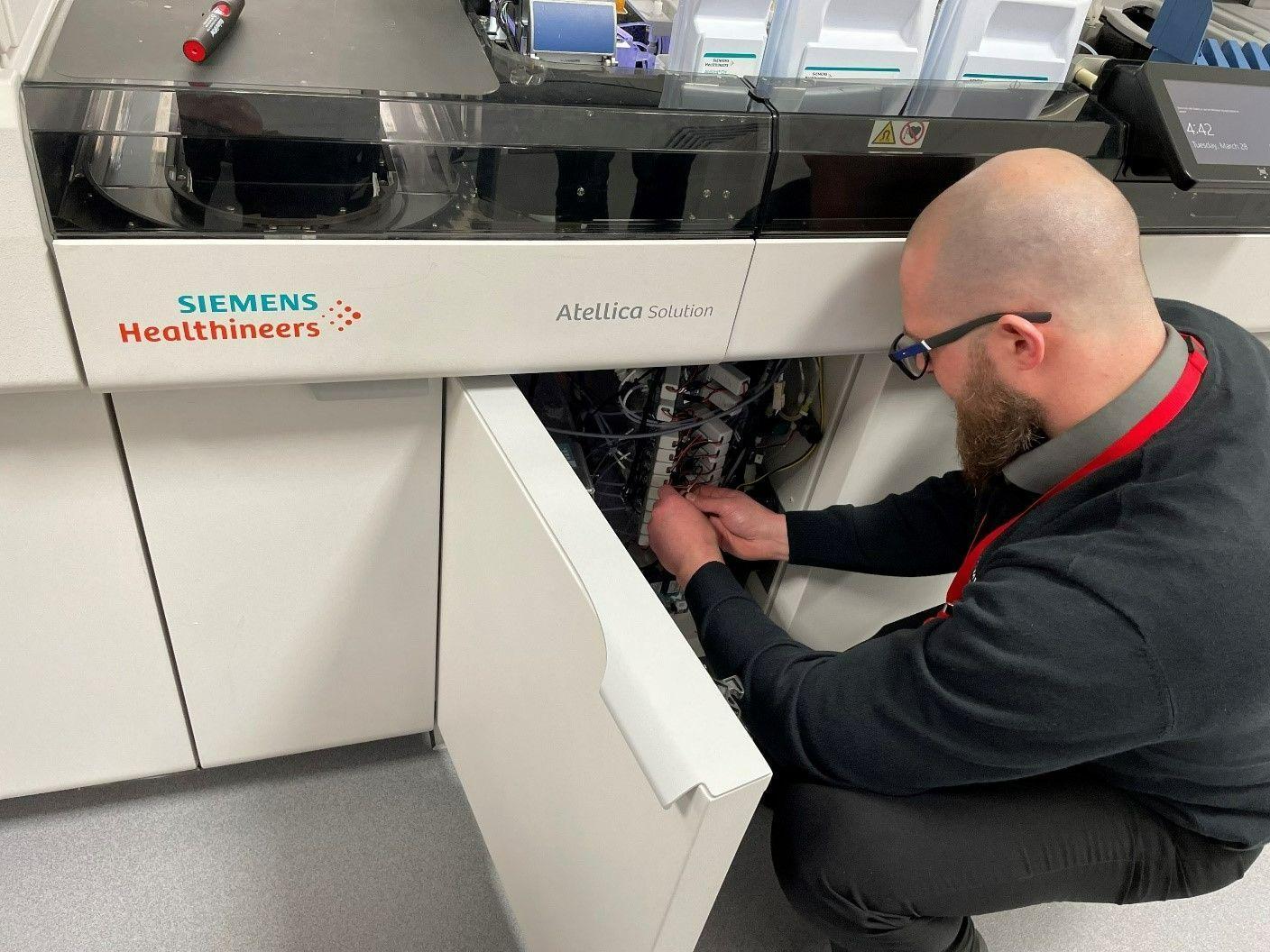 Workplace culture at Siemens Healthineers
Siemens Healthineers proudly embraces the differences that each colleague brings to the table. With a mission to create an environment for people to be themselves and spark ideas, the organisation encourages personal development, social activities and training, so employees can be the best versions of themselves.
Read on and hear from some of our Service Engineer personnel, about what motivates them, their background and what they value in their role at Siemens Healthineers.  
You can also find out more below about the application process, FAQs and company benefits.  
Armed Forces Covenant
Siemens Healthineers has recently formalised support for the Armed Forces community by signing the Armed Forces Covenant aboard HMS Victory in Portsmouth. 
Aligning with dedicated efforts to support candidates with different backgrounds, the organisation will work hand-in-hand with the Career Transition Partnership to enhance each step of the recruitment and selection process, ensuring candidates who serve or have served are treated with fairness and equality. 
Inclusive HR policies are also in place to support members of the Reserve Forces with additional paid annual leave allowances for training and during periods of mobilisation.
Carl's story
"I joined Siemens Healthineers in January 2019, just a few days after leaving the Military. Having served 23 years in the Royal Navy, finishing my career as a Warrant Officer 1, I was eager to find a new challenge in the Medical Imaging world with Siemens Healthineers.
Four years on and I can honestly say, I enjoy the job just as much as I did in my first week. Working on some fantastic X-Ray and Angiography systems and with some really dedicated people, I love the daily variation and life-work balance.
There's a good mix of Ex-Forces personnel throughout the teams and it's good to still have that camaraderie with them when we get together at work and socially."
Frequently asked questions
What skills do REME people have that are transferable?
There are many – professionalism, electrical and mechanical skills, high-voltage experience, problem-solving skills, ability to deliver when under pressure, teamwork, organisation, managerial skills and process awareness.
What types of roles are suitable for those leaving the REME?
There are a variety of roles within Siemens Healthineers suitable, such as Engineering, Health and Safety, Commercial, Service Management, Logistics and Project Management.
What training is provided?
New employees complete certified technical training at one of the three global expert training centres, followed by local mentoring with a Senior Engineer. In addition, we develop people academically through internal educational courses and adult apprenticeships.
What is the recruitment process? 

All our positions are advertised on our careers site:
https://jobs.siemens-healthineers.com
You can also send us an email to request further information.  Our Talent Acquisition team will contact you to discuss your career plans and answer any questions you have.
What is a CSE and what is a typical day?
A CSE is a Customer Service Engineer. These highly trained and motivated electro-mechanical engineers are the customer-facing representatives of Siemens Healthineers. They are experts in their field and are highly respected by our customers and internal departments. They are responsible for carrying out maintenance & repair of technical equipment deployed with medical environments.
How do we integrate new people into the team?
We have a strong onboarding and mentoring program to support your development and integration into the team.
What is the career progression?
Service engineering has five levels of Engineer stages, which is achieved through training, competency and building experience. In addition, Siemens Healthineers supports employees to personally develop and look at opportunities throughout the company.
What are the benefits? 

Supporting the NHS and being able to work on state-of-the-art equipment brings significant personal satisfaction while also knowing you are supporting patient care in your community. Please see below for an outline of the benefits package.  
What is the financial package?
We are happy to discuss the salary and package with you. Please get in touch so we can arrange a time to talk.
What happens if I'm not leaving immediately?
Please email us if you are interested in new roles and sign up to our Talent Community. 
Employee stories
Steve Girling, Customer Service Engineer, Level 3
I'm a former Avionics Engineer who served in the Royal Air Force for 16 years. My journey with Siemens began in 2013 with the Offshore Renewables division and after a short period in the FMCG industry, I joined the Siemens Healthineers team in 2019. Today I'm responsible for a wide variety of equipment from ultrasound to diagnostic and interventional x-ray products.
Siemens Healthineers recognises the military ethos, core values and standards which has supported my transition to civilian life. In addition to a manager who understands military nuances, we have a team comprised of a healthy mix of tri-forces, non-military and apprentices who are always happy support, mentor and have a general chat about the weather.
The diverse nature of this role ensures that each day presents a unique set of challenges, ranging from performing scheduled maintenance and software installations, to providing technical support and addressing customer inquiries.
Brian's story
"After 26 years as a REME Electronics Technician/Artificer, I joined Siemens Healthineers as a Customer Service Engineer supporting X-Ray Products.
I have been with Siemens Healthineers for 2 years and was supported throughout my transition from military life by a fantastic team of Engineers and Managers with a healthy mix of Armed Forces and private sector backgrounds. We work collaboratively with a strong team ethos and gain from our differing experiences.
My knowledge and opinions are appreciated and whenever I've need guidance someone has always been at the end of the phone. I've had the opportunity to make friends with engineers from Brazil to Korea and all countries in between at our top-class training centre in Bavaria.
Siemens Healthineers allows me to develop professionally, introduces me to cutting edge technologies and has offered me unrivalled work-life balance. I travel to different sites each day, all within the Northeast, and enjoy building up successful relationships with our customers within the Healthcare Sector."
Benefits
View an overview of some of the key benefits, which form part of the package for Siemens Healthineers employees.