Dimension Vista® 1500 Intelligent Lab System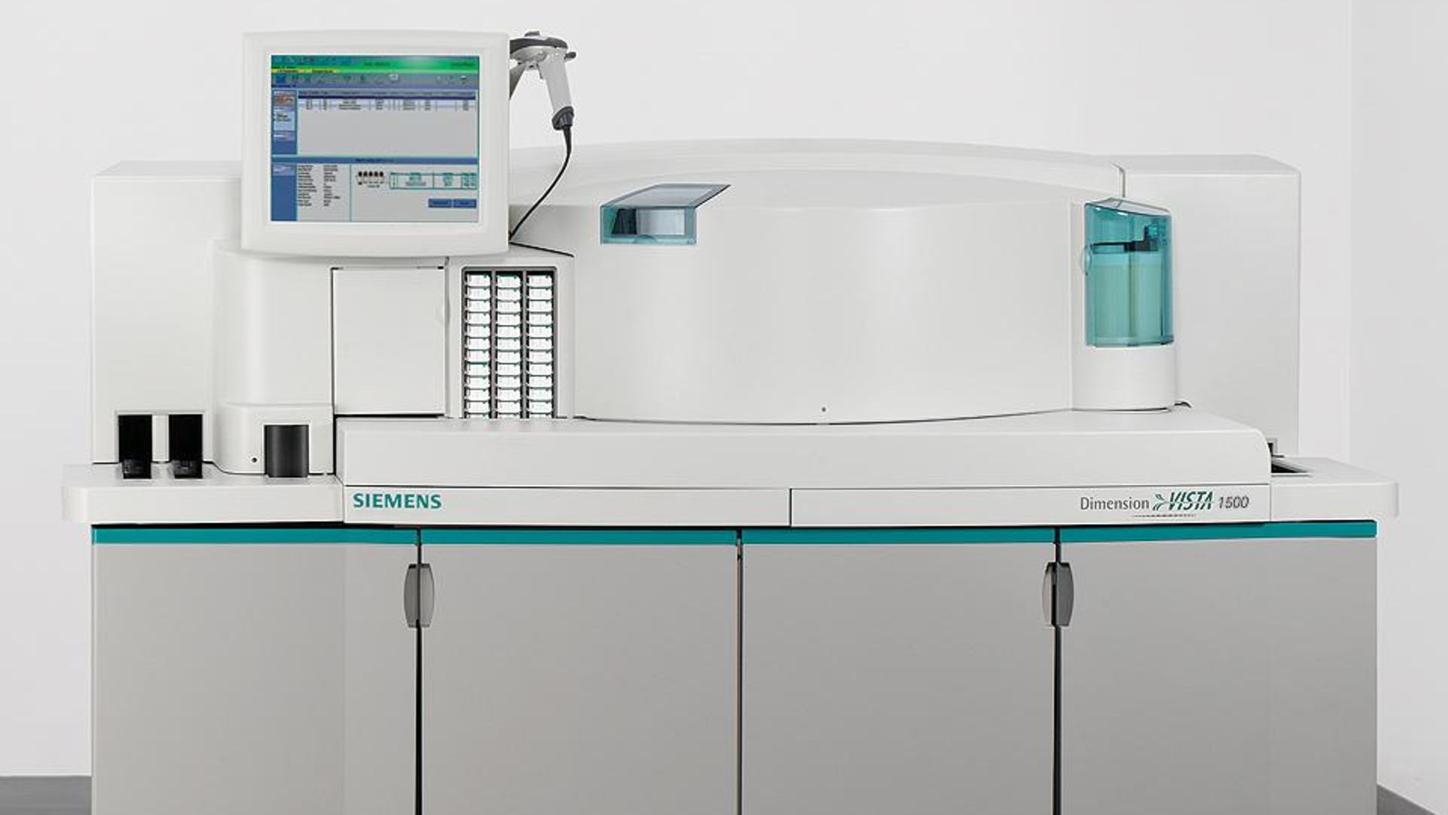 Dimension Vista 1500 Intelligent Lab System
The Dimension Vista® 1500 System provides intelligent analytics where sample-centric design, unique integration of four technologies, including LOCI® advanced chemiluminescence, customer-driven engineering and flexibility of configurations all come together for a more efficient workflow.
Sample-centric design incorporates Lean principles for simplified, consolidated sample processing
Unique integration of four technologies allows simultaneous processing of tests for multiple disease states on a single platform from a single tube
Customer-driven engineering helps eliminate many manual tasks freeing up technical time to address critical issues throughout the lab
Flexibility of configurations to meet your laboratory needs today and into the future
Características e Benefícios
Unique integration of four technologies increases productivity
More than 100 assays processed simultaneously
166 onboard reagent slots
Over 90% of a typical lab test mix on a single platform
Disease state management from a single primary sample container
Capacity for 600-800 samples onboard simultaneously
Up to 2000 tests per hour
Common reagent area and packaging
LOCI Advanced Chemiluminescence produces trusted results in a flash
High sensitivity immunoassays integrated with fast turnaround time
    - 10-minute cardiac panel
    - 16-minute 3rd-generation TSH
Advanced homogeneous chemiluminescent technology
Short reaction times with no wash or separation steps
Low sample volumes
Customer-driven engineering helps eliminate manual tasks
Consolidated testing
Ease of use 
Automated hands-off calibration and quality control
Auto-sensitivity, precision and linearity
Customizable QC and calibration auto-acceptance parameters
Continual monitoring of onboard inventory
Autoverification of results performed according to user-programmable rules
Automatic repeat of panic values ensuring result reliability
Dual sample clot-check; short-sample detect; sample quality management; sample integrity; hemolysis, icterus, and lipemia indices (HIL)
Onboard help system
Onboard water purification module
> STAT Sample Processing Animation
> Nephelometric Animation
> Reagent Management Animation
Anemia
Ferritin
Folate
Vitamin B12
Cardiac
BNP*
CKMB (Activity)
CKMB (Mass)
CardioPhase® hsCRP
Myoglobin
NT-proBNP
High-Sensitivity Troponin I
Diabetes
Fructosamine*,†
Hemoglobin A1c‡
Drugs of Abuse/Toxicology
Acetaminophen
6-Acetylmorphine (6-AM)§
Amphetamines
Barbiturates, Urine
Barbiturates, Serum§
Benzodiazepines, Urine
Benzodiazepines, Serum§
Buprenorphine§
Cannabinoids (THC)
Cocaine Metabolite
Ecstasy
EDDP (Methadone Metabolite)†
Ethyl Alcohol
Ethyl Glucuronide (EtG)†,**
Fentanyl†
Methadone
Methaqualone§
Opiates
Oxycodone
Phencyclidine
Propoxyphene§
Salicylate
Tramadol†
Tricyclic Antidepressants§
General Chemistry
Alanine Aminotransferase (ALT)
Albumin (BCP)
Albumin (Nephelometry)
Aldolase*,†
Alkaline Phosphatase (ALP)
Ammonia
Amylase
Aspartate Aminotransferase
Bilirubin, Direct
Bilirubin, Total
Calcium (CPC)
Carbon Dioxide
Chloride
Cholesterol
Creatine Kinase
Creatinine
Creatinine (Enzymatic)
Gamma Glutamyltransferase (GGT)
Glucose
Glucose, Hemolyzed*,§
HDL Cholesterol
Iron
Lactate
Lactate Dehydrogenase
LDL Cholesterol
Lipase
Magnesium
Microalbumin
Pancreatic Amylase*†
Phosphorus
Potassium
Pseudocholinesterase
Sodium
Total Iron Binding Capacity
Total Protein
Total Protein, CSF/Urine
Triglycerides
Urea Nitrogen (BUN)
Uric Acid
Immunosuppressant Drugs
Cyclosporine‡
Cyclosporine (Extended Range)‡
Inflammation
Total IgE
Metabolic
Homocysteine
Oncology
AFP
CA 125II
CA 15-3
CA 19-9
CEA
Free PSA
Total PSA
Reproductive Endocrinology
Estradiol
FSH
hCG
LH
Progesterone
Prolactin
Testosterone
Special Infectious Disease
SARS-COV-2 IgG††
SARS-COV-2 Total††
Specific Proteins
α1-Acid Glycoprotein
α1-Antitrypsin
α1-Microglobulin
α2-Macroglobulin
ß-2 Microglobulin
Antistreptolysin O (ASO)
Apolipoprotein A-I
Apolipoprotein B
C1 Inhibitor
Ceruloplasmin
Complement C3
Complement C4
CRP
Cystatin C
Haptoglobin
Hemopexin
Ig Light Chains, Type Kappa
Ig Light Chains, Type Lambda
IgG Subclass 1
IgG Subclass 2
IgG Subclass 3
IgG Subclass 4
Immunoglobulin A
Immunoglobulin E
Immunoglobulin G
Immunoglobulin M
Lipoprotein(a) Ultra*,†
Prealbumin
Retinol Binding Protein
Rheumatoid Factor (RF)
Soluble Transferrin Receptor (sTfR)
Transferrin
Therapeutic Drug Monitoring (TDM)
Amikacin§
Caffeine§
Carbamazepine
Digitoxin
Digoxin
Ethosuximide§
Gentamicin
Lamotrigine†
Levetiracetam†
Lidocaine
Lithium
Methotrexate†
N-Acetylprocainamide (NAPA)
Phenobarbital
Phenytoin
Procainamide
Theophylline
Tobramycin
Valproic Acid
Vancomycin
Thyroid
Free T3
Free T4
T Uptake
Total T4
TSH
Technical Specifications
| | |
| --- | --- |
| | |
| | |
| | Height (without monitor): 55 ½" (141.2 cm) |
| | Height (with cover open): 80 3/8" (204 cm) |
| | Depth: 51 7/8" (131.7 cm) |
| UPS (included with instrument) | |
| | |
| | |
| | Weight: 416.7 lb (189 kg) |
| | 64.4-77.0° F (18-25° C) with maximum fluctuation of 5° F (2.8° C) per hour |
| | |
| | 65 dBA at normal operator position |
| | |
| | Water system onboard instrument |
| | |
| Electrical Service Outlet | North America: 200-240 VAC, 50/60 Hz, Single Phase, 50 A 2-pole, 3-wire grounding |
| | Europe: 230-240 VAC, 50 Hz, Single Phase, 32 A 2-pole, 3-wire grounding |
| | Japan: 200 VAC, 50/60 Hz, Single Phase, 30 A 2-pole, 3-wire grounding |
Essa informação foi útil?
† Alliance Application manufactured by third party, distributed by Siemens Healthcare Diagnostics.
‡ No manual pre-treatment.
§ Alliance Application manufactured and distributed by Siemens Healthcare Diagnostics.
** Restricted in the U.S. to law enforcement related use (forensic use only).
†† This test has not been FDA cleared or approved. This test has been authorized by FDA under an EUA for use by authorized laboratories. This test has been authorized only for detecting the presence of antibodies against SARS-CoV-2, not for any other viruses or pathogens. This test is only authorized for the duration of the declaration that circumstances exist justifying the authorization of emergency use of in vitro diagnostics for detection and/or diagnosis of COVID-19 under Section 564(b)(1) of the Act, 21 U.S.C. § 360bbb-3(b)(1), unless the authorization is terminated or revoked sooner. Product availability may vary by country and is subject to regulatory requirements.
The products/features (mentioned herein) are not commercially available in all countries. Due to regulatory reasons their future availability cannot be guaranteed. Please contact your local Siemens Healthineers organization for further details.