Viva-ProE System
Proven performance in a reliable, next generation bench-top system
The Viva-ProE® System with EMIT® technology assists in optimizing your facility's drug-testing performance by delivering efficient results in a compact bench-top design. The Viva-ProE System is a flexible new approach to dedicated drug testing analysis, enabling greater ease of use, workstation efficiency, and a full drug testing menu all in one powerful system.
Improves workflow through convenient onboard waste and water storage
Touchscreen monitor with next-generation software enables ease of use for improved laboratory efficiency
50 samples and 12 auxiliary positions enhance walkaway time and help reduce errors
Peltier cooling for reagent stability and performance
Builds on proven reliability, with robust, long-life components that reduce user maintenance and limit periodic maintenance visits to one per year
Complete menu for drugs-of-abuse and validity testing and serum toxicology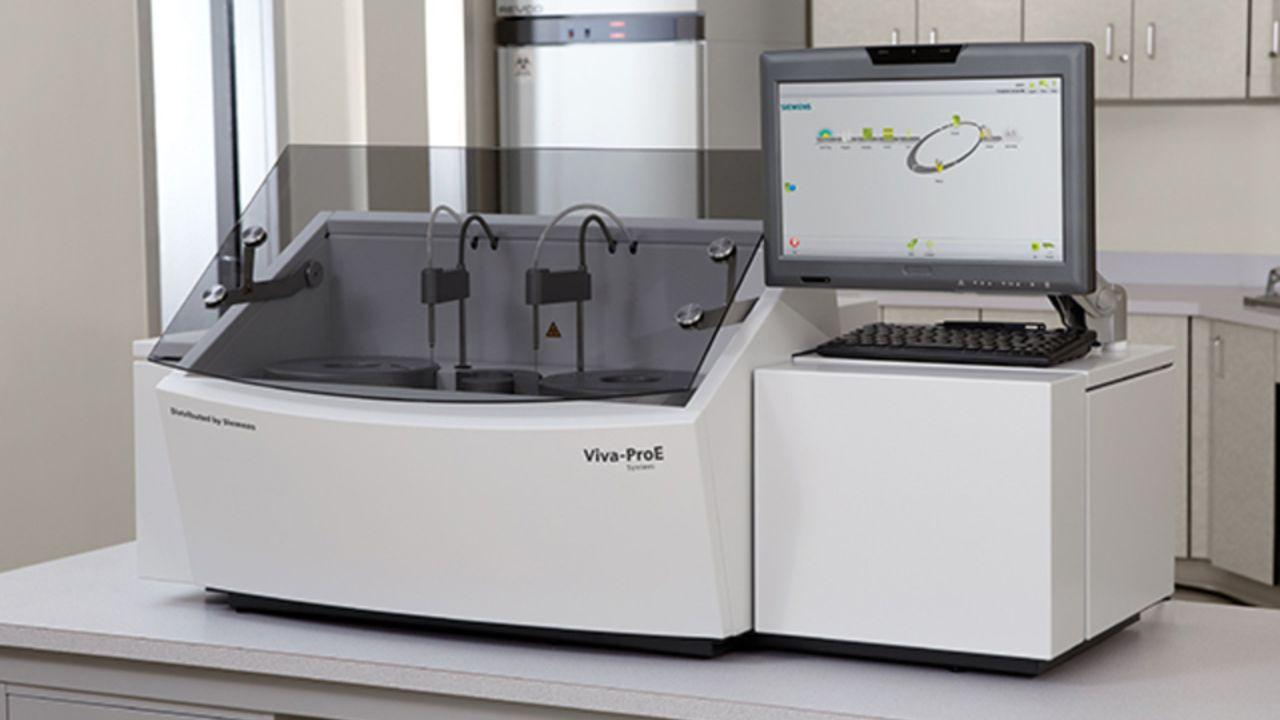 Viva-ProE System
Designed for industrial facilities, pre-employment testing centers, workplace testing, clinical laboratories, transplant-management centers, drug courts, criminal justice systems, and treatment centers, the Viva-ProE® System processes Syva® EMIT® reagents for drugs of abuse testing (DAT), as well as performing validity testing of samples.
Proven, reliable performance
45+ years of technical experience
Dedicated service/support team
Heritage of trust and reliability
Average maintenance visits: 1/year
50 samples and 12 auxiliary positions enhance walkaway time and helps reduce error 
Next-generation technologies
Peltier cooling for reagent stability and performance
Easy-to-use reagents
Semi-continuous sample loading
True random access capabilities
Run up to 133 EMIT tests per hour
Comprehensive but compact
Full onboard positive sample ID
10 open channels allow flexible test menu and assay capacity
EMIT assay menu for DAT and SVT
Intuitive and easy-to-use
Touch-screen command center with intuitive workflow software
On-board reagent inventory management, operator's guide and troubleshooting
Easy maintenance procedures 
Drugs of Abuse
6-Acetylmorphine
Amphetamines*
Barbiturates
Benzodiazepines
Buprenorphine
Cannabinoids
Cocaine Metabolite
Ecstasy
EDDP†
Ethyl Alcohol
Ethyl Glucuronide (EtG)†‡
Fentanyl†
Ketamine†‡
Lysergic Acid Diethylamide
(LSD)
Meperidine†‡
Methadone
Methamphetamine*
Methaqualone
Opiates
Oxycodone
Phencyclidine
Propoxyphene
Synthetic Cannabinoids †‡
Tramadol†

Therapeutic Drug Monitoring
Amikacin
Caffeine
Carbamazepine
Cyclosporine
Digoxin
Disopyramide
Ethosuximide
Gabapentin†
Gentamicin
Lamotrigine†
Levetiracetam†
Lidocaine
Methotrexate†
Mycophenolic Acid**
Oxcarbazepine††
Phenobarbital
Phenytoin
Primidone
Procainamide
Quinidine
Sirolimus
Tacrolimus
Theophylline
Tobramycin
Topiramate†
Valproic Acid
Vancomycin
Voriconazole††
Zonisamide†

Emit Serum Toxicology
Acetaminophen
Barbiturates
Benzodiazepines
Salicylic Acid
Tricyclic Antidepressants

Specimen Validity Test
Creatinine‡
Nitrites‡
Oxidants‡
pH‡
Specific Gravity‡

Up to 133 EMIT® tests per hour with two reagents
Up to 65 EMIT® tests per hour with three reagents 

EMIT reagent rotor — with 13 positions for 14 mL bottles and 13 positions for 28 mL bottles
All positions in both rotors can be assigned as R1, R2, and R3
The reagent rotor compartment is cooled to 8–12°C (absolute up to 25°C ambient temperature)
Reagent volumes:
   – Reagent 1 volume 110–399 μL
   – Reagent 2 volume 10–289 μL
   – Reagent 3 volume 10–289 μL
Aspirated reagents are heated, with level detector and integrated stirrer

Sample system – providing semi-continuous
loading

Sample rotor contains:
– 50 positions for barcoded tubes
– 12 positions for tubes without barcodes
– 1 blank and 1 washing position
Primary tubes (13 or 16 mm OD)
Positions can contain 5 mL or 10 mL primary tubes or sample cups
Sample volume 1 – 30 µL per test, programmable in steps of 0.1 µL
Sample probe with level detection and integrated stirrer

Flex Fluidics syringes
Reagent syringe 1000 μL
Sample syringe 100 μL

Semi-disposable rotor with 48 cuvettes, path length 6.8 mm
Minimum measuring volume 200 μL
Measuring temperature 37°C controlled by Peltier elements

Cuvette rinsing with 4 x 500 μL of treated water:
   – The unit is equipped with liquid sensors
   – Waste is separated into diluted and
      concentrated waste


   – Cuvettes are dried before use 

Quartz-iodine lamp 12 V – 20 W

Automatic wavelength selection by an 8-position filterwheel (340, 415, 505, 546, 570, 600, 660, 700 nm)
Half bandwidth 8 to 12 nm

15–32°
Relative humidity 15–85% (non condensing)

Linear regression
Modified cubic spline
Syva® 4 parameter logit log

Up to 6 controls per parameter (up to 12 controls programmable per rotor configuration)
Westgard rules
Levey-Jennings plots

CPU: Intel Celeron M 575 2 GHz
Touchscreen monitor: 15.6 inch, 1366 x 768 pixels
Ports: 1 serial, 4 USB, and 1 ethernet port       

The application supports one printer
Most printers supported by WINDOWS can be connected

The Viva-ProE™ is equipped with an internal barcode reader to read barcoded sample tubes. An optional hand-held barcode reader is available.

English, French, German, Italian, Spanish; others on request

Width: 125 cm/49.2 in
Depth: 62 cm/24.4 in
Height, excl monitor: 75 cm/29.5 in
Weight: approx. 93 kg/205 lbs (excl. monitory arm and panel PC)
Did this information help you?