Head/Neck 64
Ultra-fast, high SNR, head and neck imaging
Head/Neck 64
Whole brain DSI, 514 directions, b-max 8000, voxel 2.0x2.0x3.0 mm
(Image rendering courtey of TrackVis.)
Specially designed to enable highest SNR, large FoV head/neck imaging together with maximal user flexibility and patient comfort.
The Head/Neck 64, with its anthropomorphic geometry, accommodates a large variety of patients while providing highest SNR for extreme iPAT performance. With full coverage of the head and neck and seamless integration with the spine and body coils.
The industry's highest density head/neck coil
Ease of use and high patient comfort
Open up new fields for exploration
General
The industry's highest density head/neck coil
Anthropomorphic geometry with full head/neck coverage
Extremely high SNR for high-resolution, large FoV imaging
Extreme iPAT performance for ultra-fast imaging with minimal SNR loss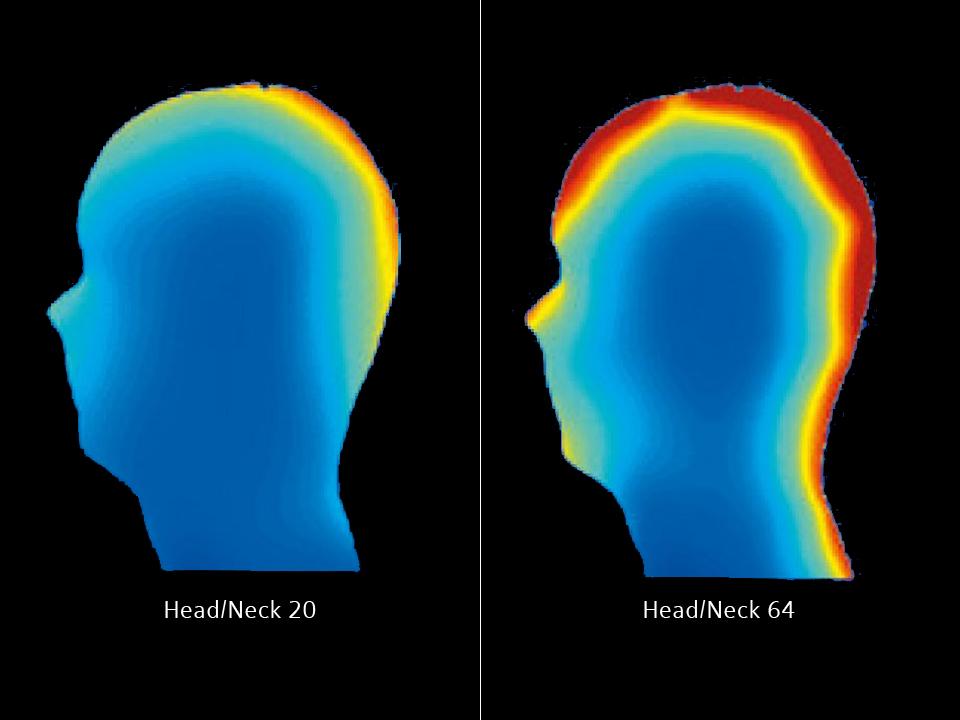 Ease of use and high patient comfort
Ultra light-weight with a single SlideConnectTM plug
Posterior half connects directly into patient bed with DirectConnectTM technology
Can be used in combination with spine and body coils for efficient whole-body imaging
Open, patient-friendly design
Open up new fields for exploration
High SNR to reveal the smallest details
Open, accessible design to facilitate fMRI visual stimulation and eye tracking experiments
Rear port for EEG cables for simultaneous EEG/MR imaging for up to 128 electrodes
Applications
High-resolution, ultra-fast, large FoV, anatomical and functional head and neck examinations
MR Angiography of the head and neck
Typically combined with
Body 18
Spine 32
All Tim 4G coils for whole-body examinations
Technical data
Dimensions: 435 mm × 395 mm × 350 mm
Hear what customers and collaboration partners say
"The 64-Channel Head/Neck coil allows us to get better signals from the cortex and also cover the cerebellum and the neck very well. That allows exploration of new research fields which are difficult to do with other coils."1
Prof. Rainer Goebel, PhD (MAGNETOM Prismafit user)
Professor, Maastricht University & Scientific Director,
Scannexus, Maastricht, The Netherlands
"The Head/Neck 64 reveals previously hard-to-recognize, but pertinent anatomical and disease-related details for a spectrum of pathologies within the brain, inner ear, orbits, skull base and neck, as well as the cervical spinal cord. This leads to improved insight into neuro-anatomy relevant to an extended range of diseases. All this can be achieved, fortunately, at advanced speed and resolution."1
Prof. Dr. med. Bernhard Schuknecht, MD
Diagnostic, Vascular and Interventional Neuroradiology
MRI-Medical Radiological Institutes Zurich, Switzerland
 
"I think that at the end of the day, we produced a very high quality coil and it will be usable with almost any patient and it has succeeded in extending the coverage of the 32 channel brain array down into the spine."1
Lawrence Wald, PhD
Director, MGH NMR Core, Martinos Center
MGH, Boston, USA
"And this has relevance, for example, for neurodegenerative diseases, for multiple sclerosis, where the spinal cord is heavily involved. Or for pain studies or motor learning or functional plasticity of the central nervous system."1
Boris Keil, PhD
Assistant in Biomedical Engineering
MGH, Boston, USA
"Collaboration was great [...] I think the success of the enterprise, the fact that this prototype worked first time out, really spoke, not just to the brilliance of Boris and Larry and the design, but to the closeness of the interactions that we had with our colleagues at Siemens to provide us all the key information and hardware we needed to design and build a successful coil."1
Bruce Rosen, PhD
Director Athinoula A. Martinos Center for Biomedical Imaging
MGH, Boston, USA
Large FoV, ultra-fast, head and neck imaging with high iPAT factors
High-resolution C-spine imaging
Non contrast-enhanced ToF imaging of the brain and carotids
High-resolution whole-brain DTI Tractography
High-resolution C-spine Tractography with RESOLVE
Download the Head/Neck 64 flyer for more examples and clinical cases.
System
MAGNETOM Skyra eco
MAGNETOM Prisma
MAGNETOM Skyra
Minimum Software Version
syngo MR D13A
syngo MR D13D
Other
Also available for:
MAGNETOM Prismafit
MAGNETOM Skyrafit
64-Channel configuration
Scanner upgrade may be necessary
Please Note: Additional technical pre-requisites may apply. Upon receiving your request, your local Siemens representative will clarify whether your system meets the requirements.
Did this information help you?