The future of Atellica
Exciting advancements are on the horizon.
In development. Not available for sale.
Atellica CI 1900 System: Redefining standardization
The Atellica CI 1900 System1 is being developed for the lower- to mid-volume laboratories. It is planned to use the same menu, reagents, consumables, and detection technology as the Atellica Solution.2 The Atellica CI 1900 System is being designed to take the lab a step beyond by offering the same workflow and IT across the network, with the goal of redefining standardization.
Atellica Integrated Automation
Do more with less: Consolidate revolutionary sample management technology, intelligent software, and IT to provide workflow efficiency.
Atellica Decapper:2 Requires little or no additional footprint.
Atellica Sealer:3 Adds some additional footprint.
New racks and customizable sorting options.3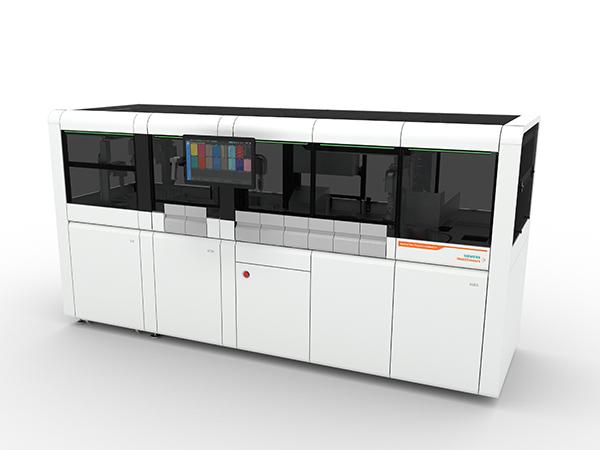 Atellica Task Targeted Automation
In labs with limited space, Atellica Task Targeted Automation4 streamlines multidisciplinary sample preparation and drives open, advanced clinical workflows with robust, customizable, and scalable robotics delivered by the workflow experts at Siemens Healthineers.
COVID-19 Severity Algorithm, powered by AI5
Helps triage hospitalized patients with COVID-19 by predicting the likelihood of progression to severe disease and life-threatening multiorgan dysfunction.
Algorithm based on >14,000 cases of COVID-19.
Analyzes nine lab biomarkers.
Used in partnership with and utilized by leading healthcare institutions from Atlanta, Houston, New York, and Madrid.
Atellica Hematology Portfolio
The Atellica Hematology Portfolio6 streamlines testing through seamless integration.
Scalable high-throughput analyzers offer right-sized solutions.
Comprehensive clinical parameters support diverse patient populations.
Flexible automation systems7 aim to drive efficiency, with intelligent IT that can standardize testing across networks.
By clicking Submit you consent to the processing of your above given personal data by the Siemens Healthineers company referred to under Corporate Information and for the purpose described above. Further information concerning the processing of your data can be found in the Data Privacy Policy. You are aware that you can partially or completely revoke this consent at any time for the future. Please declare your revocation to the contact address given in the Corporate Information and sent it to us via the following e-mail address: dataprivacy.func@siemens-healthineers.com.