epoc Blood Analysis System, Now with NXS Host
Right Result. Right Here. Right Now.
What could happen when critical testing results are securely delivered patient-side in less than 1 minute with a system that securely connects the entire care team?

With the epoc® Blood Analysis System as the nexus of care, caregivers and the laboratory can stay connected to what's important—being where patients need them most.
The epoc system connects the patient, actionable test results,
the care team, and the therapy they deliver.
Patient diagnosis and treatment may happen faster. The hospital may make better use of resources. Patient safety may be enhanced with a simplified testing process and integrated positive patient ID. The streamlined testing workflow could help reduce costs. Outcomes could improve, and a complete, consistent clinical picture would be accessible across the care continuum.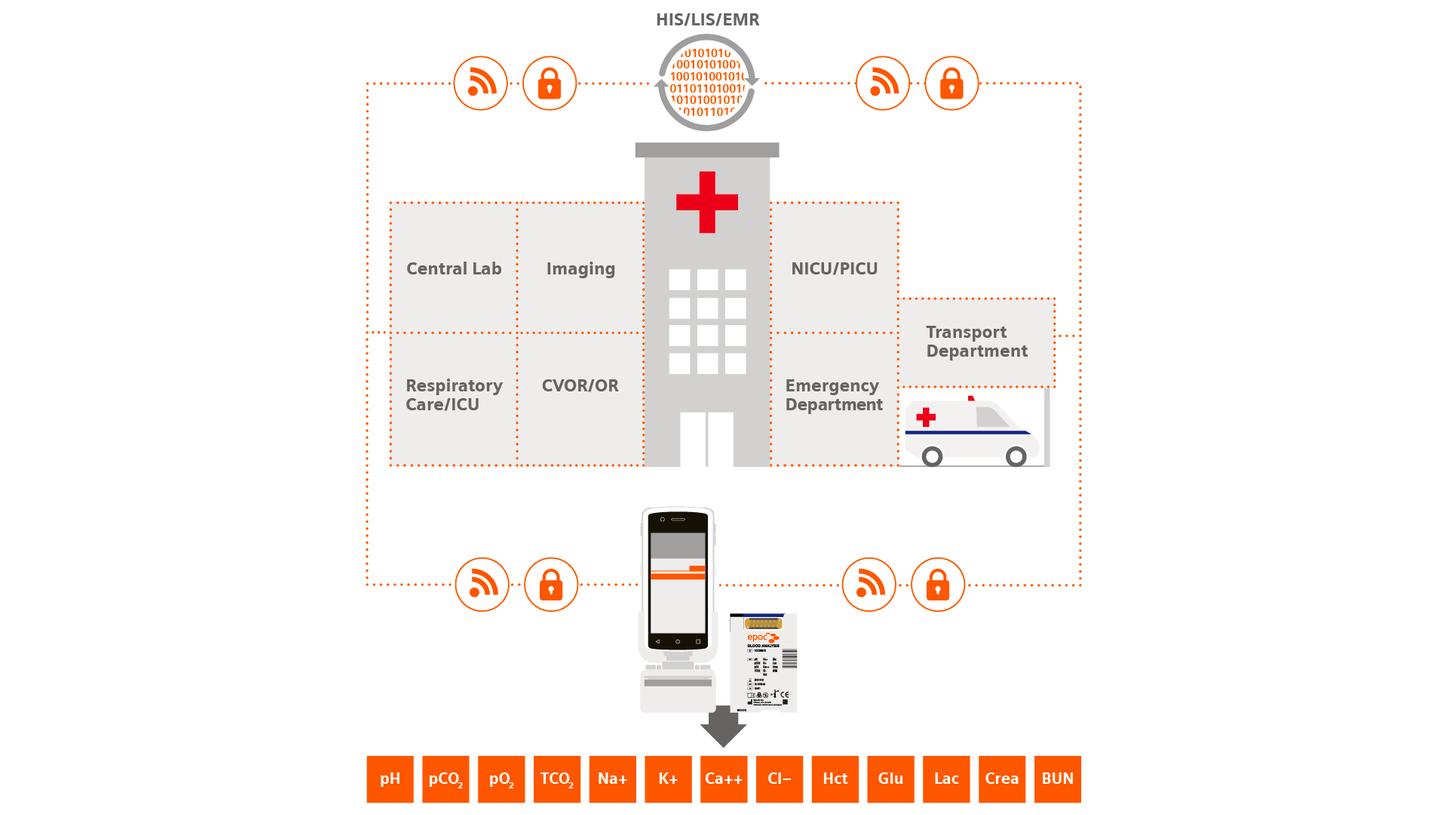 Healthcare providers spend more time with the patient to drive faster diagnosis and treatment decisions.
How can enhanced safety and a simplified testing process provide confidence and peace of mind?
The epoc system connects the entire team, so it doesn't matter if the laboratory staff and caregivers work in different parts of the hospital. With the epoc system, they stand together to advance care delivery.
"The purpose of the 2017 National Patient Safety Goals is to improve patient safety. Two goals highlighted to address problems were to identify patients correctly and improve staff communication."
The Joint Commission Accreditation Hospital
"The immediate introduction at the bedside of a patient's blood sample into an epoc test card minimizes preanalytical sample degradation."
Clarke Woods, BS, and Dave Culton, BA. Pinnacle Health
Patient-side testing simplifies the process, eliminating sample transport and pre-analytical sample degradation to provide accurate results.
Traditional testing models require multiple steps including transport to a stationary analyzer which takes up precious time that may delay availability of results.

"We are talking 30 mins on a test and that is a STAT because that is just the process. That's just how long it takes there's nothing you can do about that"
Transforming Care Delivery at Huntsville Hospital
Huntsville Hospital reduced their (sepsis) mortality rate by ~50% as part of a sepsis program.
"For every hour you wait to give an antibiotic, the mortality for that patient increases 8%, so now that we have the handheld device, the nurse can get those results within 3 minutes, and we know how to treat that patient." - Carissa Hicks, RN, Huntsville Hospital
Actionable results in less than 1 minute at the patient's side.
Results reflect that patient's immediate condition, not their condition 30 minutes ago.
The laboratory spends less time on complex inventory management optimizing time and resource utilization.
What does a single room temperature stable test card with barcoded expiration deliver?
Freedom to focus on where you bring the most value to patient care.
Barcoded test cards automate quality assurance and a single room temperature stable test card streamlines inventory management.
"Each reagent for the epoc has direct bar coding, ensuring easy traceability."
Shweta Agarwal, MD, Baylor College of Medicine and Texas Children's Hospital
"The epoc system uses a single test card with all the different analytes whereas a competitor system uses multiple test cartridges for the same results. Lastly, the smart card technology of epoc reduces cost and maximizes efficiency in the hospital setting."
Shweta Agarwal, MD, Baylor College of Medicine and Texas Children's Hospital  
Test cards are barcoded to eliminate the risk of running an expired test card. 
Advance care delivery by bringing critical testing patient-side with the epoc® Blood Analysis System
Advanced, intuitive touchscreen interface
Enhanced security with Android 9.0 OS
Streamlined testing workflow  
Leverage centralized control of decentralized testing with secure, wireless communication and our POC Informatics Solutions
The epoc system provides bidirectional communication with POCcelerator data manager, allowing caregivers the ability for device, operator and inventory management, along with quality control. This provides the ability to proactively manage data across the hospital, giving you centralized control over decentralized testing.
Connected Comprehensive Care
Manage, configure, control, and troubleshoot testing on epoc, RAPIDPoint® and RAPIDLab® blood gas systems with our POC Ecosystem™ Solution. Enable the monitoring of information from every connected analyzer, including epoc Blood Analysis Systems and test devices with more than 40 manufacturers, with our POCcelerator Data Management System.
POC Ecosystem™ Solution
Whatever your device mix and wherever critical testing takes place, Siemens Healthineers' POC Informatics help advance workforce productivity, improve clinical workflows, satisfy compliance and accreditation requirements, and optimize the management of resources.
Test results from the epoc® system correlate with leading point-of-care benchtop blood gas and chemistry analyzers.
Did this information help you?
The products/features shown on this webpage are not commercially available in all countries. Due to regulatory reasons, their future availability cannot be guaranteed. Please contact your local Siemens Healthineers organization for further details.