Pediatric patients present unique challenges in diagnostic imaging that requires specialized equipment to deliver diagnostic confidence across patient sizes and indications.
ACUSON Sequoia is designed to address these unique challenges with dedicated pediatric transducers, measurement packages and advanced tools. ACUSON Sequoia scans faster and delivers more image quality than conventional ultrasound to deliver the highest levels of diagnostic accuracy in the premature neonate to the adult-sized teenager.
Intelligent Imaging
Increased patient movement, heart rates and respiratory rates are common when imaging children and make ultrasound imaging a challenge.
The ACUSON Sequoia's powerful architecture and specialized transducers are optimized for pediatric scanning. InFocus Imaging technology eliminates the need for manual focal zones to create a fully focused image with faster frame rates than conventional ultrasound when scanning the occasional uncooperative little ones.5
9C2 single crystal transducer
15% smaller lens surface improves intercostal scanning in children; equipped with Auto Point Shear Wave Elastography (Auto pSWE) and Ultrasound Derived Fat Fraction (UDFF). 
11M3 single crystal micro-convex transducer
Has a small footprint and superb imaging to manage the tiny acoustic windows and incubator scanning of neonates. 
Expanded Insights
Ultrasound's advantages in pediatric imaging include the lack of ionizing radiation, reduced need for sedation, and real-time imaging. Advanced tools such as contrast enhanced ultrasound, elastography and liver fat quantification expand these advantages to new use cases.
ACUSON Sequoia's exceptional performance in contrast-enhanced ultrasound (CEUS) and exclusive innovations such as Auto Point Shear Wave Elastography (Auto pSWE) and Ultrasound Derived Fat Fraction (UDFF) improve diagnostic accuracy through quantification and characterization of tissue.
Clinical Image Gallery
Ultrasound Derived Fat Fraction (UDFF) is an easy, reproducible and quantitative ultrasound index with respect to the percentage of liver fat quantification for a clear cut off value to classify hepatic steatosis as an index value greater than 5%.
User-Driven Design
The variability inherent in the ultrasound scanning process can pose a challenge for users. To eliminate variability, Siemens Healthineers hosted 170 workshops with 365 ultrasound users worldwide to create an ultrasound system designed by users, for users.
ACUSON Sequoia was evaluated by an independent user experience design and development company in terms of user performance and user satisfaction. The ACUSON Sequoia earned a system usability score (SUS) of 86% and user preference score of 82%, scoring higher than the conventional ultrasound systems participating in the study.
Bedside Ultrasound to Limit Transport
ACUSON Sequoia is a powerfully portable system. Designed to improve the ergonomic experience, the ACUSON Sequoia delivers the highest level of ultrasound imaging while delivering pediatric bedside ultrasound efficiency.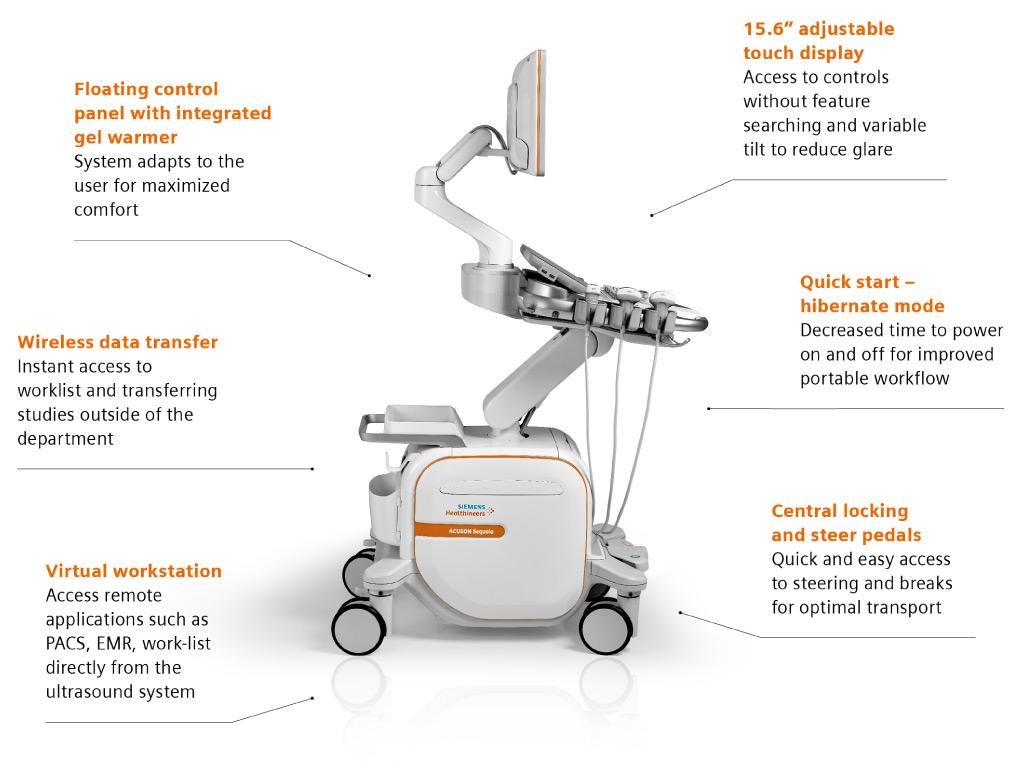 The transport of fragile newborns can be complex and hazardous. Bedside ultrasound in critical care areas is a normal practice for many pediatric experts.
ACUSON Sequoia is a powerful portable ultra sound system designed to improve the ergonomic experience anywhere in the hospital while delivering the highest level of ultrasound imaging and bedside efficiency.