ARTIS icono
An icon of innovation
Minimally invasive treatments have already seen a decade of great progress, but they still hold vast potential for growth and innovation.
The ARTIS icono family is designed to help you realize that potential by enabling you to offer a wide procedure mix in a single interventional suite. Its state-of-the-art technology will keep you at the top of your game for years to come. This is what we mean by an icon of innovation.
ARTIS icono biplane
ARTIS icono biplane is the ideal solution for a wide range of disciplines and procedures. Neuro procedures – and particularly stroke treatment – benefit from revolutionized cone beam CT image quality with syngo DynaCT Sine Spin and syngo DynaCT Multiphase depicting 8 perfusion phases. Lateral Plane Switch enables multidisciplinary usage between cardiologists and radiologists without compromises. With full body (165 cm) lateral plane coverage, there's no need to compromise during abdominal procedures either.
ARTIS icono floor
ARTIS icono floor is the flexible, multi-axis floor system that offers ceiling-like flexibility at a lower price point. The system provides full patient coverage of 2.1 m without having to reposition the patient and 1.9 m lateral coverage, which is ideal for e.g. radial access. Installation sizes start from just 25 sqm, while the free ceiling makes installation easier and minimizes air flow impact during imaging.
The ARTIS icono family is the ideal solution for a wide range of disciplines and procedures, in particular:
Neuro interventions
Cardiac interventions
Vascular interventions
Cardiovascular surgery
The device provides excellent image quality with a considerably lower dose of radiation. And the system functions without making almost any noise.
A breakthrough in neuro interventions
ARTIS icono biplane helps stroke centers master the double challenge they face today – treating more patients, and ensuring shorter procedure times.
The system now switches effortlessly between 2D and 3D imaging and offers faster, more precise cone beam CT images, even in challenging areas like the skull base and close to the cranial bone. ARTIS icono biplane is literally expanding precision medicine to advance therapy outcomes in neuro interventions.

Confidence in interventional imaging
ARTIS icono provides you with new functionalities to increase confidence in interventional imaging. In stroke diagnosis new 3D trajectories facilitate the detection of bleeding and help you determine collateral status. In AVM treatment, 4D imaging yields valuable information to grasp complex AVM anatomy.
Faster workflows
ARTIS icono systems are specially designed to make imaging workflows as smooth and swift as possible. Everybody benefits: you, your team and your patient.

Seamless switching between 2D and 3D
With Twin Spin, you can now easily switch between 2D and 3D imaging for the first time ever, making 3D preparation and acquisition faster. There's no need to park the lateral plane prior to 3D imaging with the floor stand, and AP and lateral isocentering is performed in a single step – no need to move system components.
Less risk of equipment collisions, e.g. with anaesthesia
Facilitates utilization of DynaCT
Makes procedures faster
 
Turn innovation into common practice
With its intuitive operation and procedural intelligence, ARTIS icono helps you speed up your procedures and keep pace with new interventions and workflow changes in the cardiovascular environment.
Standardizing workflows to your personal needs is a big benefit in times off staff shortage and cost pressure. Case Flows will help you to improve your efficiency and give you the possibility to establish new and more complex procedures.
Optimize clinical operations for cardiovascular interventions
Positioning and system flexibility
Connected and digital interventional suite
Optimize clinical operations for cardiac interventions
Positioning and system flexibility
Your center for connectivity in the interventional suite
Third Party Broker for next-level connectivity and communication
Connect different systems via standard protocols and a unified interface
Enables research in medical engineering and the development of new and in-house applications
Connection to Siemens Healthineers Digital Ecosystem
 
Optimize clinical operations for vascular interventions
Prof. Meyer, MD, on the benefits of Case Flows for optimal imaging parameters.
Each therapy step has its optimal imaging parameters, but it's tedious to consequently adapt them throughout the clinical procedure. Case Flows combine the multitude of system settings into a one-click selection for each workflow step, resulting in a full utilization of my system's capabilities in daily routine.1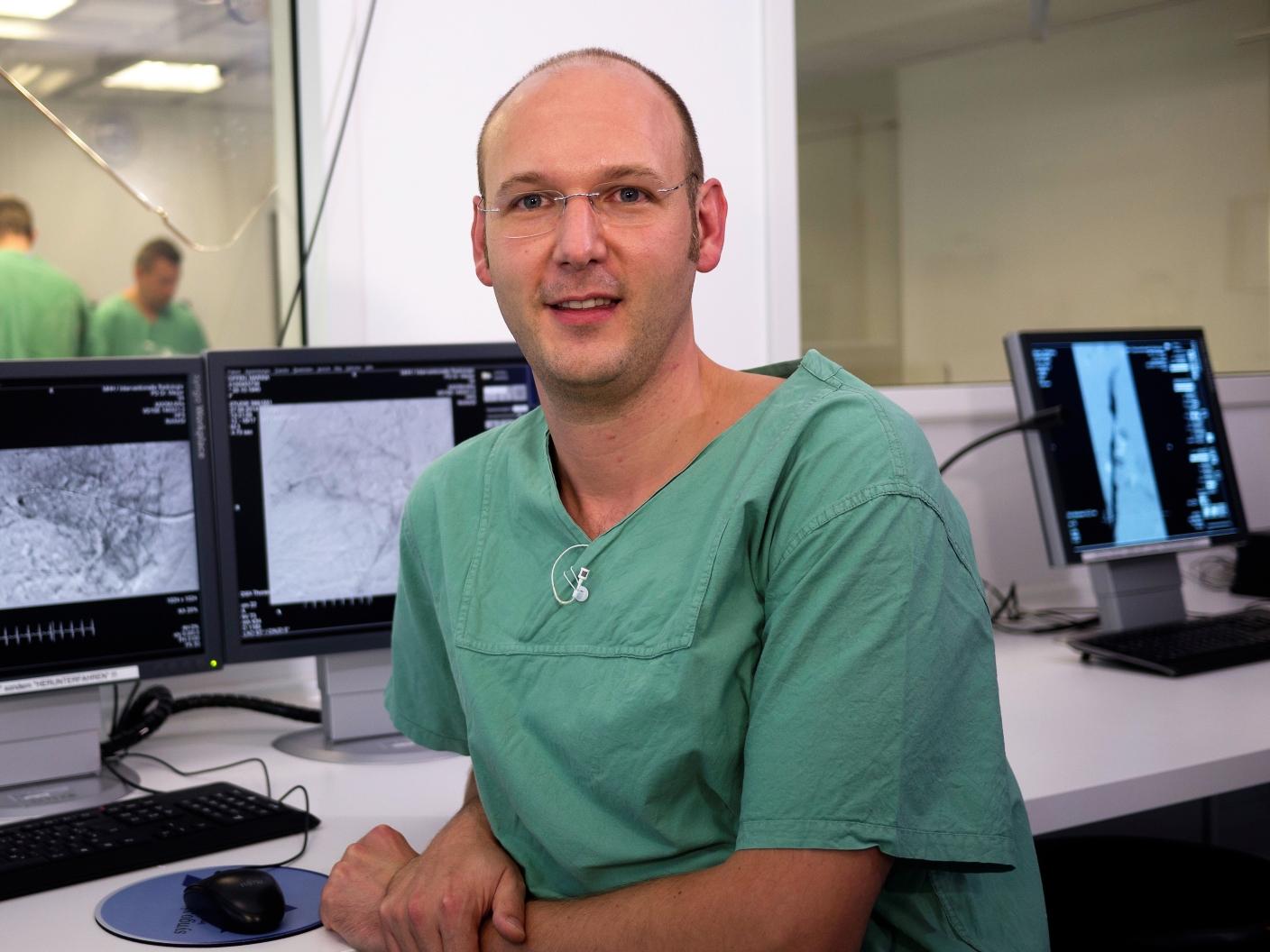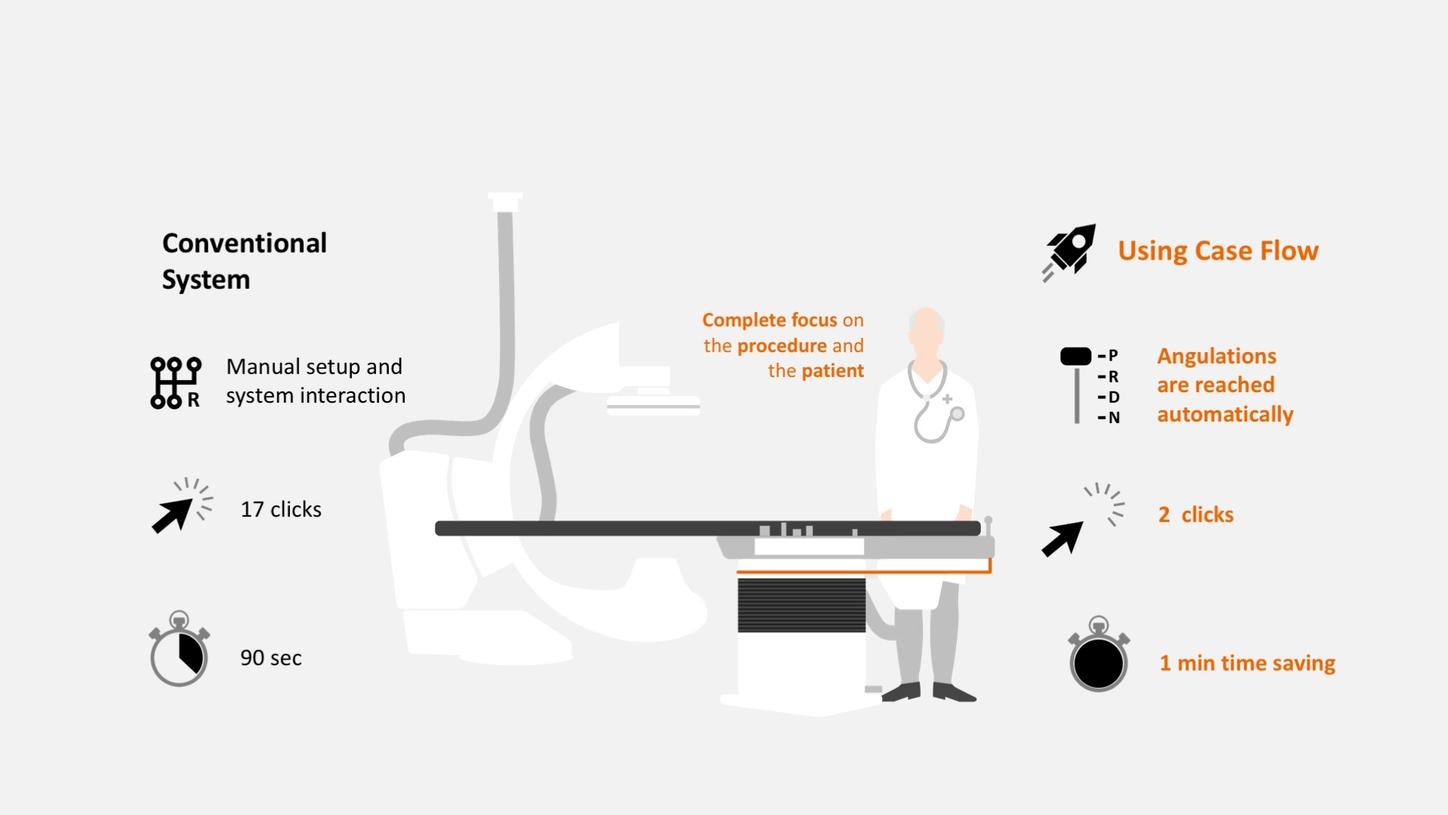 Case Flows speed up femoral access by 64%
Positioning and system flexibility in vascular interventions
Optimize clinical operations for cardiovascular surgery
Transform your existing OR into a Hybrid OR with ease
Sufficient patient coverage is key for imaging
Patient obesity should not create any obstacles for imaging and surgery
Budgetary constraints must be met before and after installation
Hospital-acquired infections are creating big challenges these days and must be addressed by a modern system
 
Transform your existing OR into a Hybrid OR with ease
ARTIS icono floor is the cost-efficient way to turn your existing OR into a hybrid operation room. Highlights include full tableside integration, fully motorized movements of the C-arm to all imaging positions and angulations. ARTIS icono floor has a small footprint (technically starting at 25 sqm) and is designed for easy installation.
Full feature set for vascular interventions, e.g peripheral diagnosis and stenting like TAVI, (F)EVAR, MitralClips
Supports cardiac diagnosis and treatment like PCI, EP, SHD and more
Integration with Sensis®
Multimodality imaging for complex treatments
 
Sufficient patient coverage is key for imaging
ARTIS icono floor offers a full motorized movement of the C-arm to image 2.10 m (6.9 ft) in patient direction plus a simple transition from imaging to surgery without the need to reposition the patient. Peripheral imaging of tall patients is possible in the "head first" position. The use of armboards is possible to faciliate brachial access. The extended parking position delivers comfortable patient transfers, and you can transfer quickly to the emergency position whenever the need arises.
 
Challenges in Hybrid OR installation and hygiene
OPTIQ – a new approach to image quality and dose
OPTIQ provides constant image quality at a new ALARA benchmark. Regardless of procedure, patient size or C-arm angulation, OPTIQ provides image quality according to your personal image flavor.
Your pre-set image quality level is maintained automatically throughout the procedure. For maximum dose efficiency and motion compensation, this innovative solution uses a contrast-driven technique based on automatic parametrization supported by intelligent, self-adjusting algorithms.
Siemens Healthineers exclusive 5-parameter-driven exposure control taken to the next level
SID and collimation settings are automatically taken into account
Constant image quality at a new ALARA dose benchmark
Structure Scout for material- and procedure-specific imaging
 
Prof. Vogl, MD, on the benefits for challenging procedures.
Structure Scout offers us outstanding device visibility at impressively low radiation dose. This gives us great confidence even during the most challenging procedures in personalized vascular medicine and interventional oncology.1
Cerebral DSA, visibility of smallest vessels and tissue perfusion
OPTIQ Roadmap – knowing the way
Roadmap enables dose reduction of up to 30% during complex, longer interventions. High-contrast visualizations show crisp, solid devices and clearly defined vessels, while the self-adjusting algorithms reduce motion artifacts.
 
Approche pluridisciplinaire
Improve utilization and expand your reach
With their unique combination of versatility and specialization, ARTIS icono systems can help to future-proof your interventional lab by improving utilization and broadening the procedure mix. These advanced interventional imaging systems support multiple users and procedures, and make sure different disciplines feel at home in the same interventional suite.
Improve utilization and expand your reach
Multidisciplinary usage – ARTIS icono biplane
In the past you were king in radiology if you had three CTs, three MRs and three angios. The future is about maximizing the use of equipment.1
Neuroradiology and Cardiology
ARTIS icono biplane adapts to the different needs of neuroradiologists and cardiologists in 90 seconds. Just press a button, and the Lateral Plane Switch automatically moves the lateral plane to your preferred position.
Side of the operator: reduced scattered radiation dose during neuroradiology
Left side of the patient: optimal cardiac image quality
 
Neuroradiology and Body Vascular IR
When body interventionalists share a lab with neuroradiologists, 2D and CBCT coverage in the lower abdomen (e.g. TACE and PAE) can be a challenge. ARTIS icono biplane provides full body (165 cm) coverage with the lateral plane for 2D and 3D abdominal coverage2 without repositioning the patient. 

2D and syngo DynaCT imaging with the lateral plane during PAE and UFE procedures2
Easy head access for anesthesia during 2D and 3D imaging (lateral plane parked)
Multidisciplinary usage – ARTIS icono floor
ARTIS icono floor is the cost-effective solution to the growing need for maximum versatility in the interventional suite.
Cardiology and Body Vascular
ARTIS icono floor gives you excellent peripheral and lateral coverage to support vascular interventions, plus steep angulations that facilitate cardiac diagnosis and treatment. syngo DynaCT delivers CBCT soft tissue imaging in scan times as low as 4 seconds, and multimodality imaging support (e.g. integrated wireless Ultrasound) offers invaluable assistance during complex treatments.
Feature sets for peripheral diagnosis and stenting, TACE, RFA and EVAR
Supports cardiac interventions in coronary artery disease, structural heart disease and electrophysiology, TAVI
 
Service
ARTIS icono systems are designed for increased uptime. The multiaxis floor stand, agile lateral plane and table are powered by new, intelligent Siemens industry motor gears and controllers. These components can report their status via a remote service connection, making them significantly more reliable.
Together with our experienced, highly trained Siemens service engineers, that adds up to best-in-class service at stable and predictable costs.
ELEVATE
ARTIS icono systems replace your existing Siemens angio unit smoothly, with a minimum of disruption and downtime. This means you can easily grow your procedure mix to stroke, body vascular, or tumor treatment in the same room.
Since ARTIS icono requires the same room size as Artis zee/Q (floor, biplane), minimal room reconstruction is required and the floor construction can be reused. You can benefit from the 'ELEVATE options' program and maintain your patient capacity thanks to minimal disruption to hospital operation. You will also benefit from the new ARTIS icono service contract and a flexible training concept, including our new online training with PEPconnect.
1The statements by Siemens' Healthineers customers described herein are based on results that were achieved in the customer's unique setting. Because there is no "typical" hospital or laboratory and many variables exist (e.g., hospital size, samples mix, case mix, level of IT and/or automation adoption) there can be no guarantee that other customers will achieve the same results.
2Lateral Plane syngo DynaCT for ARTIS icono is under development and not commercially available. Its future availability cannot be ensured.