ADVIA Centaur XP Immunoassay System
How does your lab meet varied testing demands?
Can your lab handle both routine and specialized testing without sacrificing efficiency? Can you maintain speed and accuracy for an increasingly diverse patient population? The high-performance ADVIA Centaur® XP system has more onboard reagents and dedicated STAT capabilities to maximize productivity, regardless of volume or types of tests. Always ready, continuous operation without interruption.
High throughput, up to 240 tests/hour
Intuitive software for ease of operation
STAT port guarantees priority sampling at any time
Data archive reduces administrative tasks
Extensive menu with 30 onboard reagents
Increase productivity by connecting to Siemens' Aptio™ Automation, ADVIA® Automation, StreamLAB® Automation or VersaCell® Solutions
ADVIA Centaur XP Immunoassay System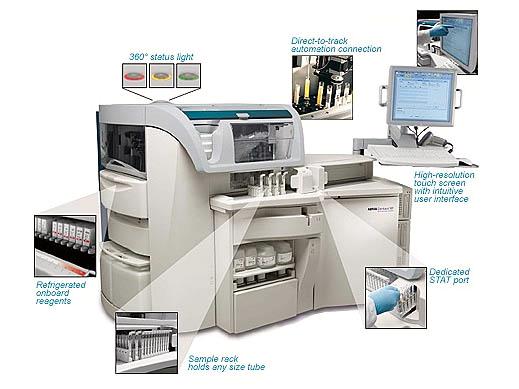 Comprehensive Menu
Comprehensive diagnostic testing covers screening, diagnosis, risk assessment and monitoring
30 onboard reagents maximize test capacity
Powerful Productivity
High throughput, up to 240 tests per hour, to keep pace with peak workload times
High-resolution touch screen for easy interaction
Expanded ancillary reagent and fluid capacity
Data archive feature reduces time for administrative tasks
Universal sample rack design eliminates manual tasks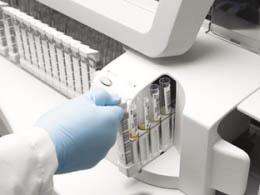 Excellent Patient Care
STAT port guarantees priority sampling at any time
Disposable pipette tips eliminate sample-to-sample carryover
Automatic dilution, repeat and reflex testing
Smart Algorithm Software automatically repeats and confirms reactive testing
Superior Service
360º status light displays system information visible from all points
User interface adjusts for customized ergonomics
No daily startup with automated maintenance features
New instrument sensors enhance remote diagnostic functions
Flexible Solutions
Connectivity to Aptio™ Automation, ADVIA® Automation, StreamLAB® Automation and VersaCell® Solutions
Siemens Remote Service (SRS) proactively maintains Siemens' systems
Anemia
Active B12
Ferritin
Folate
RBC Folate
Vitamin B12

Autoimmune
Anti-CCP

Bone Metabolism
Intact PTH
Vitamin D Total

Cardiac
BNP
CKMB
High-Sensitivity Troponin I (TNIH)
Myoglobin
Tnl-Ultra™

Diabetes
C-Peptide
Insulin

Hepatitis
Anti-HBs-2
HAV IgM
HAV Total
HBc IgM
HBc Total
HBeAg
HBsAg Confirmatory
HBs AgII
HCV**

HIV
HIV 1/0/2 Enhanced (EHIV)§
HIV Combo§

Immunosuppressant Drugs
Cyclosporine
Everolimus*
Tacrolimus*

Inflammation
IgE, Total

Metabolic
Cortisol
Homocysteine

Oncology
AFP
BR 27.29
CA 125II‡
CA 15-3
CA 19-9
Calcitonin
CEA
Complexed PSA
PSA
Serum HER-2/neu
Reproductive Endocrinology
AFP
Anti-Müllerian Hormone*
DHEAS
Enhanced Estradiol
Free βhCG‡‡
FSH
hCG
LH
PAPP-A‡‡
PIGF*
Progesterone
Prolactin
sFLT-1*
SHBG
Testosterone

Special ID
EBV-EBNA IgG*
EBV-VCA IgG*
EBV-VCA IgM*
Syphilis
Zika IgM††

Therapeutic Drug Monitoring
Carbamazepine
Digitoxin
Digoxin
Gentamicin
Phenobarbital
Phenytoin
Theophylline
Valproic Acid
Vancomycin

Thyroid
Anti-TG
Anti-TPO
Free T3
Free T4
T Uptake
Total T3
Total T4
TSH3-Ultra
TSH

ToRCH
CMV IgG
CMV IgM*
Herpes I
Herpes II
Rubella IgG
Rubella IgM
Toxoplasma IgG
Toxoplasma IgM
| | |
| --- | --- |
| | |
| | Random access immunoassay system |
| | |
| | 18 minutes; results every 15 seconds thereafter, assay dependent |
| | |
| | ADVIA Centaur® ReadyPack™ assays |
| | Direct Chemiluminescence using Acridinium Ester technology |
| | |
| | 1 mL, 2 mL, 3 mL, 5 mL, 7 mL, 10 mL, micro container tubes |
| | Universal 5-position rack holds multiple tube types; 180 samples fully loaded; no-pause loading and unloading |
| | Dedicated STAT port accepts samples any time |
| | Serum, plasma, urine - assay dependent |
| | 10 uL to 200 uL assay dependent |
| | Pressure transducer technology with clot management, detection, and flagging. |
| | Ensure zero sample carryover |
| | Varies by assay, up to 1:1000 |
| | |
| | Code 128, Code 39, Codabar, Interleaved 2 of 5 |
| | |
| | 30-position reagent tray cooled 4°C to 8°C |
| Reagent Integrity Control | Barcode reagent identification, automatic inventory tracking and flagging, calibration validity tracked and flagged, reagent on board stability tracked and flagged, reagent expired/ reagent low flagging |
| | ReadyPacks automatically rocked onboard |
| | 25-position ancillary reagent tray cooled 4°C to 8°C |
| | |
| | 1,000 ADVIA Centaur cuvette capacity |
| | ADVIA Centaur type, 840 on board, automatic tracking, and flagging of inventory |
| | |
| | Loading/unloading of samples and consumables at anytime without he need to interrupt system operations, includes: sample racks, STATS, reagent packs, ancillary reagent packs, reaction cuvettes, sample pipette tips, calibrators, controls, wash fluids, water, and waste. |
| | |
| | 19-inch diagonal high-resolution LCD touch screen with adjustable height |
| Operating System Results Management | Dual Sun Microsystems Sparc® II processors; Microsoft® Windows® XP |
| | RS232C bidirectional and host query; Ethernet connection available; 25,000 result storage; archive to removable media; automatic reflex testing |
| | Repeats and confirms reactive testing; results available as completed |
| | |
| | Advanced QC package includes Levy-Jennings plots and Westgard rules; 65,000 control results can be stored |
| | |
| | |
| | |
| | 100 Base-T Ethernet port for remote access and Siemens Remote Service proactive service modem |
| | |
| | 208-240 V at 50/60 Hz; meets regulatory requirements for UL, CAN/CSA, IEC1010. JIS, CE, CISPR11 Class A |
| | 1 KW in ready state; 1.5 KW in operating state |
| | |
| | 51.5 (h) x 72.4 (w) x 41.0 (d) in-130.9 (h) x 183.9 (w) x 104.2 (d) cm |
| | |
| Floor Load-bearing Requirement | |
| Operating Environment Temperature | 18-30OC; humidity 20-80% noncondensing |
| | |
| | 58.8 db in ready state; 61.3 in operating state |
Did this information help you?
†† The ADVIA Centaur Zika Test has not been FDA cleared or approved. This test has been authorized by FDA under an EUA for use by authorized laboratories. This test has been authorized only for the diagnosis for Zika virus infection and not for any other viruses or pathogens. This test is only authorized for the duration of the declaration that circumstances exist justifying the authorization of the emergency use of in vitro diagnostic tests for detection of Zika virus and/or diagnosis of Zika virus infection under section 564(b)(1) of the Act, 21 U.S.C. § 360bbb-3(b)(1), unless the authorization is terminated or revoked sooner
‡‡ For Research Use Only in the U.S. Not for use in clinical or diagnostic procedures in the U.S.