Transbronchial lung biopsy procedures are commonly used to obtain samples of peripheral lung tissue for lung cancer diagnosis.
But even with widely adopted techniques, there can be challenges, including accurate lesion targeting and diagnostic yields, access to intraprocedural imaging, and cost-effectiveness.
The Cios Spin mobile c-arm with true cone-beam CT (3D) imaging and 2D fluoroscopy can help to address these challenges.
Accurate lesion targeting

Low diagnostic yield (~50%) by transbronchial biopsies can be a reality with standard approaches such as traditional fluoroscopic or ultrasound guidance.1,2 However, cone-beam CT can be used to improve rates of tool-in-lesion success and has been associated with increase in diagnostic yield1-6 greater than 90%7. In one study, tool-in-lesion confirmation was the strongest predictor of biopsy success.5
The Cios Spin mobile c-arm with true cone-beam CT imaging can be used for intraprocedural verification of lesion and tool placement.1,2,6
3D visualization of lung cancer nodules, airways and devices with the Cios Spin mobile c-arm
Click the arrows to enlarge, and swipe (or click the orange arrow) to view more
Target lesion visualized in three orthogonal MPR (multi-planar reformat) planes using true cone-beam CT imaging from the Cios Spin mobile C-arm.
Images courtesy of Dr. Roberto Casal, the University of Texas MD Anderson Cancer Center
Access to intraprocedural imaging

Many procedure rooms are small in size and access to the Hybrid OR may be limited, making options for flexible imaging important.8 With a footprint less than 13 square feet, the Cios Spin Mobile C-arm with cone-beam CT technology can be used in procedural rooms of virtually any size. With its compact and mobile platform, it can be wheeled from room to room, and used independently of Hybrid OR scheduling.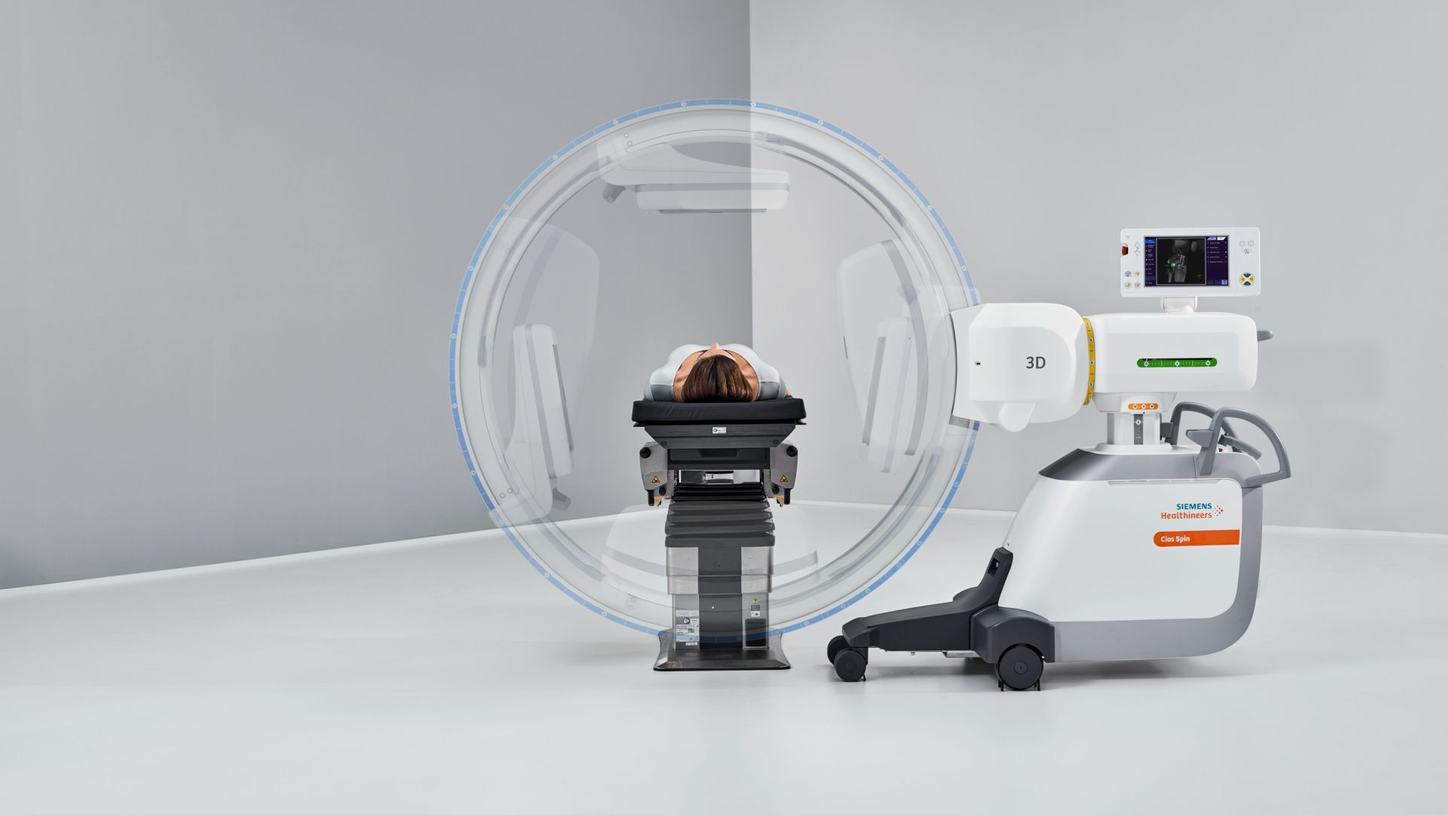 Cost-effective solutions

Applications of cone-beam CT imaging in bronchoscopic interventions are at play from diagnosis through treatment. Accurate tissue sampling and associated earlier diagnoses may translate to more treatment options for patients and providers.
Additionally, the Cios Spin offers technology that can be a true multidisciplinary imaging solution across service lines, which may help to expand return on investment.
The Cios Spin mobile c-arm offers 2D fluoroscopy and true cone-beam CT (3D) imaging from a single mobile platform, without the time and costs associated with fixed room installation.9
Complementary to navigation
The Cios Spin's cone-beam CT technology can be used alone with traditional transbronchial biopsy techniques, or to enhance adjunctive imaging and navigation technologies1; including endobronchial ultrasound2, electromagnetic navigation4, virtual bronchoscopic navigation3 and robotic navigation6. While the Cios Spin can be used to complement several navigation technologies, Cios Spin now seamlessly integrates with Intuitive's Ion robotic-assisted endoluminal system. Learn more.
By clicking Submit you consent to the processing of your above given personal data by the Siemens Healthineers company referred to under Corporate Information and for the purpose described above. Further information concerning the processing of your data can be found in the Data Privacy Policy. You are aware that you can partially or completely revoke this consent at any time for the future. Please declare your revocation to the contact address given in the Corporate Information and sent it to us via the following e-mail address: dataprivacy.func@siemens-healthineers.com