Sensis Vibe
Amplify productivity.
Sensis Vibe. Amplify productivity.
Interventional environments are busy places where many things are happening at once. Even if a procedure is routine, all moves need to be synchronized, and the entire team has to be on the same wavelength. Documenting the procedure must blend into this flow. Imagine a documentation system so anticipative it feels like a member of your team. A system that catches the vibe and lets you handle administration along the way – without missing a beat. This system is Sensis Vibe®1. Sensis Vibe is the vital core where all events, decisions, measurements, and data from your procedures are captured. It reduces administrative effort and standardizes documentation and reporting.
Sensis Vibe tunes up
In the interventional lab you have to continuously balance critical duties in order to ensure patient safety and document the course of the procedure for follow-up care and administrative purposes.
Sensis Vibe's4 core principle is ease of use at every step of the procedure. From the one-stop patient registration between Sensis and Artis to adaptable workflow support programs, Sensis Vibe helps you keep the focus where it truly belongs – on the patient.
Get up to speed quickly with the new intuitive user interface and
FlashDoc® functionality
Customizable workflow support programs with configurable activities
to help standardize procedures
Profit from clinical decision support tools like SAI and FFR
Enjoy smart, automated, and adaptable data validation for complete and consistent reports at the end of the procedure
Integrate Sensis Vibe in the hybrid OR and rely on the same recording and documentation system in the hybrid OR and cath lab
Efficient measurements
Whether right heart catheterization, congenital or coronary interventions – Sensis helps improve diagnostic confidence through excellent signal quality and reliable measurements. You benefit from automated calculations of gradients, shunts, valve areas, and resistances. An integrated FFR option allows you to quickly perform FFR measurements during a procedure.
 
Integrated measurement of fractional flow reserve (FFR)
Sensis Vibe also enables flexible measurement of the fractional flow reserve (FFR) integrating devices from Boston Scientific, Abbott Medical, Acist Medical Systems and Volcano. All resulting data, values, and waveforms are automatically stored and can be easily embedded in your reports.
Benefits of seamless integration:
Shorter set-up times and more convenient operation for FFR
Display of measurements on Sensis monitors
Complete documentation of FFR data in the Sensis report
Pullback opportunities
Reduce the risk of missing a pullback. With Sensis, efficient measurements are supported through functionalities like virtual or sequential pullback:
Virtual pullback measurements allow independent calculation of pressure gradients from two separate pressure measurements
Sequential pullback measurements provide a convenient way to perform pullback over several sites with calculation of every single and the overall gradient. A must for pediatrics as  repeated pullbacks are no longer needed
Intuitive user guidance
Sensis offers many features that facilitate your routine. Customizable workflow support programs with configurable activities help you standardize procedures – without sacrificing the flexibility to adapt to individual requirements any time. You can benefit from efficient workflows and a constant quality level, even with a rotating staff.
In addition, Sensis makes complex measurements easy by offering intuitive guidance through every step of the process.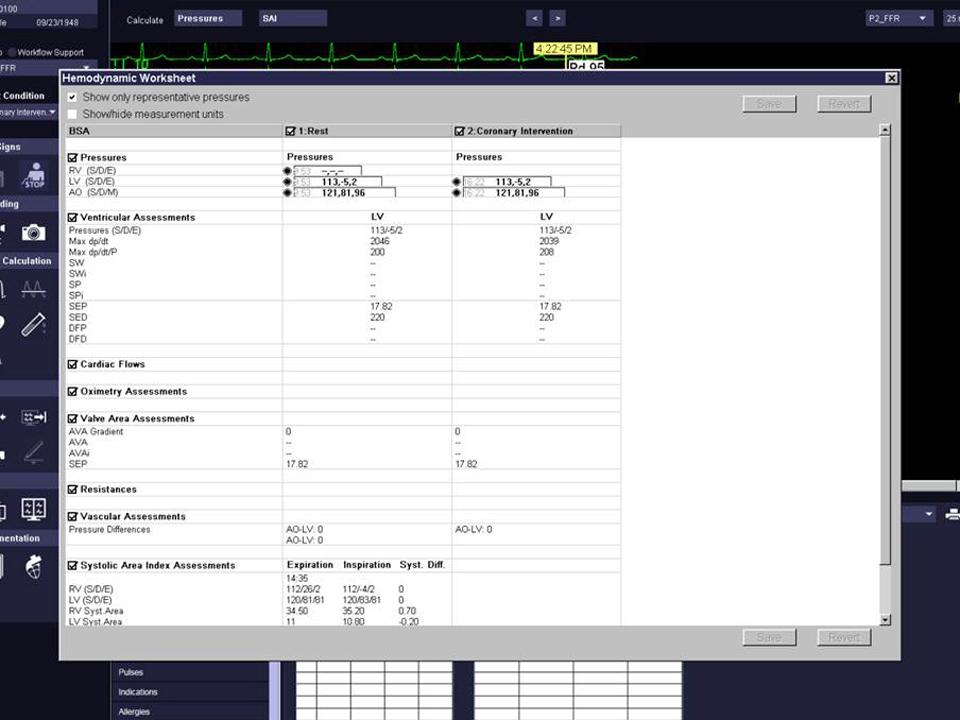 Hemodynamic Worksheet
The Hemodynamic Worksheet represents a convenient tool for pediatric and right heart catheterization studies as it provides you with an overview of hemodynamic data across conditions:
Compare pressures, gradients, flows, and resistances across conditions
Create "what if" scenarios by copying pressures and cardiac flows across conditions
Select representative pressures for reporting and calculations
Workflow support program
Customized workflow support programs can speed up your procedures with full flexibility to adapt to every specific patient
Predefined activities for every workflow step guide you through the respective procedure, increasing efficiency and documentation quality
Fast learning curve for new staff members
Flexibility to skip or repeat steps/activities, or to leave and return to the program during the procedure
FlashDoc
Sensis Vibe's new user interaction concept prominently features FlashDoc, a completely redesigned procedure data documentation philosophy. Targeting optimal ease of use, FlashDoc includes three core components – QuickAdd®, CaseLog, and an even smarter version of the Sensis Information System (Smart SIS) – all embedded in a new, intuitive user interface. QuickAdd enables simplified data entry using auto-completion, which speeds up procedure data capture.
CaseLog offers an optimized, time-stamped overview of all hemodynamic/electrical events and other occurences recorded or manually captured.
Smart SIS helps to create a consistent record with individually defined validation rules that verify entries and measurements automatically.
As an IT administrator you need to ensure data consistency, system stability, and interoperability.
To support you in meeting the evolving demands for standardization and accountability, Sensis Vibe smoothly blends in with your IT infrastructure and easily adjusts to individual needs. And when it comes to reliability – you can simply take stability for granted with Sensis Vibe.
Smooth, reliable, and secure
Ensure reliable data transfer to various hospital IT systems – Sensis Vibe uses the following interface languages: ASCII flat file, XML, DICOM, and HL7
Easily adapt documentation to your requirements with the highly tailored Sensis Information System (SIS) database
Enable institution-wide integration with multi-lab connectivity
Reduce billing errors through seamless information integration with billing systems
Prevent data loss and downtime with Sensis Vibe's new local cache
Maximize utilization and ensure extended data security with Sensis Vibe's virtual server appliance
HemoBox
Sensis Vibe for hemodynamics
The extremely compact signal input unit for hemodynamic recording reduces the hardware impact in the examination room by 82 percent5 and offers flexible mounting options. Hybrid OR integration Sensis Vibe's HemoBox also meets the hygenic standards of a surgical environment (IPX4 compliance). This enables you to offer fully integrated care when treating a previous patient in a cath lab and hybrid OR by providing the same range of invasive signals in both environments. With Sensis Vibe, data and measurements from previous interventions are now natively available in the hybrid OR.
ComboBox for electrophysiology
Integrating the electrophysiology Lab
A scalable solution for hemodynamics and electrophysiology Sensis Vibe can be extended to a combined system featuring both hemodynamic and electrophysiology acquisition. The ComboBox is flexibly configurable and offers outstanding IECG signal quality, even during ablation. Further advantages: Since you need only one system for both hemodynamics and EP, you need less space, you have only one interface resulting in less training, you have all data in one database, and you can minimize your hardware investments. During complex EP procedures, Sensis Vibe serves as the central puzzle piece connecting key therapeutic equipment in the lab: the angio system, stimulators, ablators, and mapping system.
Sensis Vibe also grows with your EP lab as it lets you easily add a further ICEG board to expand your clinical capabilities in EP.
Multiple labs connected
Integrate your interventional lab into your clinical environment. To set up a multi-lab solution, simply use Sensis as a server ‒ i.e. as an integrated database for all Sensis acquisition systems.
Access and analyze information from all connected labs, post-processing or reporting workstations
Bidirectional communication with syngo Dynamics for departmental reporting and multimodality image archiving.
Integration into your hospital information system (HIS) via HL7, DICOM or ASCII.
As a health service provider you need to manage costs and revenue to sustain state-of-the-art patient care for today and tomorrow. Sensis Vibe positively impacts your bottom line in many ways, from speeding up data management to showing you the big picture of your interventional floor's efficiency.
Maximize your efficiency
Improve efficiency with Sensis Vibe's optimized documentation process
Enable interventional lab sharing among disciplines with the Sensis Vibe/EP combo solution
Get the full picture for analyzing, controlling, and benchmarking interventional floor statistics
Protect your cash flow by providing complete and accurate procedure data for billing
Benefit from new features and workflow improvements over the entire product lifecycle with Sensis Vibe's comprehensive upgrade opportunities
New Coronary Tree Illustrator (CTI)
The new coronary tree illustrator allows very fast and intuitive visualization of coronaries, aberrations and implanted devices
Detailed documentation of indications and outcomes after the intervention
Graphical representation for discussions with patients and family
Automated implementation into Sensis report
Continuous synchronization between CTI and data for ACC PCI reporting
Heart picture illustrator
Sensis is an essential part of an integrated cath lab solution for congenital heart disease. With the Congenital Heart Picture illustrator it offers automatic insertion of hemodynamic data into the picture created during the examination
Allows design of a heart picture through selection from an extensive menu of congenital heart defect templates (like Mullins Atlas)
Pressure values and color-coded oxygen saturations can be instantly displayed in the appropriate chambers and vessels
Complete documentation in the Sensis report
Advanced diagnostic support
Sensis offers special features for expanded diagnostic support, such as automated calculation of the systolic area index (SAI). According to a 2008 study6, SAI is the method of choice for the diagnosis of constrictive pericarditis compared to other diagnostic techniques. So far, the calculation of this index has been time-consuming, as area measurements and calculations had to be performed manually. With the SAI option, Sensis now offers a very efficient method to diagnose and document constrictive pericarditis.
Flexible and comprehensive reporting, using customized report templates at separate Sensis workplaces. Automated calculation of systolic area index (SAI) to diagnose constrictive pericarditis.
High resolution for diagnostic excellence
Sensis' excellent signal qualities are attributable to its 2,000 Hz sampling rate and 22 bit A/D converter resolution. Sensis delivers exceptionally sharp waveforms enabling a more precise diagnosis. ECG, ICEG, four invasive blood pressures, SpO2, respiration rate, and non-invasive blood pressure are integrated.
Scalability for advanced EP procedures
Up to 64 intracardiac channels via 96 ICEG electrode inputs provide ample power to support even highly advanced EP procedures such as pulmonary vein ablations. Depending on your needs, 32, 64, or 96 ICEG electrode inputs are available. You can always upgrade to the next performance level.
 
Did this information help you?
2Compared with Sensis VC12 hemo hardware
3Constrictive Pericarditis in the Modern Era: Novel Criteria for Diagnosis in the Cardiac Catheterization Laboratory, Deepak R. Talreja et al, J. Am. Coll. Cardiol. 2008; 51; 315-319.
4Not available in all countries. Please contact your local sales representative for the most current information.
5Compared with Sensis VC12 hemo hardware
6Constrictive Pericarditis in the Modern Era: Novel Criteria for Diagnosis in the Cardiac Catheterization Laboratory, Deepak R. Talreja et al, J. Am. Coll. Cardiol. 2008; 51; 315-319.