T-trendz Issue 2 / 2021


Explore the benefits of Robotics in Vascular Interventions with Corindus
Since the introduction of Percutaneous coronary intervention (PCI) 40 years ago, there has been an astonishing amount of advancement in the technology and devices used in the procedure, however the way the procedure is performed has remained virtually unchanged. Now, robotics has the potential to overcome some of the current limitations of the traditional manual approach to vascular interventions.

Corindus, A Siemens Healthineers Company, is a global technology leader in robotic-assisted vascular interventions. The Company's CorPath® platform is the first FDA-cleared medical device to bring robotic precision to Percutaneous coronary (PCI) and Peripheral vascular (PVI) interventions.
CorPath GRX is the second-generation robotic-assisted technology offering enhancements to the platform by adding important benefits of Robotic precision, Remote procedural control and Improved radiation safety to minimally invasive endovascular procedures.
The CorPath GRX system is intended for use in the remote delivery and manipulation of Guide wires and rapid exchange balloon/stent catheters, and remote manipulation of guide catheters during percutaneous intervention procedures. The platform is designed to assist minimally invasive procedures that have the potential to reduce treatment times, increase precision during treatment, raise standardization levels in clinical procedures and ultimately improve clinical outcomes.

The benefits of CorPath GRX - Precision Vascular Robotic System
Patients
Robotic precision
1-milimeter positioning and sub-mm measurement of anatomy
Potential to reduce radiation exposure
Physicians
Reduction in radiation exposure up to 95%
No need to wear lead protective equipment, potential to reduce orthopedic burden
Procedural control
Hospitals
Robotic precision and procedural automation aimed at improving patient outcomes
Radiation protection for physicians and staff
Market differentiation
Clinically proven benefits for patients and providers
Cardiovascular

99.1% clinical success in complex cases1#
20% radiation reduction to patients shown in single-center study2#
May reduce measurement errors, need for extra stents, and longitudinal geographic miss3
95% radiation reduction to the primary operator4 
Peripheral Vascular

Robotic precision and automation to support navigation of long, difficult lesions
RAPID II showed significant radiation reduction (>95%) for physicians and staff5#
Reduce radiation exposure
Primary operator6
PRECISE trial demonstrated 95% Reduction in Radiation Exposure7
Radiation-shielded cockpit enables working from a seated position without wearing lead
Widescreen monitor enhances visualization
Device fixation enables technologist to step away while imaging is in process
Case Study 1: Robotic assisted PCI performed for LAD instent near total occlusion (ISR)

Dr. Rajeshwari Nayak
Apollo Hospitals, Chennai, India

Background

Robotic assisted PCI is becoming an increasingly popular technique in Interventional Cardiology. While type A & B lesions are done easily by Robotic assisted technique, type C lesions are increasingly being addressed. We report a case of type C lesion in LAD with subtotal occlusive Instent Restenosis (ISR) with an abnormal acute angle origin of LAD.
Case history
A 32-year-old male with no coronary risk factors, presented with NYHA class III angina. He underwent PCI with DES to LAD (3mm x 20mm Xience Prime) 2 years back. Physical examination and blood investigations were unremarkable. ECG showed T wave inversion in V1-V5 leads. Diagnostic coronary angiography showed abnormal acute angle origin of LAD (90 degree from LMCA) with near-total instent occlusion and TIMI II distal flow.
Robotic assisted PCI
XB 3.0 guide catheter (Cordis) was used to engage Left main coronary artery manually, via femoral access. The guide catheter tip was crossing beyond the LAD ostium and on withdrawing the guide, it was flipping back into the aorta. A BMW guide wire and 2.5 mm x 15 mm semi compliant balloon (Maverick) were loaded into the CorPath cassette. Then using the controls at the robotic interventional cockpit, the wire maneuvering was done to enter LAD. The guide catheter position and the acute angulation of LAD made the wire enter into the ramus repeatedly. The first BMW wire was left in the ramus and guide catheter was withdrawn into the proximal LMCA using Robotic control. The ramus guide wire gave stability to the guide catheter and prevented it from flipping back into the aorta.
Then another BMW wire with bigger tip curve was used to enter LAD using ROR (Rotate On Retract) technique, which is a special feature of robotic technology, and this easily facilitated the wire entry into LAD. Then, using the joystick control, 2.5x15mm Maverick Balloon (BSL) was placed across the lesion and dilated. A 3mm x 38mm Resolute Onyx stent (Medtronic) was deployed successfully. Final completion angiogram showed well deployed stent with TIMI III distal flow, no residual stenosis or dissection.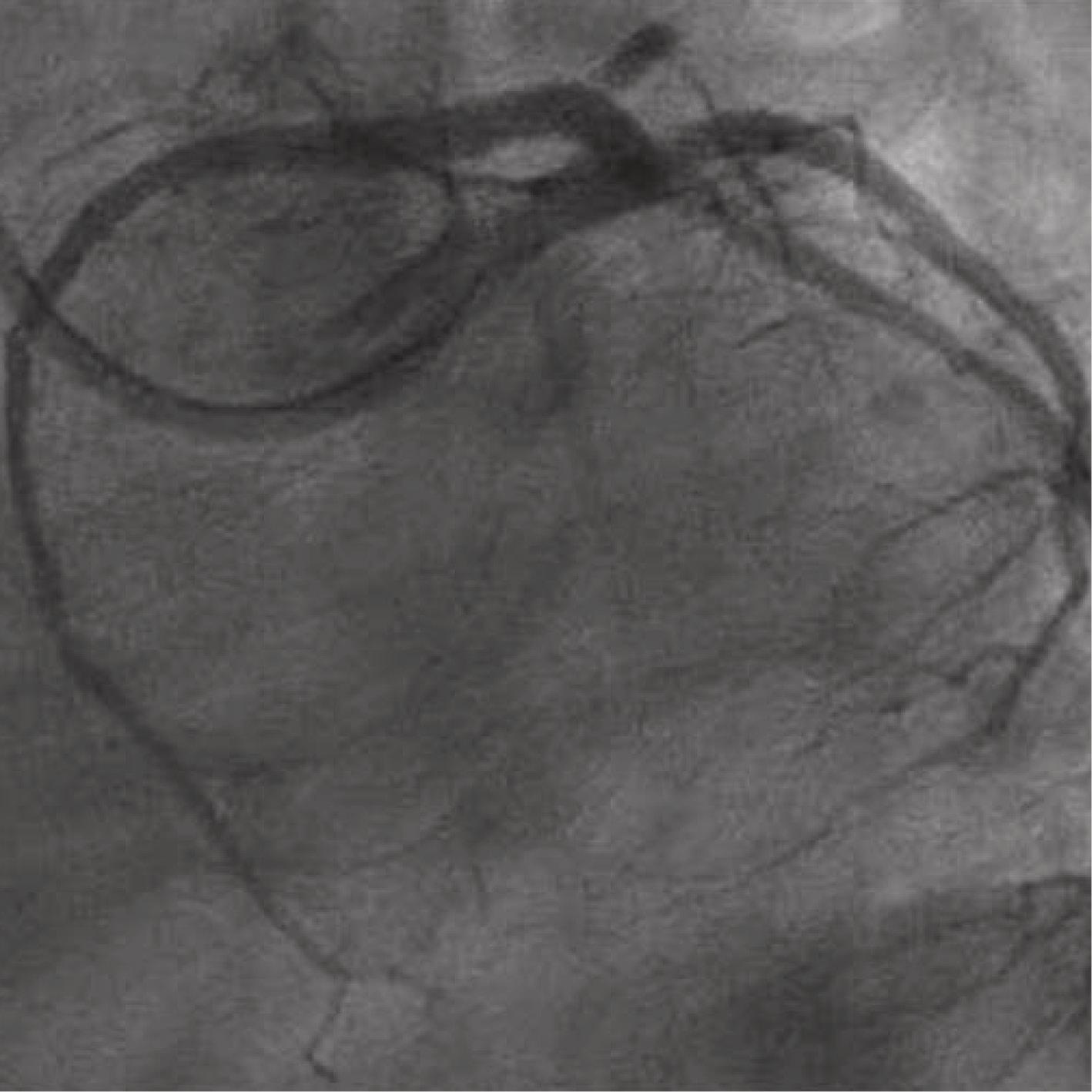 Challenges in this case
Acute angle origin of LAD (90°) with the wire entry propensity towards ramus artery
XB 3.0 guide catheter going past the LAD ostium on LMCA engagement
Diffuse near total occlusive ISR of LAD
Conclusion
This case is published to highlight that vascular robotic procedure can be used to perform PCI of type C coronary lesions even in an unfavourable anatomy with ease and high success. The ease of doing the procedure and precision in the procedure is a special feature with vascular robotic technique which is beneficial to both the patient and the operator.

Case Study 2: Long segmental lesion with subtotal occlusion in mid part RCA with minimal thrombus

Dr. Manoj Chopda


Magnum Heart Institute, Nashik, Maharashtra, India
Procedure
RCA canulated with 6F JR 3.5 catheter.
Powerturn wire used to cross the lesion and parked in distal RCA.
Traveler 2.5 x 15 mm balloon used to cross the lesion and gradually inflation given from distal to proximal lesion and bed was prepared.
Lesion length was calculated by QCA & Robotic measurement around 57mm, so Biomime Morph 3.0 2.5 x 60 mm DES stent positioned and deployed.
Post dilatation was done using Sprinter NC 3.0 X 15 mm NC balloon at high pressure.
Post dilatation we had very good result & TIMI III flow achieved.
Why Robotic PCI for this case?

Long diffused lesion needed to be assessed accurately: In-built measuring tool helped in measuring the lesion length accurately.
Based on the measurement, 60 mm long stent was chosen to avoid more than one stent to cover the lesion. Delivering 60 mm stent to the lesion needed stable guide catheter position which was provided by robotic guide catheter control.
Robotic sub mm. movement helped in precise placement of the stent from proximal to distal RCA.
Conclusion
Robotic assisted PCI helps achieve precision and safety for patients, in complex coronary artery disease.
Technological innovations spur new clinical applications. This gives healthcare providers an edge in detection and treatment of diseases at an early stage with minimally invasive techniques. This in turn will help in expanding precision medicine, transforming care delivery and improving patient experience. These are the primary objectives with which we developed T-trendz. We would like to know how we can make this initiative more valuable for your practice and the wellbeing of patients.
© Siemens Healthcare GmbH, 2021
All trademarks are properties of Siemens Healthcare GmbH or associate companies. Third-party trademarks are properties of their respective companies. The content of this publication does not necessarily reflect the opinion of the publisher. The information is provided by Registered Medical Practitioners or Hospital Staff only and is not an advice and should not be treated as such. Siemens Healthcare GmbH or associate companies make no representations or warranties of any kind, express or implied, about the completeness, accuracy, reliability, suitability or availability with respect to the website or the information, products, services, or related graphics contained on the website for any purpose. Any reliance you place on such information is therefore strictly at your own risk. Reproduction of articles in whole or in part requires the permission of Siemens Healthcare GmbH or associate companies and the respective Registered Medical Practitioners or Hospital Staff and in this due course, Siemens takes no responsibility for the intent of the article being preserved post such alterations or modifications.. This also applies to storage in electronic databases and on the internet.
It is intended for use by registered medical practitioners or hospital staff only. The medical information in this newsletter is for individuals of the healthcare community and not for general public. The information and reference materials contained here are intended solely for the general information of the reader and is neither intended to dictate what constitutes reasonable, appropriate or best care for any given health issue, nor is it intended to be used as a substitute for the independent judgment of a physician or a surgeon for any given health issue.