syngo.via für die Magnetresonanztomographie (MRT)
Reading as it should be
syngo.via für die Magnetresonanztomographie
Die Herausforderungen der Radiologie werden immer größer: mehr Fälle pro Tag, steigender Kostendruck, höhere Erwartungen.
Als intelligente und integrierte Bildgebungssoftware hilft Ihnen syngo.via, diese Herausforderungen zu meistern. Mit multimodaler Befundung und schnellen 3D-Ergebnissen für mehr Effizienz im Alltag. Mit neuen Innovationen und AI-basierten Funktionen, die Ihnen völlig neue Befundungsmöglichkeiten eröffnen. Und mit der Möglichkeit, die Befundungs- und Dokumentationsfunktionen über eine offene Plattform zu erweitern und an Ihre speziellen Bedürfnisse anzupassen.
Turning image quality into diagnostic value – fast & easy.
Your reading and post-processing solution for MRI with more than 20 applications available – in all clinical specialties.
Winning combinations of MR scanners and syngo.via
Get the most out of your images - you generate a wealth of imaging information and you need to extract the right information.
Integrated seamlessly into your IT environment – growing with all your medical and operational needs
Flexible subscription offering allows you to optimize costs and value of your syngo.via system
Flexible access to modality packages and broad clinical capabilities
Evergreen solution incl. service and training plan with easy extension of users and contract
Transparent budget planning and operationalization of costs
Broaden your virtualization possibilities
Optimize your IT infrastructure with the flexible syngo.via virtualized deployments
Your gateway to innovation – syngo.via OpenApps
Do you want to boost your clinical capabilities?
syngo.via OpenApps provides you direct and open access to a world of innovation. Get access and run an ever-growing variety of clinical applications from Siemens Healthineers and our partners – directly on your syngo.via.
syngo.via – made exactly for your specialty
Find out more about a single imaging software for all key clinical specialties and tasks: syngo.via. It offers you a complete suite of applications and tools for 3D reading and advanced visualization – from general radiology to oncology, from cardiovascular care to neurology.
syngo.via supports healthcare professionals in fighting the most threatening diseases. Bundled in engines, you will always find the right tool for any case – in one comprehensive workplace.
syngo.via for MRI – supporting all key clinical fields
General MR
2D / 3D / 4D reading for routine and advanced cases providing dedicated workflows for fast and easy reading
Neurology
With many tools that help with fast and standardized diagnoses, the syngo.MR Neurology applications take you to a whole new level of speed and flexibility in acute neurology.
Oncology
syngo.MR Oncology applications automatically structure large amounts of data into layouts designed for oncology reading.
Cardiovascular
syngo.MR Cardiology helps process the main vascular functions quickly and efficiently. Automatic post-processing allows you to see results as soon as you open your case.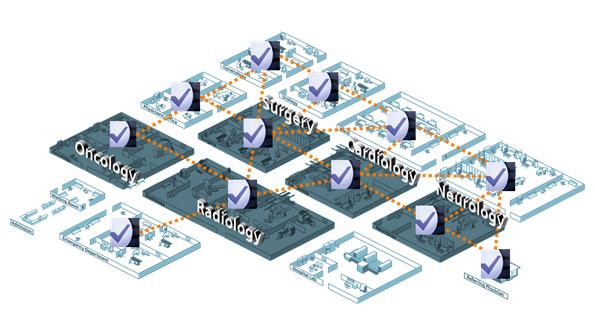 Fast and flexible access to multi-modality information
Client-server architecture
Concurrent use of floating licenses
Tight integration with modalities, RIS, and PACS
From entry solutions to bigger installations
Modality-attached deployments, single user
Departmental to enterprise solutions, multi-user
Modular, multi-modality solution that can grow with your needs
Numerous 2D, 3D, and 4D tools and applications for various clinical fields and modalities as standard
Broad variety of optional applications and packages
War diese Information hilfreich für Sie?