Multitom Rax
Move beyond traditional X-ray
With traditional X-ray, complex radiographic examinations are often challenging or cumbersome, especially in musculoskeletal or trauma cases.
With Multitom Rax we offer a high-performance system that excels in such examinations helping you expand precision medicine. Its Robotic Advanced X-ray technology (RAX) supports you in daily clinical routine and beyond and sets new standards in musculoskeletal and trauma imaging.
Precise insights through unique automation
In advanced musculoskeletal imaging, a high degree of precision, accurate positioning, and wide anatomical coverage are needed.
Multitom Rax offers unparalleled precision and flexibility in positioning, allowing projections from all angles and unique automated workflows that make musculoskeletal insights feasible in clinical routine. And all that while saving dose.
Efficient workflows around your patients
Advanced musculoskeletal imaging requires time-consuming patient and system positioning. Multitom Rax precisely positions and aligns itself, reducing the need for unnatural patient positioning – even in challenging situations like trauma cases. It supports staff and offers barrier-free 360° patient access. For fast, efficient, and productive workflows revolving around your patients.
Comprehensive diagnosis with multiple procedures
Advanced musculoskeletal imaging calls for more than just radiography. Starting with precision radiography, Multitom Rax also allows 3D bone imaging1 as well as fluoroscopic1 and interventional imaging1. This way, it enables comprehensive diagnosis and can provide the basis for treatment planning – all in a single room on a single system.
RAX - Robotic Advanced X-ray
Multitom Rax is the world´s first scanner in the new category of Twin Robotic X-ray.
Its technological advantages facilitate your daily routine, open up new clinical possibilities - and make the system fun to work with.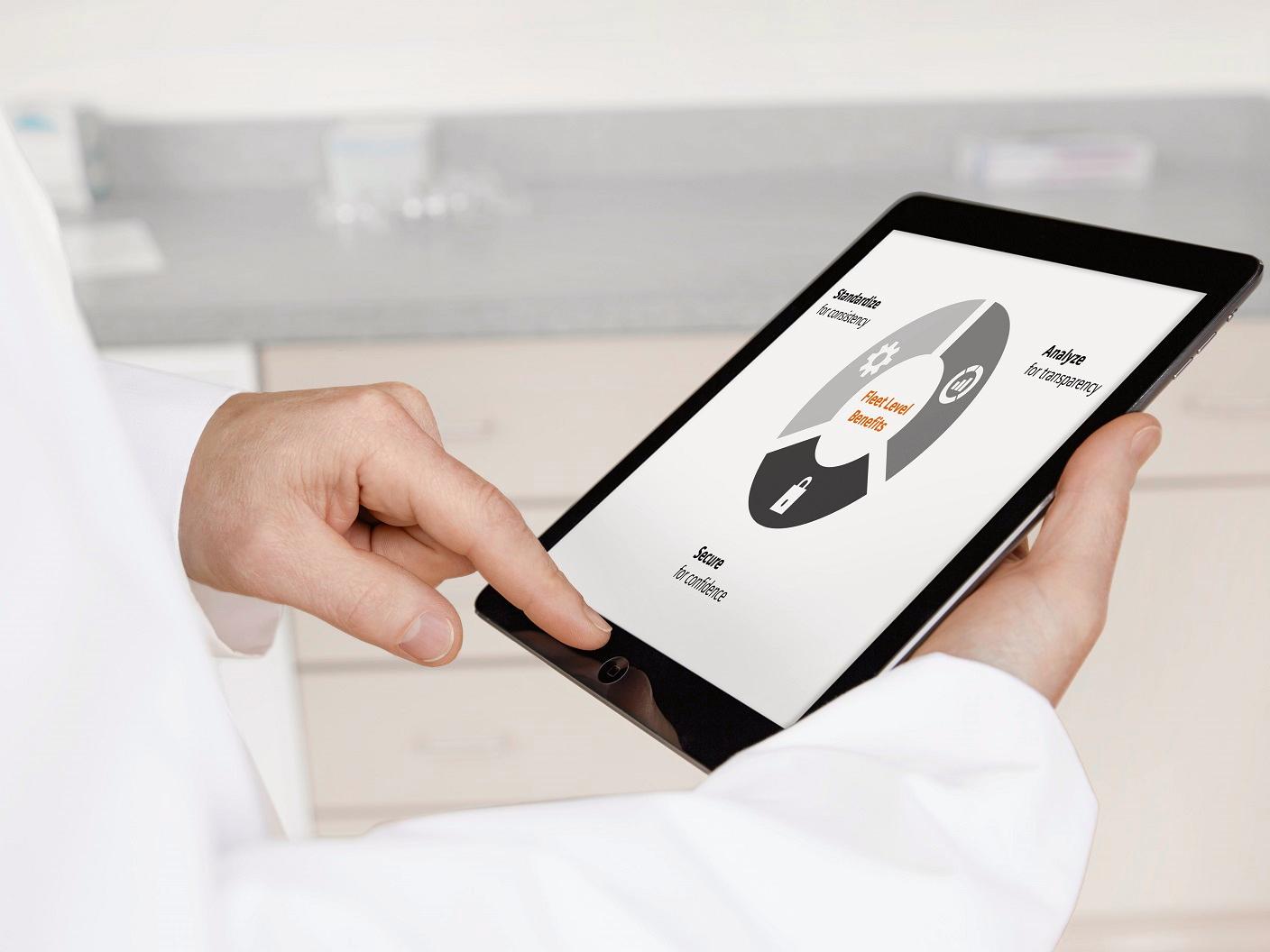 Fleet Level Benefits - unlock your potential and increase the efficiency of your X-ray department
High complexity in diagnostic imaging makes it challenging to run the radiology department efficiently. Siemens Healthineers helps you to reduce complexity by offering specific solutions across the entire X-ray portfolio which let you standardize, analyze and secure the imaging fleet. In this way, you can gain valuable Fleet Level Benefits: consistency, transparency and confidence. This results in improved outcomes, increased efficiency and greater staff and patient satisfaction.
Standardize for consistency
Analyze for transparency
Secure for confidence
To make fast and confident decisions in musculoskeletal or trauma cases, you need high image quality. Our scanner offers you multiple advanced X-ray imaging technologies.
Clinical Images
Multitom Rax — Basic angiography: Additional capacities for interventional radiology
Multitom Rax lets you perform minor interventions and basic angiographies in your radiology department.

Courtesy of University Hospital Tübingen, Germany

"Patients love how the robotic arms move around them, and they appreciate that we don't have to twist their sore or broken bodies to get the image."
Multitom Rax Case Study Video
50 cm to 92 cm; total vertical travel range 42 cm (tabletop)

Approx. 190cm without patient repositioning

Anode heat storage capacity

Input fields

(active area)

| | | | |
| --- | --- | --- | --- |
| Full format | Zoom 1 | Zoom 2 | Zoom 3 |
| 42.0 cm x 42.5 cm | 30 cm x 30 cm | 22 cm x 22 cm | 15 cm x 15 cm |

a-Si with CsI scintillator

 35 cm x 43 cm x 1.9 cm (14" x 17" x 0.7"); 3 kg (6.6 lbs)

Cesium iodide scintillator

24 cm x 30 cm x 1.6 cm (10" x 12" x 0.6"); 1.6 kg (3.5 lbs)

 Cesium iodide scintillator
Multitom Rax is not commercially available in all countries. Due to regulatory reasons its future availability cannot be guaranteed. Please contact your local Siemens Healthineers organization for further details.
VF11 does not yet fulfill all applicable General Safety and Performance Requirements according to the European Medical Device Regulation 2017/745.