Luminos RF Classic
Where value meets performance
Luminos RF Classic - Sistemas de Control Remoto de fluoroscopía
The remote-controlled fluoroscopy system offers handling convenience, outstanding image quality, versatility, and reliability.
Whether for its handling convenience, outstanding image quality, versatility or reliability, Luminos RF Classic is a solid investment. It combines quality components and proven technology to offer you excellent performance for the complete range of fluoroscopy applications.
Head-to-toe coverage with 8-way tabletop movements
Fully automatic cassette spotfilm device for single-handed cassette management
Imaging chain for 1k x 1k high-contrast imaging with last-image-hold (LIH) function
Proven high-quality components for great system performance
Versatility for great throughput
Modular design to meet specific applications needs
Características y Beneficios
Investment Confidence – All round great value
Reliability, excellent imaging, simple handling and quality components, all combined with proven Siemens Healthineers technology, expertise and service agreements – only some of the ways that Luminos RF Classic provides all-round great value.
Versatility for great throughput
Luminos RF Classic is a true workhorse. The system covers the complete range of fluoroscopy applications, including gastrointestinal examinations, venography and endoscopic retrograde cholangiopancreatography (ERCP), along with X-ray exams like skull, skeletal exposures among others.

Individualize your system
With its modular design, Luminos RF Classic can be adapted to your individual preferences. The system is available in different configurations, including either a 23 cm or a 33 cm* image intensifier, a compression device* and different monitor configurations*. It can also be equipped to perform tomography* examinations.

VERTIX Swing Bucky wall stand
When combined with the VERTIX Swing Bucky wall stand*, Luminos RF Classic can be expanded to support the full spectrum of upright examinations such as chest, spine, legs and more. Its moving grid is suitable for both film- and CR-based exposures.

Coming out on top
Whether you do mostly fluoroscopy or radiography examinations, or both, Luminos RF Classic is a solid investment. With its excellent price-performance ratio, versatile applications range and optimum long-term utilization, the system can help you to quickly recoup your initial costs – thus, coming out well on top over the long run.

Enhanced Workflow
An open design, convenient control functions and a workflow concept developed with users in mind – Luminos RF Classic makes a tangible difference in any practice. Perform fluoroscopy and radiography examinations with ease and efficiency.
Excellent all-round access
Luminos RF Classic allows excellent patient access from all sides, even from the rear, for added patient comfort and staff convenience.

Coverage in every corner
Convenient 8-way tabletop movement and a large travel range of the image receptor let you easily image a patient from head to toe – without re-positioning the patient. Examinations can be conducted quickly, providing relief particularly for patients in pain.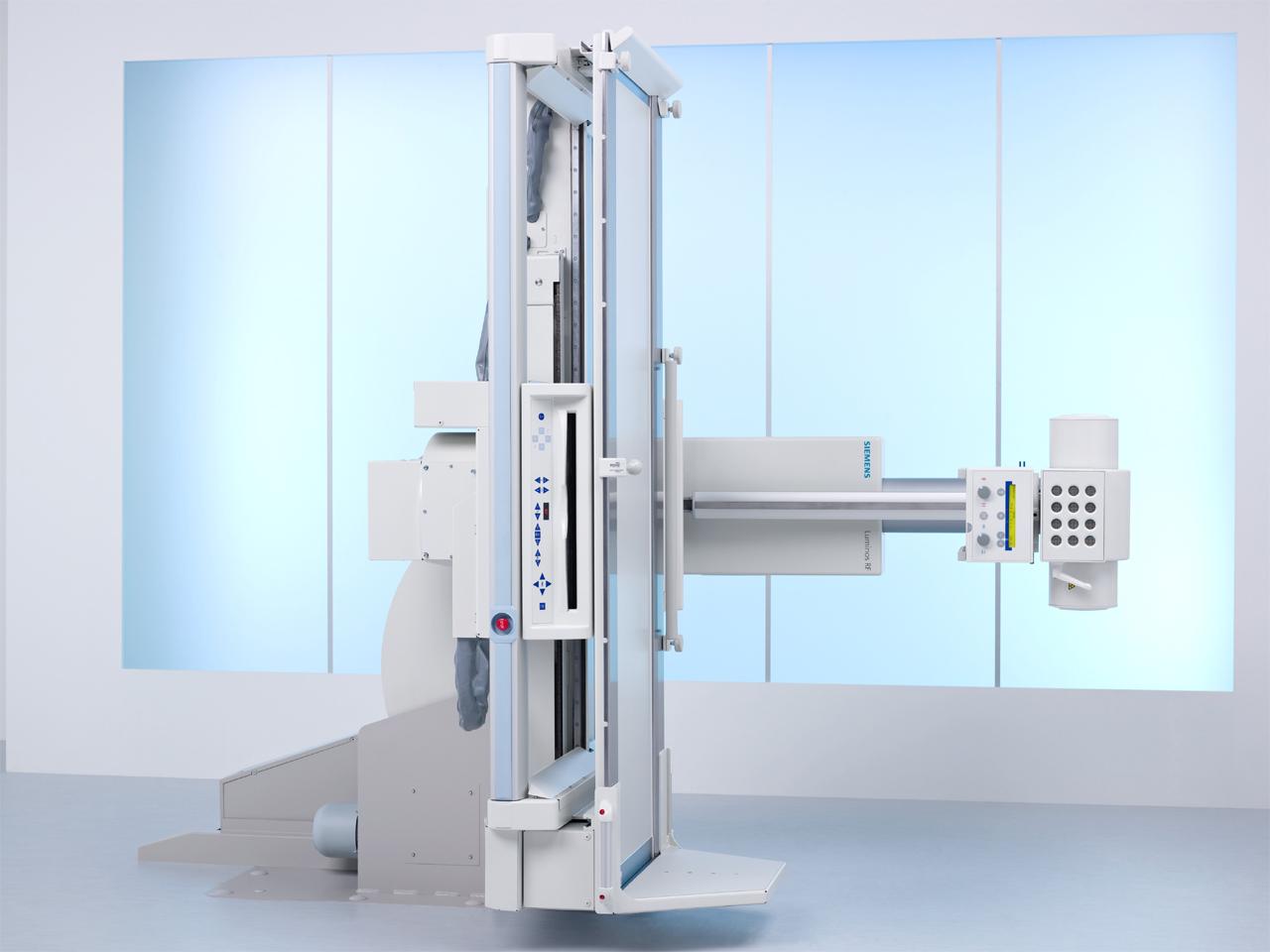 AutoRetrac – collision-free tilting
Extraordinary: The table features an automatic anti-collision protection. The tabletop automatically retracts during table tilt, preventing contact with the floor.

Power at your fingertips
The remote-control console of Luminos RF Classic is highly compact, intuitive and user-friendly. Clear, easy-to-understand control elements greatly simplify system operation and organ program selection. Another ergonomic plus: The integrated touch user interface of the control console lets you adjust examination parameters conveniently with a few taps of the finger.

Quick and easy: cassette handling
Both film-based and CR cassettes ranging from 18 cm x 24 cm to 35 cm x 43 cm are simple to insert. The cassette spotfilm device automatically loads and centers the cassette, including format sensing and automatic format collimation. Remove it at the push of a button. It's that simple and fast.
 
Imaging Excellence – Visible value
Luminos RF Classic also makes a visible difference, particularly in terms of its imaging and dose saving capabilities.
Quality components for accurate diagnoses
With its proven high-quality components, 1k x 1k matrix and high-contrast images, Luminos RF Classic offers you excellent support for making accurate diagnoses:

POLYDOROS high-frequency generator for precise reproducibility and short exposure times
Proven OPTITOP X-ray tube for output stability and excellent heat storage capacity
High-contrast imaging with a choice of 23 or 33 cm* SIRECON image intensifier for excellent quantum absorption
TV system with maintenance-free 1k x 1k image sensor technology featuring a high dynamic range
19" display providing excellent contrast, even in bright ambient light conditions

SUPERVISION*: 50% radiation reduction over continuous fluoroscopy for slow moving organs through integration of two image periods
CAREMATIC: Automatic exposure technique for consistent results
CAREFILTER: Copper prefilters for entrance dose reductions of up to 40%
Motorized removable grid for further dose reduction, especially during pediatric examinations
TV camera with last-image-hold (LIH) function to avoid unnecessary re-exposure
¿Fue útil esta información?
The products/features here mentioned are not commercially available in all countries. Due to regulatory reasons their future availability cannot be guaranteed. Please contact your local Siemens organization for further details.