In 90% of the PET/CT oncology cases, disease is located in the chest or abdomen2. These areas are subject to respiratory motion, which can displace organs and lesions by a range of 5 mm to 30 mm, blurring images and reducing diagnostic confidence3. And without respiratory gating, 40% of lung lesions may even go undetected4.
However, challenges in respiratory motion management limit the use of gated images:
Motion management is difficult to provide for every patient
Setup of external physiological devices can add complexity and time to patient exams
Acquiring enough counts to create a motion-frozen image often requires additional time to scan a patient
Does your staff have to handle difficult and complex PET/CT exams? Do you want reproducibility and the best quality possible regardless of the user?

OncoFreeze AI5 seeks to solve today's respiratory motion management challenges.
Key benefits
OncoFreeze AI is designed to offer motion-frozen PET images in areas affected by respiratory motion by enabling a simple check box:
Artificial intelligence identifies affected anatomy
Seamless integration within FlowMotion acquisitions
No external device required
No need to coach patients
No additional scan time
High-quality images for every patient, every time up to 227 kg (500 lb)
With FlowMotion as the foundation for image acquisition, the scanner moves in one continuous motion, allowing the scanner to always know its location over the body compared to step and shoot where overlap introduces changes in position throughout the scan.
ALPHA technology identifies anatomy that can be impacted by respiratory motion, and a deviceless waveform technique generates the respiratory signal without any additional setup or patient interaction.
Finally using OncoFreeze for the image reconstruction, 100% of the acquired PET counts can be used for image reconstruction, which means no additional scan time for a motion-frozen image
ALPHA Technology
For OncoFreeze AI, ALPHA technology will identify specific anatomical landmarks to determine automatically the zone most impacted by respiratory motion for each patient.
Deviceless waveform
OncoFreeze AI eliminates the need for additional setup of external physiological devices both on the patient and at the scanner and acquires a respiratory waveform that will be used to generate motion-frozen or cine, PET reconstructed images.

The Siemens deviceless waveform implementation offers a robust solution that can acquire a respiratory waveform similar to those created by external devices.

Using a deviceless waveform can have an additional benefit because it can acquire a respiratory waveform even in the case where an external device would fail.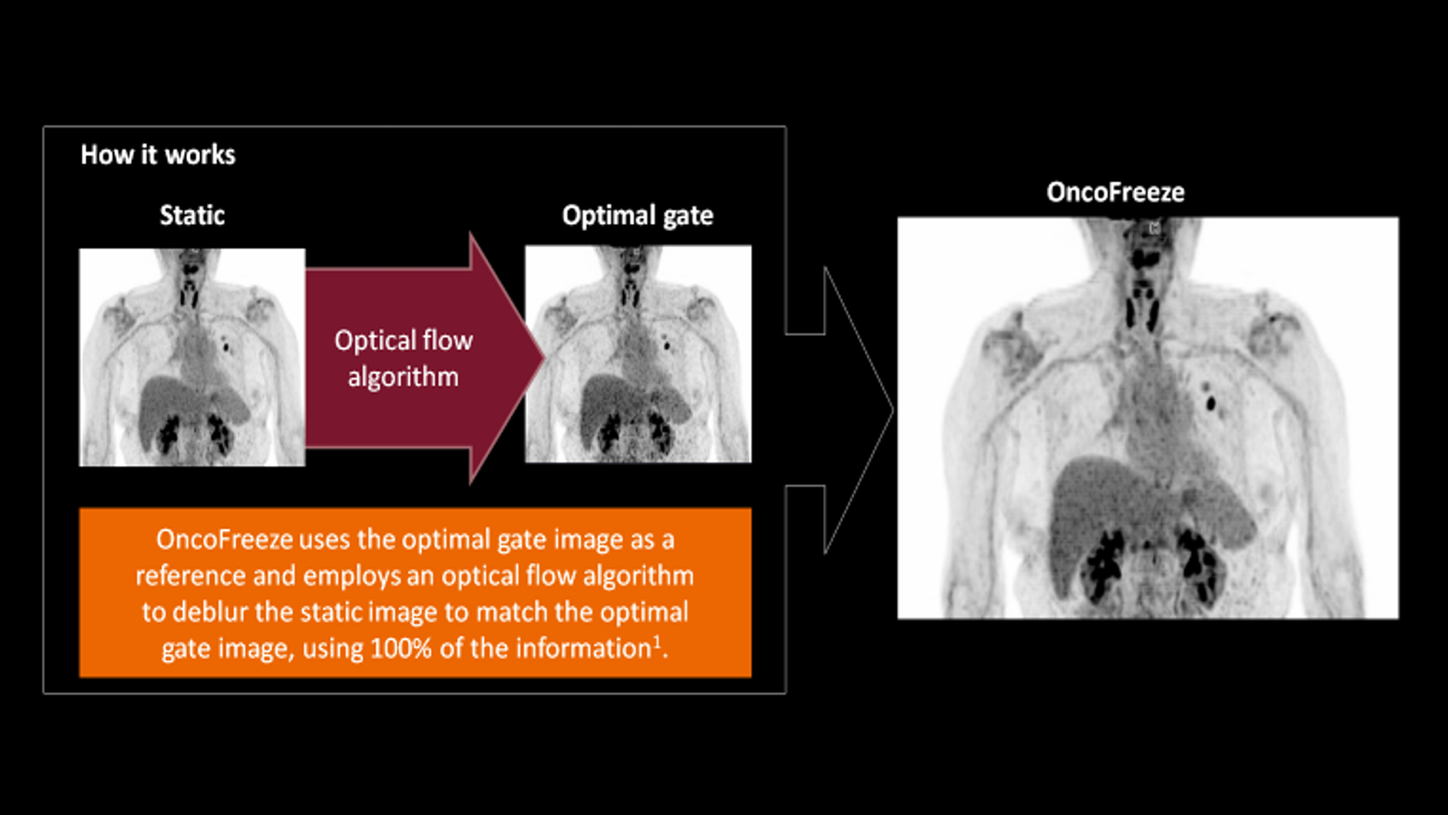 OncoFreeze and OncoFreeze AI
OncoFreeze AI benefits from its predecessor, OncoFreeze. Both solutions support the generation of motion-frozen images without any additional scan time, however OncoFreeze AI acquires a deviceless signal.

Using the optimal gate, the gated image that demonstrates the most quiescent point of the respiratory cycle, OncoFreeze will generate a motion frozen image using 100% of the counts from a static image.
System
Biograph Horizon
Biograph Vision
Biograph mCT
Minimum Software Version
Biograph mCT and Vision must run SW PETsyngo VG80 or higher5

Biograph Horizon must run SW PETsyngo VJ30 or higher5
Other
PET Respiratory Gating or PET/CT Respiratory Gating option is required to enable this option.
Please Note: Additional technical pre-requisites may apply. Upon receiving your request, your local Siemens representative will clarify whether your system meets the requirements.