MAGNETOM Verio
Proven 3T clinical imaging.
MAGNETOM Verio
Proven 3T clinical imaging.

As a proven innovator, Siemens is bringing 3T field strength, 70 cm Open Bore, and Tim® technology together in one powerful system - MAGNETOM® Verio, A Tim+Dot System. Invest in this MRI system that helps to make you a leader, with the versatility to provide a wide range of clinical applications today and well into the future.
Tim+Dot integrated
Proven openness
Proven performer
MAGNETOM Verio, A Tim+Dot System offers a high level of flexibility with innovative applications for each part of the body. It is fully equipped with a broad range of dedicated syngo MR applications in every clinical field.
Neurology
Evaluation of pathology from disc herniation to acute stroke. With high-quality morphological and functional techniques.
(Image: Johns Hopkins Bay View Med CTR, Baltimore, USA)
Orthopedics
Examination of ligament tears to cartilage degeneration. With high-resolution imaging.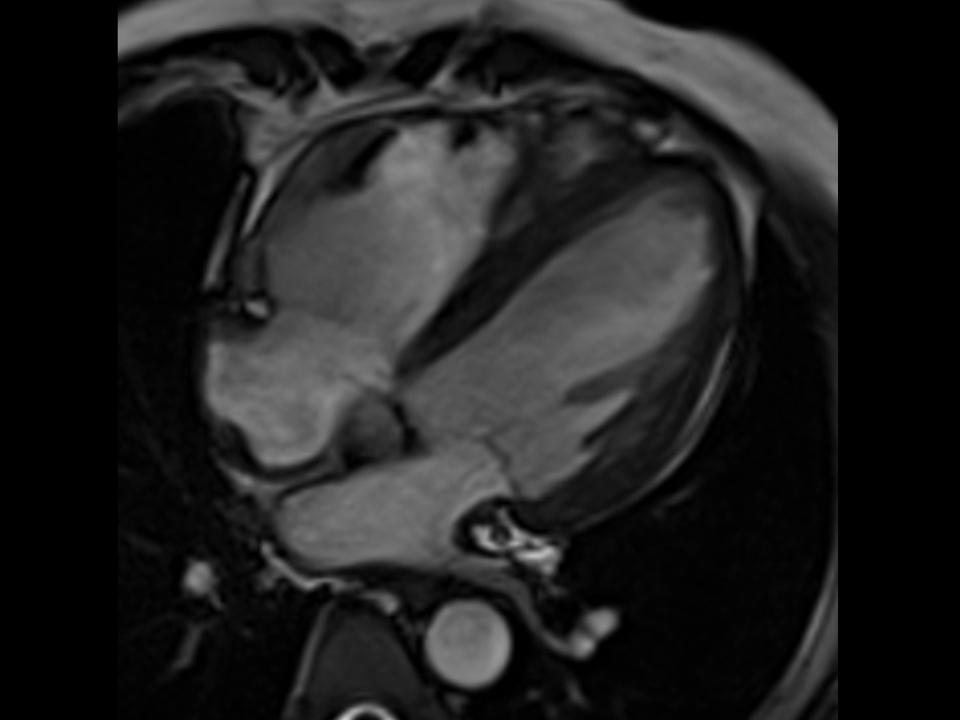 Cardiology
We can help easily answer clinical questions. From cardiomyopathies to ischemic heart disease. And from valvular to congenital heart diseases.
(Image: EKO MRI Centre, Kolkata, India)
Body
Free-breathing high-resolution MRCP to pancreatic and pelvic studies.
Pediatrics1
Excellent contrast and resolution with multiple protocols. Using ultrafast and motion correction techniques.
(Image: Children's Mercy Hospital, Kansas City, USA)
 
Angiography
Depiction of vessel diseases with a wide range of contrast and non-contrast enhanced techniques.
(Image: University Hospital Grosshadern, Munich, Germany)
Oncology
State-of-the-art oncology services for tumor detection. And staging of prostate, liver cancers, and more.
(Image: Nara Medical University Hospital, Nara, Japan)
Women's Health
Streamlined workflow in clinical cases. Including lobular cancer, breast implant assessment, and therapy monitoring.
Dot (Day optimizing throughput)
Dot is the next movement in MRI. As a comprehensive workflow solution, Dot provides a customizable framework for patient personalization, step-by-step user guidance, and exam automation.
The following Dot engines are currently available for MAGNETOM Verio:
Brain Dot Engine
Cardiac Dot Engine
Abdomen Dot Engine
Knee Dot Engine
Angio Dot Engine
TimCT Angio Dot Engine
TimCT Onco Engine
syngo.via
syngo.via is a comprehensive imaging IT solution, helping you to process read and share images faster and easier. For both routine and advanced MR interpretation.
It can be seamlessly integrated with MAGNETOM Verio, improving workflow not only at the scanner, but throughout the organization.
Start your engines for routine, oncology, neurology, and cardiovascular cases:
syngo.MR General Engine
syngo.MR Onco Engine
syngo.MR Spectro Engine
syngo.MR Cardio Engine
syngo.MR Neuro Perfusion Engine
and benefit from numerous applications transforming the way you view, read, and evaluate with your MR images.
By clicking Submit you consent to the processing of your above given personal data by the Siemens Healthineers company referred to under Corporate Information and for the purpose described above. Further information concerning the processing of your data can be found in the Data Privacy Policy. You are aware that you can partially or completely revoke this consent at any time for the future. Please declare your revocation to the contact address given in the Corporate Information and sent it to us via the following e-mail address: dataprivacy.func@siemens-healthineers.com
Did this information help you?