SOMATOM go.Top Cardiovascular Edition
Patient-friendly cardiovascular CT – in virtually any office setting
SOMATOM go.Top Cardiovascular Edition
Your SOMATOM go. CT scanner for patient-friendly cardiovascular CT – in virtually any office setting
The SOMATOM go.Top Cardiovascular Edition enables routine access to coronary CT angiography (cCTA), and HeartFlow FFRCT Analysis provides additional diagnostic information which can be useful for patient management decisions. This CT system also enables you to do Peripheral Vascular scans as well. We can offer these services in either an existing hospital or cardiology based office environment for a low total cost of ownership. With patient-centric technologies and workflows to optimally adapt to each type of patient, all technologists can turn challenging cardiac scans into routine.
Automate your cardiac workflow and improve consistency with GO technologies
Serve the full clinical spectrum with patient-centric technologies
Improve access to care within your cardiovascular office setting
Add advanced services with an exceptional total cost of ownership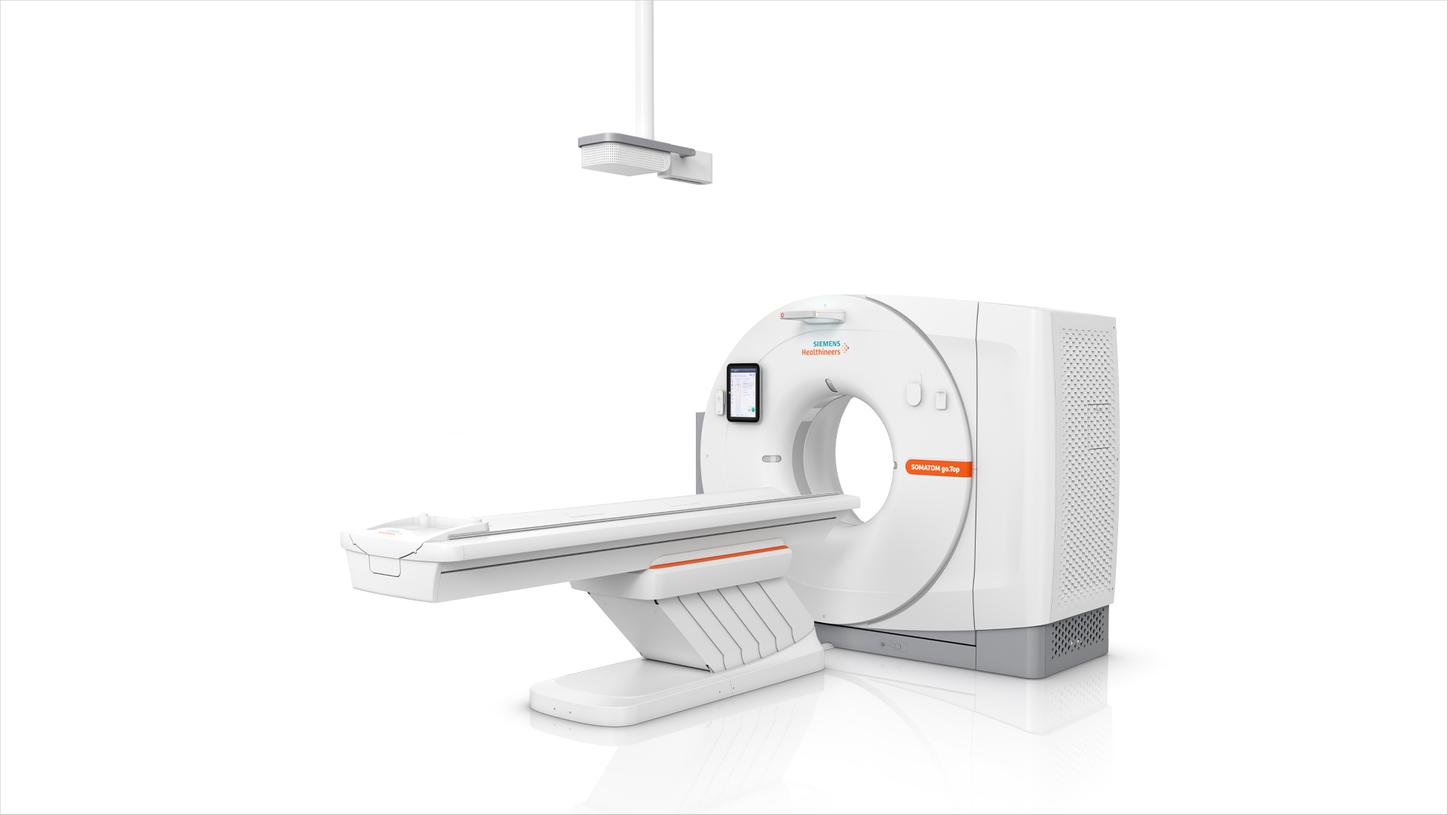 Work more efficiently and patient-friendly
We built SOMATOM® go.Top Cardiovascular Edition around our mobile workflow to bring an unparalleled level of flexibility and mobility to your daily cardiovascular CT procedures.
The tablet gives you total freedom over how you work and lets you stay with the patient for longer
The integrated injector arm lets you position the injector where you need it, when you need it, and makes for a neat and organized working environment
With the new workplace design there are no computers needed in the control room, freeing up valuable space in your cardiology practice.
The integrated 2D camera makes it easy to spot even micro-movements and keep the patient in the right position
The remote control puts table control in your hand and allows you to start the topogram after leaving the room or moving behind a protected wall.
 
With the SOMATOM go.Top CT scanner, users can spend most of the time with the patient – which results in higher efficiency, higher patient comfort, and fewer motion artifacts.
Left: A standard workflow. The CT operator spends most of the time in the control room.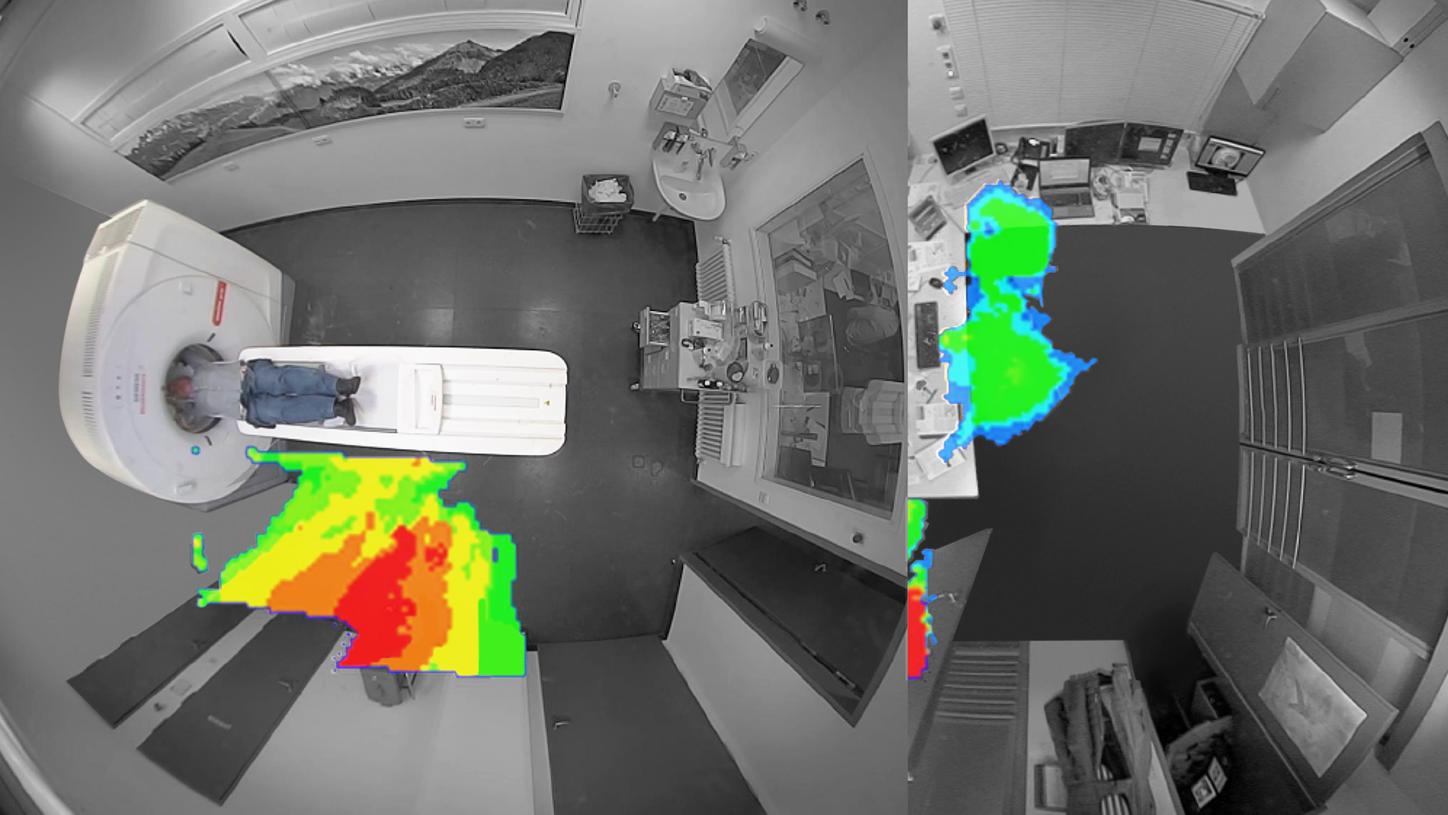 Left: In comparison, the unique new mobile workflow of SOMATOM go.Top, based on tablet-operation and automation.
Automate your workflow with GO technologies
Increase consistency and exam quality with a unique tablet-based mobile workflow supported by GO Technologies that helps reduce the most common sources of suboptimal cardiac acquisition. GO Technologies help standardize and simplify your departmental processes by making patient preparation, image acquisition, reconstruction, reading, and data distribution easier and more efficient.
Scan&GO: a tablet app that allows you to control scans remotely. In cardiac CT, Scan&GO even simplifies electrode handling and ECG monitoring.
Check&GO: an intelligent algorithm that flags problems with coverage or contrast media distribution as they occur. Checks for suboptimal opacification and FAST ROI, to help avoid an ROI placed in the wrong location. It can ultimately help users deliver the right images at their first attempt.
Recon&GO: performs zero-click postprocessing, making it part of the standard reconstruction tasks. It saves time and cuts down on workflow steps. With SOMATOM go.Top Cardiovascular Edition, the main coronary arteries are automatically reconstructed with a zero-click workflow and no advanced visualization workstation is required.
CT View&GO: an all-in-one, cross-specialty viewing solution that provides a large variety of clinical applications in one workflow. It is also available as an independent console.
 
Go for profound clinical results with patient-centric cardiovascular technologies
SOMATOM go.Top Cardiovascular edition gives your office the capabilities to achieve outstanding, personalized dose control in all types of routine cardiovascular imaging, from TAVR planning to cCTA to Peripheral Vascular imaging, thanks to 10 kV steps, CARE kV for automated kV selection and High Power mode for having outstanding mA reserves at low kV. It also offers you the premium diagnostic image quality enabled by scanner with a fast native temporal resolution that does not rely on more limited software based methods. This unique combination is ideally tailored to support advanced services such as HeartFlow FFRCT analysis.
Clinical consistency in cardiac CT
Stay ahead of the competition with optimized preparation, fast scanning, and standardized results in every cardiac case. Seamless integration of GO technologies allows you to devote more time to your patient.
 
Greater image quality with personalized dose control
Prospective and retrospective gating leverage excellent dose control thanks to low kV scanning that is powered by two unique Siemens capabilities
Selectable 10 kV steps for truly personalized dose control
High Power Mode for having the scanners maximum 825 mA achievable at the lowest 70 and 80 kV stations.
Expand your clinical capabilities
Leverage a diagnostic CT scanner with a full field of view to go beyond coronary CTA and to expand into all realms of cardiac CT scanning such as TAVR planning and peripheral vascular imaging. The scanner delivers excellent scan speed for TAVR patients and the capability to optimize contrast usage for patients who may have compromised renal function.
Consistent and reproducible scans with CardioBestPhase
Consistency is greatly improved thanks to intuitive tools such as automated ECG impedance checking, and Cardio BestPhase for post scan selection of the best r-r intervals for motion-free image reconstruction.
Better quality control powered by A.I.
The SOMATOM go.Top Cardiovascular Edition includes A.I. powered Check&GO with the capability for better quality control by checking anatomical coverage and contrast distribution - automatically.
Give your CT business a new push forward
Setting yourself apart with additional reimbursement opportunities. Additional revenues can also be generated through maximizing throughput – based on quicker positioning, simplified workflows, and the high-performance Athlon® tube. Add to that lower installation expenditure and running costs, and you'll see why we say that the SOMATOM go. platform was built to make success your daily business.
A smaller footprint to fit your operation
Leveraging the smallest footprint for a full diagnostic CT scanner, the low impact installation of the SOMATOM go.Top in a space that is only12 m2 with a CT that does not rely on a traditional control room. All computers are embedded directly into the gantry allowing complete positioning flexibility to fit the scanner into the smallest rooms.
Reliability and premium features
Built for high reliability with a new x-ray tube and system architecture that focuses on continual software updates to ensure cybersecurity. A further focus on high reliability for a scanner that is designed to have only one preventive maintenance day every 3 years.
Benefit from premium support
SOMATOM go.Top Cardiovascular Edition redefines the way you get seamless support. You benefit from the financial confidence that comes with premium support powered by Siemens Remote Service for maintenance and remote repair. Save on operational expenses with a service contract that optimizes your organizations total cost of ownership. Industry leading reliability as well as optimal operational expenses thanks to a system that drives a low acquisition cost and a lower ongoing total cost of ownership thanks to competitive service contract.
Digital education with PEPconnect
Accelerate you or your staff's workflow and knowledge with PEPconnect and PEPconnection*. Engage in learning activities at any time and on any device for a personalized learning experience with PEPconnect. Using a PEPconnection subscription, you can access a workforce education management plan as well as analytics and progress report tracking.
*Subscription required. Availability of subscription depends on country.
| | |
| --- | --- |
| | |
| | |
| | 6.0 MHU (15.0 MHU equivalent value) |
| | 75 kW (187 kW equivalent value with SAFIRE1) |
| | 70, 80, 90, 100, 110, 120, 130, 140 kV |
| | |
| | |
| | |
| | |
 SOMATOM® go.Top has a patient table with a scannable range up to 160 cm that can hold up to 500 lbs / 227 kg. The table is equipped with newly designed accessories such as a paper roll holder, an infusion stand, and a storage box on the side.
 Upgradable to the table that can hold up to 676 lbs / 307 kg and has an extended scannable range of 200 cm.
Did this information help you?