High-end CT imaging without any compromises
While the concept of Dual Energy CT was introduced by Siemens more than 30 years ago with fast kV switching on the SOMATOM DRH1, it wasn't until about 10 years ago that Siemens Healthineers was able to bring Dual Source Technology to the clinical market and with it a more advanced way of acquiring spectral data - Dual Source Dual Energy. This advance made it realistic to utilize Dual Energy in the clinical routine by enabling a method that is able to use modern dose reduction technologies such iterative reconstruction and automated exposure control (dose modulation) while also bringing new ideas such as spectral shaping with tin filtration for acquiring spectral data in a dose neutral manner2 without a loss of image quality that occurs with fast kV switching.
"… virtual monoenergetic reconstruction at 55 keV in pancreatic DECT showed improved objective image quality and reader preference compared to routine images. As this image reconstruction can be incorporated into the scan protocol, this technique should be considered for routine clinical use."3
 
The launch of the SOMATOM Force with its Selective Photon Shield further established Dual Energy as a dose-neutral technology. The Selective Photon Shield filters out unnecessary photons from the high-energy X-ray tube. It permits the use of Dual Energy in daily practice at a dose comparable to a conventional 120-kV scan, with optimal spectra separation for excellent Dual Energy data quality.

Siemens Healthineers Dual Source Dual Energy offers three main advantages: High power, High speed and personalization. These three attributes translate into better image quality for nearly every possible type of patient, images offering you the potential for greater clinical accuracy and diagnostic confidence, and the ability to tailor your dose and scan protocols for even the most challenging scans. By facilitating optimum image quality even in most challenging cases across all medical fields, Dual Source CT has multiplied the potential of Computed Tomography – regarding both application range and information quality.

In 10 years, in over 1,500 installations around the world, and in thousands of clinical cases, Dual Source scanning has proven a great advantage for clinical routines across all fields of medical imaging.
 
Dual Source CT Imaging - How it works
In contrast to traditional single source multi-slice CT (Fig 1), a Dual Source CT (DSCT) is equipped with two data measurement systems, each consisting of one X-ray tube and one corresponding detector array oriented in the gantry with an angular offset of 90 degrees (Fig. 2).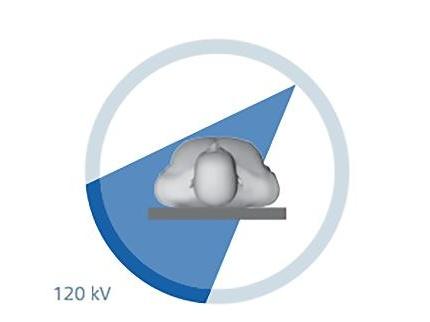 The two X-ray source/detector systems rotate simultaneously capturing image data in half the time required with conventional technology. With Dual Source CT it is possible to double the temporal resolution to 66 ms compared with that of a single source CT, and increase the speed of acquisition while reducing the radiation dose significantly.
With the advantage of two measurement systems, DSCT offers a subset of unique advantages including two unique operating modes: Dual Source Single Energy (DSSE) and Dual Source Dual Energy (DSDE) modes.
In DSSE mode, both X-ray tubes work at the same kVp setting and provide extremely fast volumetric coverage (e.g. Flash/Turbo Flash modes) providing both the power and speed for imaging very obese patients (combining the power of two tubes), whole body trauma and cardiac imaging. Learn more about DSCT click here.

In DSDE mode, X-ray tubes are set at different energies (see Fig. 3) to provide the maximum spectral separation, which is the key to high sensitivity and specificity in spectral imaging, customized for each patient and each acquisition. Dual energy spectral data provides added insight over traditional structural only images by making it possible to differentiate not only between fat, soft tissue, and bone, but also between calcifications and contrast material (iodine) on the basis of their unique energy-dependent attenuation profiles. Furthermore, functional parameters such as iodine concentration in the liver, lung, myocardium or tumors etc. can be acquired. DSDE also enables automatic zero-click bone removal in angiography in both the head and body.