Pediatric Computed Tomography Solutions
Expanding precision medicine with consistent, reliable CT results for children
Children need CT imaging that is designed with them in mind. Young patients are more sensitive to radiation, have higher heart rates, and may be unable to remain still for a scan. Children – and their parents – may also find the scanning process stressful or intimidating.
Our Dual Source CT scanners provide excellent image quality for virtually all patients despite the unique challenges that come with imaging pediatric patients. Designed to simplify workflow with faster scan times and lower radiation dose, our scanners help reduce the stress associated with imaging for both children and their parents.
Dual Source CT offers fast imaging for higher heart and respiratory rates in pediatric patients
Imaging pediatric patients presents numerous challenges: rapid heart rates, faster breathing, and the inability to follow breathing instructions or remain still. Artifacts from breathing or motion can severely reduce image quality, thus often necessitating the use of sedation.
With Dual Source technology and Turbo Flash scanning, you can:
Minimize motion and breathing artifacts,
Minimize exposure time, and
Reduce or eliminate the need for sedation.
Additionally, the fast temporal resolution of Dual Source technology helps improve image quality when scanning fast-moving structures such as the heart, addressing the unique needs of your pediatric patients.
Clinical case – infant with heart anomaly
Images courtesy of Astrid Lindgren Children's Hospital, Karolinska University, Stockholm, Schweden
Clinical case:
2-month-old, heart rate 130 bpm, with a congenital heart anomaly
70 kV CARE Child protocols
Eff. dose
0.33 mSv
Potential to improve diagnostic accuracy – heart scan even at 130 bpm with SOMATOM Force. Suitable for pediatric coronary evaluation.
Dual Source CT may save time by reducing or eliminating the need for sedation
The use of sedation for pediatrics requires additional time and personnel. Patient preparation involving sedation can be time consuming, stressful for staff and parents, and even harmful for patients.
Additional staff members are required when a patient is sedated, and proper technique requires additional time for set-up and patient recovery, impacting your patient throughput.
The volumetric acquisition speed of Dual Source CT technology from Siemens Healthineers helps reduce or eliminate sedation, making the overall scan experience faster and simpler – without compromising on image quality. Reducing the need for sedation can also improve the patient experience by eliminating a source of stress for both the child and parent.
Evidence for the potential of Dual Source CT
"DSCT predominates ​in the field of pediatrics"


Ed Nicol, MD
Consultant cardiologist at Royal Brompton Hospital1
Dual Source CT offers dose reduction technologies designed to keep pediatric patients safe
Children are more sensitive to radiation than adults, and the impact of that radiation to their still-growing organs lasts their lifetime. Pediatric patients are not just treated like small adults – personalization for your patients' body size is critical.
Our dose reduction technologies align with the guidelines from the Image Gently® Alliance: child-size the kV and mA, scan only the indicated area, and avoid unnecessary scans and multiple phases.
Dose reduction technologies designed to keep your patients safe include:
CARE Child offers the industry's first 70 kV scan mode and dedicated default pediatric scan protocols for automated adaption of radiation dose to the size and shape of the youngest patients.
FAST Planning for automatic organ-based setting of scan and recon ranges
Adaptive Dose Shield eliminates over-radiation pre- and post-spiral and therefore clinically irrelevant dose
X-CARE selectively limits the radiation exposure of sensitive organs, e. g. the eyes
Tin filter technology filters out unnecessary photons for powerful low-dose scanning
Cystic fibrosis lung scan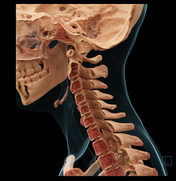 Courtesy of Astrid Lindgrens Childrens Hospital, Karolinska University, Stockholm, Schweden
14-year-old child, rule out of cervical spine fracture after fall
Volumetric and fast imaging at a very low dose level
SOMATOM Force

Scan time: 2.19 s
Scan length: 303 mm
Rotation time: 0.5 s
Sn100 kV, 335 mAs
CTDIvol: 1.16 mGy
DLP: 29.3 mGy cm
Eff. dose: 0.23 mSv
High image quality at very low dose levels can be achieved by using a Sn100 kV protocol with iterative reconstruction.
Dual Source CT workflow solutions free up time to focus on your patients
Small children are often fidgety and may be unable to comply with instructions during patient preparation and scanning.
You need to be able to operate quickly to get the images required without sacrificing quality.
Our workflow solutions are designed to free up more of your time to focus on the patient, and our fast scan times mean you can get high image quality even when a patient is fidgeting on the table.
Extra-pulmonary sequester with arterial supply from abdominal aorta
Sub-second imaging beyond the detector width
13 month
Suspected congenital heart
Free breathing
Non compliant
Tried to sit up
Courtesy of Friedrich-Alexander University Erlangen-Nuremberg, Germany
SOMATOM Definition Flash: 0.33 mm spatial resolution, 0.28 second rotation, 0.57 mSv eff dose
Dual Source CT offers a child-friendly atmosphere to put children and parents at ease
The idea of getting radiation can be stressful for pediatric patients and their parents. Adding sedation can amplify that stress.
Our CTs are designed to help improve the patient experience by reducing or eliminating the need for sedation, without compromising on image quality.
Soothe your young patients and give them a sense of control by allowing them to choose their favorite color for mood lighting in the bore.
You can even transform your CT scanner into a creative, child-friendly experience with customized skins or lighting from various third-party vendors.
Dual Source CT offers dedicated protocols for pediatric patients
Children cannot be treated just as small adults. Children's bodies require dedicated and specific protocols to ensure that they are being imaged safely.
The dose modulation protocols for pediatrics on our CT scanners are designed to help you improve pediatric imaging with a range of targeted solutions to minimize radiation exposure and maintain diagnostic image quality.
CARE Child includes:
Low kV scanning,
Optimized dose distribution and special modulation curves through CARE Dose4D™, and,
Dedicated pediatric protocols to cover a wide variety of clinical indications.
These combined applications all help ensure that you are delivering excellent image quality at the right dose – especially your smallest patients.
Did this information help you?
1
The statements by Siemens Healthineers customers described herein are based on results that were achieved in the customer's unique setting. Since there is no "typical" hospital and many variables exist (e.g., hospital size, case mix, level of IT adoption) there can be no guarantee that other customers will achieve the same results.