Siemens Healthineers at
ESC Congress 2021
Thank you for joining ESC Congress 2021 The Digital Experience Take the chance and watch our symposia on demand at the ESC platform.
At Siemens Healthineers, our purpose is to enable healthcare providers to increase value by empowering them on their journey towards expanding precision medicine, transforming care delivery, and improving patient experience, all enabled by digitalizing healthcare.
1st Symposium:
Precision medicine in the digital world: from data analytics to augmented reality


This symposium will highlight the benefits and hurdles of building a 15-year-old cardiology multimodality structured database (Cath, Echocardiography, CT and MR). The power of data mining and data extraction for education, scientific research and innovation purposes, will also be displayed with examples of retrospective analysis and identification of patient populations affected with e.g., rare diseases.

Additionally, the evolution of clinical image visualization will be highlighted, comparing the latest state-of-the-heart technologies – 3D printing and augmented reality – and how they may transform patient diagnosis and treatment, today and tomorrow.

Learning objectives:

Understand the evolution of data analytics and image visualization
Comprehend the long-term benefits of implementing structured reporting in the daily routine within the Cardiology department
Understand the impact of data analytics in scientific research and patient care outcomes
Learn the benefits of Augmented Reality compared to 3D printing
Visualize the potential applications of Augmented Reality today and tomorrow
Patricio Lino, MD
Hospital do Espírito Santo de Évora, EPE
Ricardo Fontes de Carvalho, MD
Centro Hospitalar de Vila Nova de Gaia, Porto
Muhannad Alkassar, MD
Universitätsklinikum Erlangen
2nd symposium:
Telehealth and Remote Patient Monitoring in Cardiology: from temporary adoption during pandemic to standard of care?
For many healthcare organizations, COVID-19 forced a shift to telehealth that happened in a matter of days. But now, it is clearly becoming a standard of care that is here to stay. Join this webinar to gain best practices for implementing telehealth for cardiac patients consistently and effectively beyond the pandemic era and hear Dr. Lino on how Évora Sáude Hospital successfully implemented a cardiac telehealth program as part of their service delivery model.
Learning Objectives
:
How the pandemic disrupted the planned treatment of patients at Évora Hospital
Learn how telehealth technologies helped to cope with the impact of the pandemic
Learn how telehealth technologies can be integrated into clinical practice
Learn patients can benefit from increased access to care and improved healthcare outcomes
Ricardo Fontes de Carvalho, MD
Centro Hospitalar de Vila Nova de Gaia, Porto
Patricio Lino, MD
Hospital do Espírito Santo de Évora, EPE
ARTIS icono floor
ARTIS icono floor1 is the flexible, multi-axis floor system that offers ceiling-like flexibility at a lower price point. The system provides full patient coverage of 2.1 m without having to reposition the patient and 1.9 m lateral coverage, which is ideal for e.g. radial access. Installation sizes start from just 25 sqm, while the free ceiling makes installation easier and minimizes air flow impact during imaging.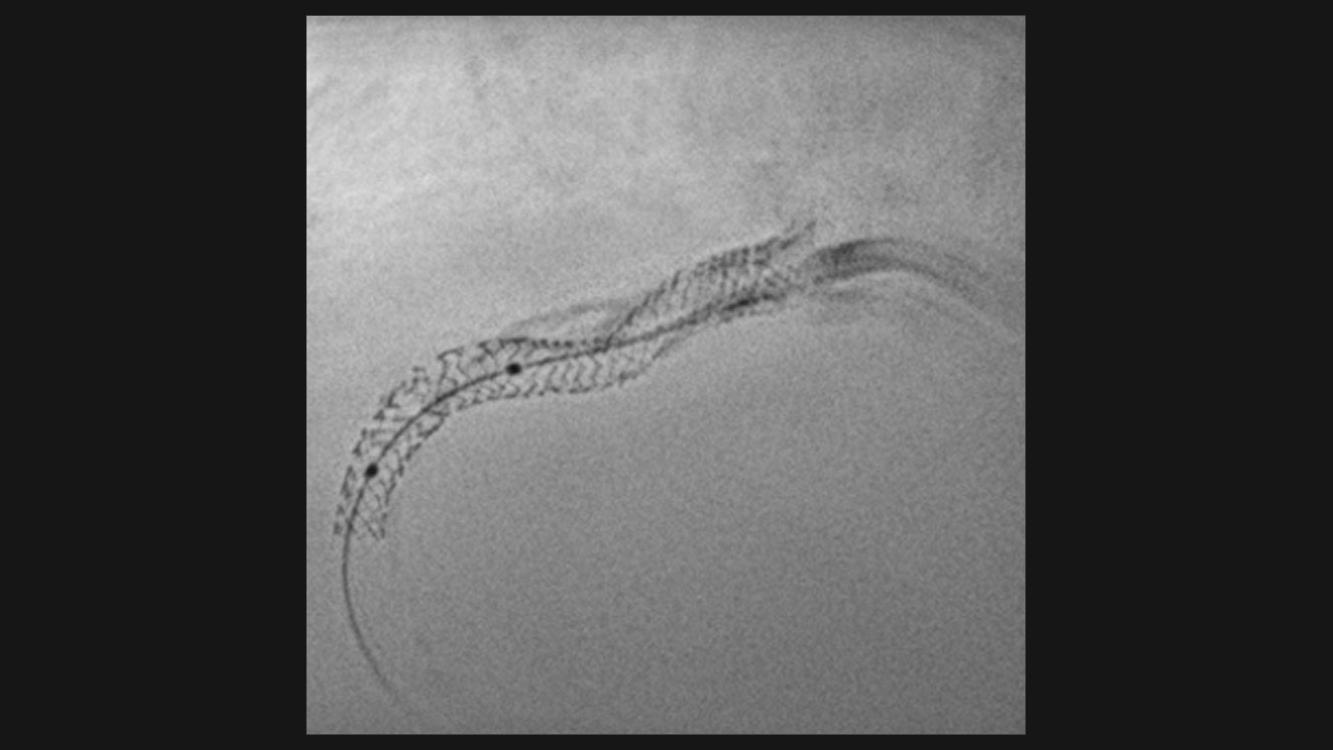 ClearStent
This stent visualization tool enhances stent visibility even under difficult conditions. One-click operation processes scenes no matter if pre-acquired or acquired during the 5s acquisition program. In addition to automated fade-in/fade-out of processed image, CLEARstent offers scene-like behavior, PACS compatibility for review on any DICOM viewer and live fluoro overlay of processed image.
ClearStent Live
This real-time stent enhancement functionality gives a clear display of the undeployed stent in relation to previously deployed stents or cardiac anatomy – with a significant potential to speed up procedures and to save contrast.
syngo CTO Guidance
Expand your procedure mix by treating more CTO patients. syngo CTO Guidance enables better planning with automatic segmentation of coronary CTAs and provides guidance during the procedure with color-coded COROwave to avoid foreshortening.
syngo TrueFusion
When treating structural heart disease, advanced real-time 3D TEE and True Volume color Doppler imaging are required to visualize form, function, and flow in one volume view – without compromise. With TrueFusion, add the relevant anatomical and functional landmarks easily to your live fluoroscopy.
Is your current equipment ready for new healthcare trends? Will it allow you to meet all of your patients' needs? We created Dual Source CT to prepare you for these challenges. Thanks to unrivaled power and precision, Dual Source CT enables you to obtain high-quality results in every situation easily and conveniently. Our revolutionary technology is the right match for even the most challenging and advanced imaging applications.
Discover the uniqueness to scan the whole ECG without limits and experience the benefits of Dual Source technology. Be ready beyond tomorrow in Cardiology.
Outcome relevant decisions – redefining patient pathways with Cardiac MRI
Cardiovascular MRI offers you valuable information for a number of sophisticated clinical questions, as well as excellent soft tissue differentiation, high spatial and temporal resolution, and 3D and 4D data acquisition. Today, MRI is widely regarded as one of the most comprehensive diagnostic tools in cardiology, but also as a highly complex examination. Siemens helps you bring cardiac MRI into your clinical routine.
Digital Marketplace
With the aim of creating a digital health ecosystem and enabling smart use of health-related data, we provide an open and secured environment for a wide range of healthcare stakeholders to share, access, and analyze data. The Digital Marketplace2 is the entry point, connecting you with an ever-growing portfolio of applications from solution partners and Siemens Healthineers, covering clinical, operational, and financial functions in healthcare delivery, and enabling you to get the most out of your healthcare data.
Digital Twin of the Heart
The "digital twin"3 of the heart, developed by Siemens Healthineers in collaboration with the cardiology department of the University of Heidelberg and other partners, was one of the three showcase exhibits at the Digital Summit. This tool holds large amounts of individual health data and could be used for diagnosis and treatment, as well as for disease prevention.
AI-Pathway Companion
AI-Pathway Companion aims to be the next-generation in clinical decision support systems, intelligently integrating relevant data using artificial intelligence technologies to facilitate diagnosis and treatment decisions along disease-specific pathways. AI-Pathway Companion has a focus to expand on precision medicine along the clinical pathway with AI-based decision support. The system aims to intelligently integrate longitudinal patient data and co-relate insights from imaging, pathology, lab and genetics. AI-Pathway Companion is also aimed to personalize and standardize patient management, offering process improvement insights through cohort data analysis of key performance indicators.
Documentation / Reporting / Cardiac IT
Sensis Vibe
The Sensis Vibe documentation system is the vital core where all events, decisions, measurements, and data from your procedures are captured. lt reduces administrative effort and standardizes documentation and reporting.
syngo Dynamics
Siemens Cardiovascular Imaging and Information Solution offers enterprise-wide reading and smart structured reporting through a single system, driving your outcomes. It helps to enable enhanced outcomes, increased performance, and improved operational efficiency.
ACUSON SC2000 PRIME
Delivering comprehensive, anatomically precise information to enable informed decisions without missing a beat, the ACUSON SC2000™ PRIME ultrasound system is engineered to go beyond basic cardiovascular ultrasound. Innovations in simultaneous anatomy and blood flow visualization as well as valve modeling and quantification provide clinicians with fast, actionable understanding.
Artis Freestyle Access
Artis Freestyle Access is the combination of Artis with PURE with ACUSON Freestyle™ Elite ultrasound system4. It allows for immediate availability and improved workflow when using ultrasound in the interventional suite.
Cardiovascular In-vitro Laboratory Testing
We provide a comprehensive and expanding menu of cardiac biomarkers across a broad spectrum of instrument solutions that help manage your patients throughout the continuum of cardiovascular disease.
2Digital Marketplace is not commercially available in all countries. If the services are not marketed in countries due to regulatory or other reasons, the service offering cannot be guaranteed.
3Digital twin is currently under development; is not for sale in the U.S. Its future availability cannot be guaranteed.
4Pre-requisites on Artis side: 55'' Large Display; Pre-requisites on ACUSON Freestyle side: ACUSON Freestyle Elite with Artis Access