MAMMOMAT Fusion
Když se špičkový systém setká s každodenní mamografií
Klíčovou roli v mamografickém screeningu hraje včasná detekce a optimální diagnostická přesnost. Jejich dosažení však vyžaduje vysoce standardizované pracovní procesy a vysoce kvalitní snímky.
Zároveň bychom neměli ze zřetele pustit zkušenosti pacientů. Vyvíjíme řešení pro péči o prsy, která pacientům poskytují optimální péči. Pro vytvoření nejlepších zobrazovacích výsledků je důležité, aby se pacienti během vyšetření cítili uvolnění. Když ženám během mamografického screeningu nabídnete uklidňující atmosféru, může jim to pomoci se uklidnit a zajistit tak hladký průběh vyšetření.
MAMMOMAT Fusion představuje špičkový mamografický systém, který zlepšuje každodenní screening a diagnostiku. Propracované automatizované pracovní procesy provádějí komplexní úkoly po stisknutí tlačítka. Díky pozoruhodně robustnímu detektoru, nízkým provozním nákladům a vysoké výkonnosti se vám investice do něj vyplatí.
Digitální mamografický systém MAMMOMAT Fusion společnosti Siemens Healthineers byl navržen tak, aby vás během rutinní práce velmi efektivně podporoval. Objevte, jak může špičková mamografická technologie značně vylepšit váš každodenní screening a diagnostiku.
Greater comfort, relaxed patients – Mammography experience in a calming atmosphere
Help to enhance your institution's reputation by providing an exceptional mammography experience for patients.
A pleasant atmosphere, warm colors, and soothing lights create a relaxing environment, which can help your patients unwind and be at ease during the examination
Provide a uniquely calming atmosphere with the new Breast Health Moods1 - our colorful room design concept

Help patients relax with a system available in an attractive design and MoodLight1 – illuminated panel
Greater comfort to your patients with OpComp® – intelligent and personalized compression
Do it in a click - Enhance your everyday screening and diagnostics
Achieve high patient throughput and reduce staff training requirements with a proven workflow and our unique syngo user interface.
Save time with Single-Touch Positioning, which moves the mammography system between predefined positions at the touch of a button
Access our unique syngo user interface at one central acquisition workstation
Experience easy guidance with the seamless Stereotactic Biopsy2 procedure - Learn more about Stereotactic Biopsy
Enjoy peace of mind - Increase your diagnostic confidence at the right dose
Get consistent diagnostic results with the new, particularly robust detector that provides high-resolution images reliably, year after year. 
Benefit from MAMMOMAT Fusion's remarkably robust new-generation CsI detector, which is especially suitable for challenging environments such as bus-installed mobile screening units
Get high image quality at the right dose with our MaxFill Technology   
Enjoy sharper, easily adjustable images using newly refined image processing software with Flexible Opview   
Get your money's worth - Benefit from low operating costs and dedicated service packages
Reduce operating costs while increasing patient throughput with a mammography system focused on financial performance.
Maximize uptime and optimize workflows for sustainable healthcare
Profit from a comprehensive range of service options which can be precisely tailored to your requirements
Expand your clinical capabilities with magnification, spot imaging and biopsy options on the same system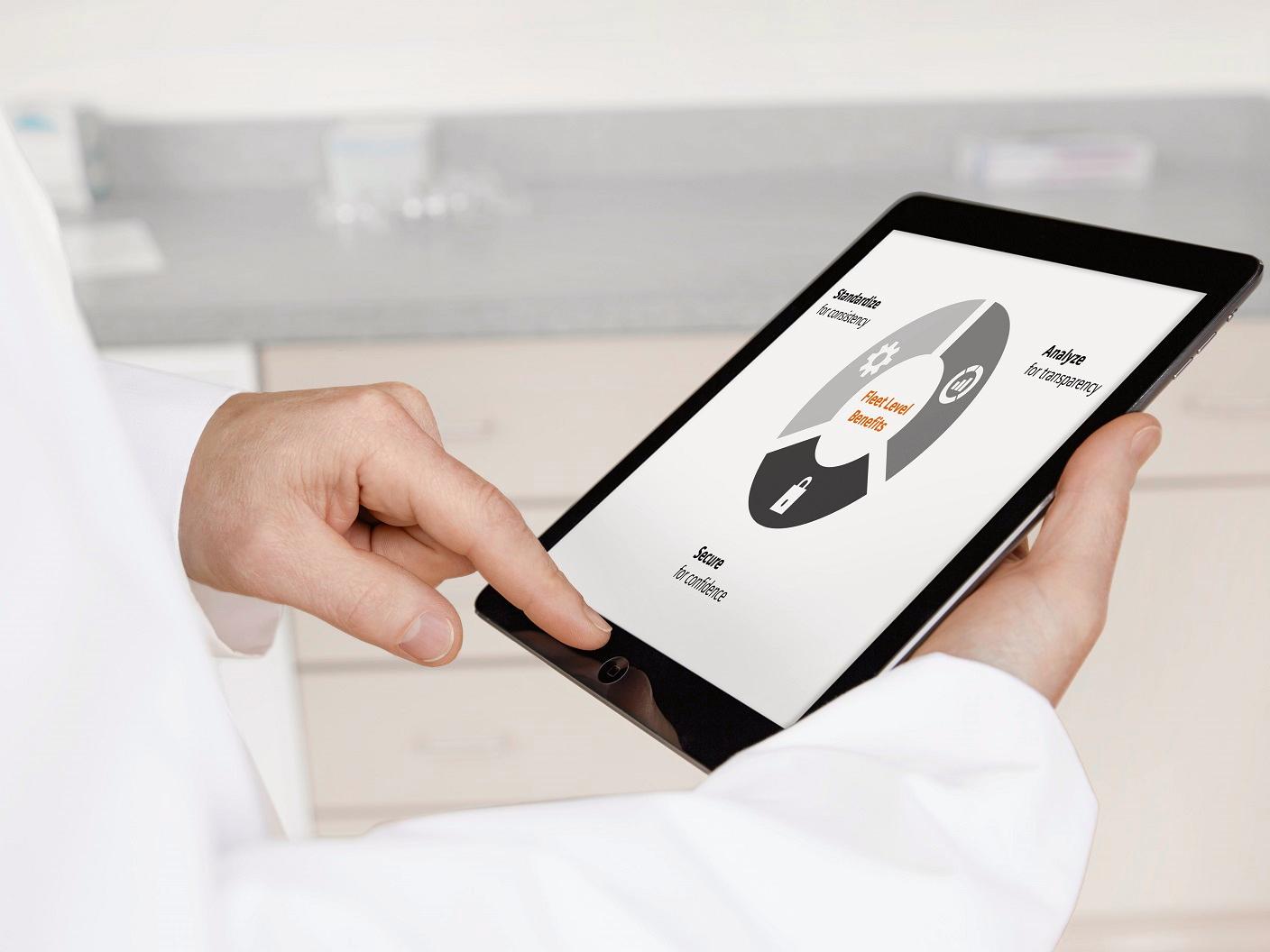 Fleet Level Benefits - Unlock your potential and increase the efficiency of your X-ray department
High complexity in diagnostic imaging makes it challenging to run the radiology department efficiently. Siemens Healthineers helps you to reduce complexity by offering specific solutions across the entire X-ray portfolio which let you standardize, analyze and secure the imaging fleet. In this way, you can gain valuable Fleet Level Benefits: consistency, transparency and confidence. This results in improved outcomes, increased efficiency and greater staff and patient satisfaction.
Standardize for consistency
Analyze for transparency
Secure for confidence
Patient Experience on MAMMOMAT Fusion
Customer Experience on MAMMOMAT Fusion
MAMMOMAT Fusion is a premium mammography system made to enhance everyday screening and diagnostics. Discover how premium technology can significantly improve your workflow.
Have a look what our customers say
Offering a better standard of care
"We initially planned to replace the analog system…But we decided to upgrade to digital MAMMOMAT Fusion which is a testament to become an even better hospital after a very traumatic event."
23 cm x 30 cm (9.1" x 11.7")

X-ray tube anode material

+ 180° to – 180°,

motorized, isocentric rotation with preselectable rotation

Vertical travel, motorized

69 cm (27.2") to 150 cm (59.1") (object table)

48 cm (19") TFT color display
3 MP 54 cm (21") TFT color display (optional)

Clinical applications and workflows

Control console, hand switch and footswitch options

OpComp - optimized compression force

OpDose - optimized patient dose

DICOM Send / Storage Commitment
DICOM Print
DICOM Query/Retrieve
DICOM Worklist / MPPS

Interface for CR integration
Pomohly vám tyto informace?
2
Option. Stereotactic biopsy on MAMMOMAT Fusion is not commercially available in all countries. Due to regulatory reasons its future availability cannot be guaranteed. It is not for sale in the U.S.
MAMMOMAT Fusion VB61 is not commercially available in all countries. Its future availability cannot be guaranteed. Please contact your local Siemens Healthineers organization for further details.
The statements by Siemens Healthineers' customers described herein are based on results that were achieved in the customer's unique setting. Since there is no "typical" hospital and many variables exist (e.g., hospital size, case mix, level of IT adoption) there can be no guarantee that other customers will achieve the same results.