At Halifax Health, SPECT/CT Protocol Helps to Improve Patient Care and Reduce Costs
More effective care—delivered faster and at a lower cost—is possible. The users of SPECT/CT at Halifax Health in Florida, USA, are proving it. 
Mobilizing the Standard of Care
Alliance HealthCare Services is the first provider to deploy the Biograph mCT Flow PET/CT scanner in mobile units. Rich Jones, President of Alliance HealthCare Radiology, and Dale Hockel, Chief Operating Officer, talk about their experience.
Two Imaging Specialists Join Forces for Better Patient Management
Radiologist Philipp Peloschek, MD, teamed up with nuclear medicine specialist Martha Hoffmann, MD, to establish the private Radiology Center in Vienna, Austria. their collaborative approach to patient management offers a glimpse into what the future of imaging could be.
How to Get the Most from Advanced PET Scanners: Harmonizing Quantitative PET Data
Nicolas Aide, MD, PhD, a professor of nuclear medicine and nuclear medicine physician at Caen University Hospital and François Baclesse Cancer Centre, Caen, France, and colleagues proved that PET data could be harmonized, regardless of the scanner generation or reconstruction method.
New FDA-approved Diagnostic Imaging Agent for Identification of Recurrent Prostate Cancer "Fills the Gap"
Blue Earth Diagnostics developed a newly FDA-approved PET radiopharmaceutical to detect biochemically recurrent prostate cancer. Siemens' PETNET Solutions is the exclusive commercial supplier in the United States. Together, the two aim to improve patient management.
Think Whole-body Dynamic PET Imaging is for Research Only? Perhaps it's Time to Re-evaluate
With the introduction of continuous bed motion technology, whole-body dynamic PET imaging becomes more practical in clinical routine, and less cumbersome in research settings.
SPECT Replacement Enables Efficiency and Service Line Expansion
Boice-Willis Clinic, a primary care and multi-specialty practice with seven locations in North Carolina, USA, replaced two aging SPECT scanners with one Siemens Symbia Evo Excel. Edward O'Neal, MHA, RT(R)(CT), Imaging Manager, and Candie Wachowicz, RT(R)(N), Nuclear Medicine Technologist, talk about the process.
Time-of-Flight Paves the Way to Faster Scans and Lower Radiation Dose
Researchers at Central Manchester University Hospital in the United Kingdom conducted a study to optimize their Time-of-Flight-equipped PET/CT scanner. As a result, the institution adopted a new protocol that has led to reduced radiation exposure to patients and staff, and has provided the flexibility to perform more scans per year.
Getting Hybrid Scanners to Run "Like a Swiss Watch"
Leveraging PET/CT and SPECT/CT scanners for both molecular imaging and dedicated CT saves space, time and budget at the Hirslanden Klinik St. Anna in the Swiss Alps. But it is the image quality and range of sophisticated applications they deliver that distinguish this 200-bed hospital.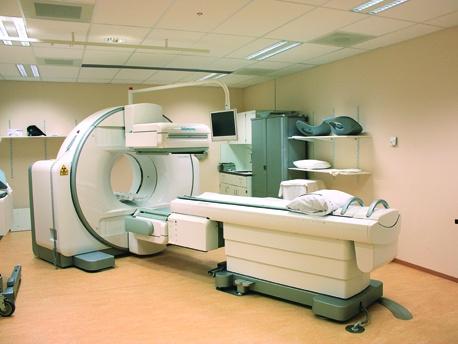 Symbia Intevo Transforms Dutch Hospital with State-of-the-art SPECT/CT
When Slingeland Hospital decided to update its nuclear medicine department, it acquired Siemens' next-generation SPEC/CT, Symbia Intevo. Six months later, the Dutch hospital was expanding its referral base in orthopedics and increasing its overall productivity.
The Art of Imaging
Explore four key molecular imaging technologies and the value high-quality imaging brings to healthcare organizations and the patients they serve. The true art of imaging.
Shaping the Future of Cancer Care with Radiation Therapy Planning
Utilizing high-resolution Biograph mCT PET/CT, Stanford Cancer Institute in the USA, Rigshospitalet in Denmark, and Chang Gung Memorial Hospital in Taiwan are increasing the success of cancer treatment.
Compact Gamma Camera Fits German Clinic's Plans to Modernize
A compact design, augmented by high performance and patient-friendly features, led administrators at radprax MVZ to choose Siemens' Symbia Evo Excel.