SOMATOM® On.site
Bringing critical care imaging to your patient
Siemens Healthineers SOMATOM On.site provides mobile head CT imaging with reliable and consistent SOMATOM image quality, right at your patient's bedside.
SOMATOM On.site will change the way you care for ICU patients suffering from acute and neuro critical conditions enabling you to transform care delivery at your hospital. 
Minimize patient transports
Optimize staff deployment
Achieve reliable and consistent image quality at the point of care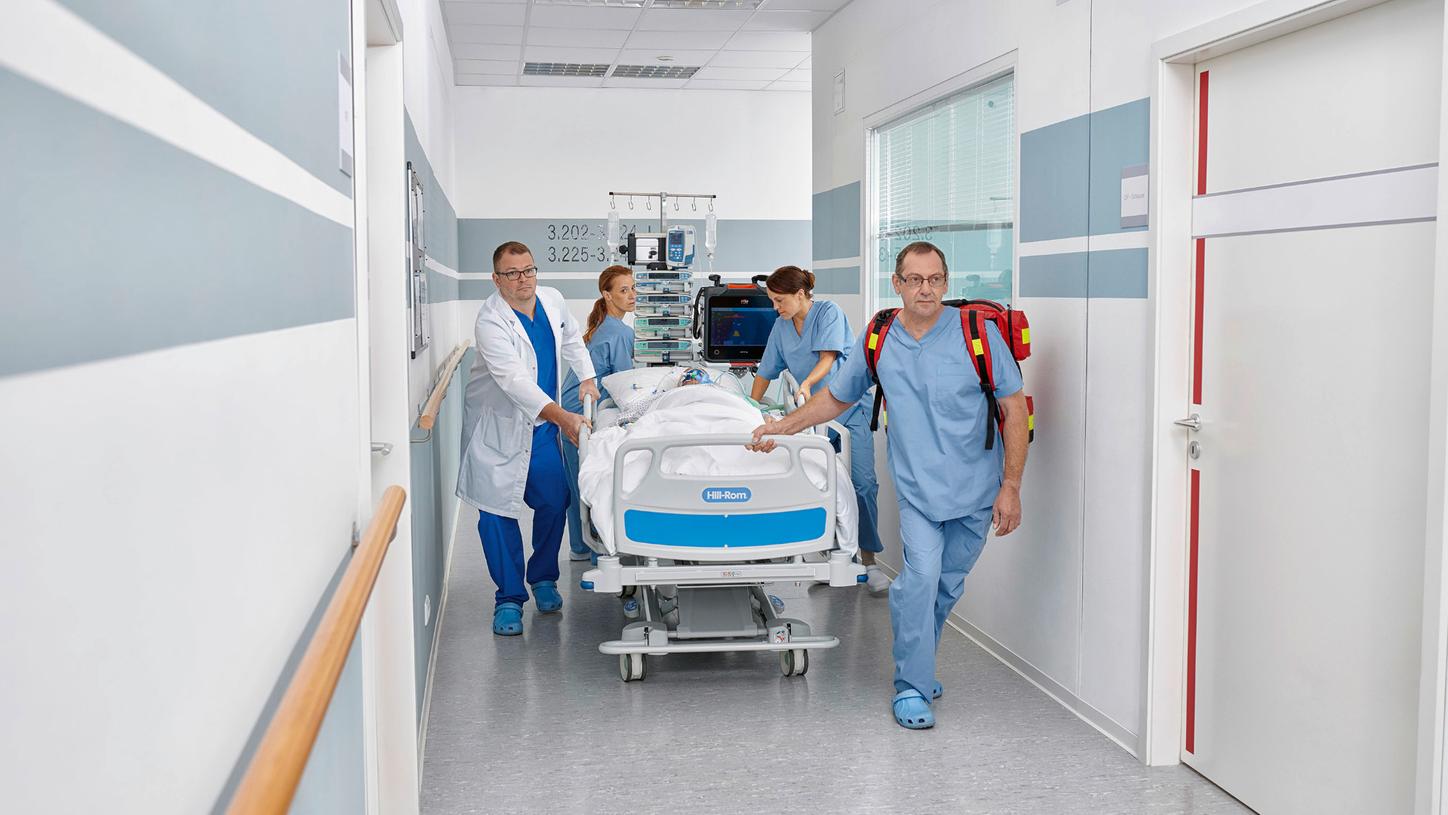 Why bring the patient to the scanner ...
Providing CT scans of the head for critically ill patients in the Intensive Care Units (ICU) is crucial and often challenging.
Transporting patients from the ICU to the radiology department is a delicate and complex process that requires up to five staff members to leave their other duties behind.1

Patient transports can be associated with an increased risk of complications for patients: >71% of ICU patients experience adverse events during transport specifically to the CT suite.2

Scanning of ICU patients in the radiology department impacts CT availability for other patients by blocking off more than double the time of conventional exams.2,3
... when you could bring the scanner to the patient
Experience mobile head CT scanning with SOMATOM image quality right at the patient's bedside.
Reducing transports to the radiology department could prevent related transport complications and allow your staff to concentrate on what matters most: providing optimal care for all patients within the department.
With this fast access to mobile CT imaging of the head directly at the Point of Care, physicians can reach fast treatment decisions and changes in the patient's condition or arising complications for better outcomes.
Offering CT imaging directly in the ICU allows the radiology department to maintain their scheduling. Point of Care bedside CT head imaging for critically ill patients can increase workforce efficiency and streamlines the imaging workflow.
Reduce patient transports
SOMATOM On.site enables CT imaging of the head directly in the ICU (Intensive Care Unit), which reduces complications associated with patient transports to the radiology department.
Performing CT scans of the head at the patient's bedside helps physicians to reach fast treatment decision.
Optimize staff deployment
ICU staff can remain in the ICU and focus more on their core tasks and care for their patients when they do not need to transport patients to Radiology.
Reduction of physical burden on staff as transferring patients to a dedicated scanner and table is not required with a mobile CT.
SOMATOM image quality
The Touch UI makes scanner operation intuitive and easy.
Mobile CT head imaging reduces the number of ICU patient scans performed in the radiology department, potentially resulting in more streamlined utilization of stationary systems and staff.
SOMATOM On.site brings SOMATOM image quality to the patient's bedside. All by combining proven technologies from existing SOMATOM scanners along with newly designed components.
Ensuring high-end imaging results at your patient's bedside: Thanks to the latest advances in digital healthcare, myExam Companion contributes with built-in expertise. And, thanks to workflow guidance provided by GO technologies, the system is easy to use and enables greater consistency across your entire team to acquire optimal images.
| | |
| --- | --- |
| | |
| | |
| | |
| | |
| | |
| | |
| | 3-25 mA (increments of 1 mA) |
| kW output/generator power | |
| | |
| | |
| | |
| | 0.35 – 1.5 (in steps of 0.05) |
| Iterative reconstruction algorithms | |
| Reconstruction slice thickness options | 0.8, 1.0, 1.5, 2.0, 3.0, 4.0, 5.0, 6.0, 7.0, 8.0, 10.0 mm |
| | |
| | Wireless and LAN connection to hospital network |
| | 4 rechargeable lead-acid batteries (4 x 12V) |
Transform care delivery with SOMATOM On.site
Solutions improving stroke pathways
As your partner in stroke management, we keep you ahead of your time – with industry-leading technologies designed to help you speed up stroke care and transform care delivery.
Click the graphic to learn more about stroke care pathways
Digital education with PEPconnect
Accelerate you or your staff's workflow and knowledge with PEPconnect and PEPconnection*. Engage in learning activities at any time and on any device for a personalized learning experience with PEPconnect. Using a PEPconnection subscription, you can access a workforce education management plan as well as analytics and progress report tracking.
*Subscription required. Availability of subscription depends on country.
Did this information help you?
1
Barnes E. Portable CT brings lower costs, reduce risk to ICU. AuntMinnie.com; 2008.)
2
Masaryk, TJ., Kolonick R, Painter T, Weinreb DB. The economic and clinical benefits of portable head/neck CT imaging in the intensive care unit. Radiol Manage [Internet]. 2008 Mar-Apr [cited 2019 Aug 15]:30(2):50-54. Available from: http://www.ncbi.nlm.nih.gov/pubmed/18431942
3
Agrawal, D., et al. (2016). Bedside computed tomography in traumatic brain injury: Experience of 10,000 consecutive cases in neurosurgery at a level 1 trauma center in India. Neurology India, 64(1), 62 and Masaryk et al. (2008). The economic and clinical benefits of portable head/neck CT imaging in the intensive care unit. Radiology Management March/April 2008: 50-54. Available from: https://pubmed.ncbi.nlm.nih.gov/26754994/