AMoHS Inc.
The patented, transportable Hybrid OR (THOR™) and custom Cardiac Surgical Suites are delivered to your hospital campus within months. It requires no long-term planning, hospital space or construction disruption. AMoHS provides a structure and platform for Siemens angiography systems, along with your choice of vendors for lighting, video, equipment carriers, and utilities.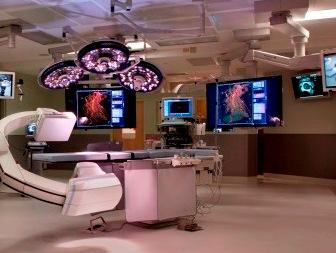 Black Diamond Video
Black Diamond Video's Integrated Digital Surgical Suite, an integrated OR video routing and display solution, works in unison with Siemens angiography products.
Brainlab
The BrainLab CURVE electromagnetic navigation system is integrated with our Artis zeego. An intraoperative syngo DynaCT 3D image is used for registration with the BrainLab system and enables precise navigation.
Dräger
Siemens and Dräger work together on hybrid OR projects involving Siemens angiography systems and Draeger equipment such as lights or booms.
Hansen Medical
The Hansen Magellan Robot and our Artis zee systems are compatible, the robot is integrated into the collision model and we exchange system position and patient data.
Maquet
Siemens and Maquet work hand in hand on planning and implementing hybrid OR projects that include the integrated solution of a Maquet Magnus table and an Artis zeego or Artis Q ceiling system.
PMI
With the radiotranslucent DORO head clamp, PMI has paved the way for X-ray imaging in hybrid neurosurgery. In combination with Artis zeego, this product enfolds its full potential since only Artis zeego allows intra-operative 3D imaging of a patient positioned for neurosurgery.
Skytron
Skytron's flexible OR solutions safely and seamlessly interact with Siemens Angiography equipment to deliver reliable, efficient Hybrid Room Design. Building partnerships with proven solutions.
STERIS
STERIS's Alliance network is a close collaboration of leading medical device companies with demonstrated success in equipping next generation operating rooms with the latest imaging and surgical technologies to improve treatment efficiency.
Stryker
Stryker offers customized Hybrid OR room designs with ceiling mounted boom and light solutions in combined systems with vertical height adjustments. In addition, the unique large monitor with integrated safety system has been proven to be an ideal solution for Siemens rooms.
Trumpf
The Trumpf TruSystem 7500 for Artis is an integrated system component of Siemens hybrid operating rooms with Artis zeego or zee / Q ceiling. It has been developed jointly in a close partnership.