Facility

Plan your healthcare facilities and improve patient and staff experience through Value Partnerships.
We partner with you to plan, design, visualize, and implement service lines, clinical departments, or entire facilities for brownfield or greenfield projects that foster a healing environment and enable state-of­-the-art performance for years to come. 
Learn more by checking out our white paper
Facility Solutions
Our 
Facility Value Driver
includes three core solutions: 
Facility Design – Create a human-centered environment that maximizes performance and promotes healing and environmental sustainability.
Facility Simulation – Evaluate layout and workflow solutions using high-quality digital models and visualization before costly real-world implementation.
Facility Equipment Planning – Plan that your medical technology will be compatible with layout, infrastructure, and workflows.
What your peers have achieved
Partner with Siemens Healthineers to optimize healthcare layouts and transform care delivery.
Together, we collaborate and share your vision for healthcare facility planning and design, centered around the needs of people – both your patients and your staff.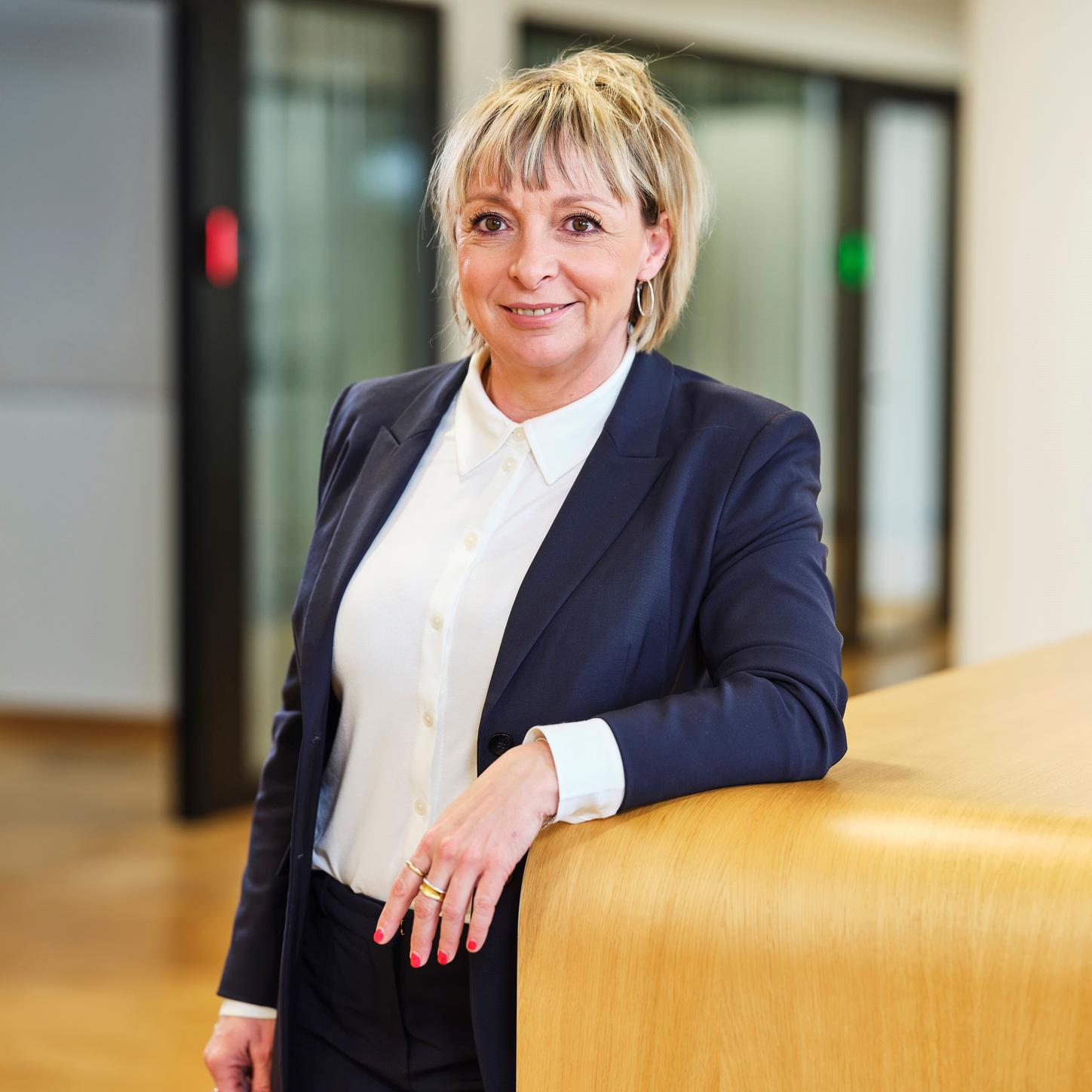 An architect drawn to healthcare above all else
Head of Facility Design & Planning Services
Anja Streck is the Head of Facility Design and Planning Services and leads a team of more than 65 medical technology planners, architects, 3D experts, workflow specialists, and CAD and software developers.
Anja began her career as a self-employed architect planning and designing departments in commercial and residential buildings. But over time, one sector became more and more interesting to Anja: healthcare.
Anja joined Siemens Healthineers in 2006 as an architect for medical equipment planning. After a few years in that role, she was promoted to Head of Radiology Design Solutions and X-Ray Planning. In early 2022, she was asked to assume leadership of the entire Facility Design and Planning Services department. Anja and her team successfully completed more than 8,000 projects in 2022. One assignment that she particularly enjoyed involved the design of a new hospital in Kantonsspital Baden, Switzerland.
Another highlight in Anja's career was her participation at one of the Radiological Society of North America (RSNA) meetings prior to the pandemic. The Facility Design and Planning team was onsite, demonstrating simulations, visualizations, and virtual reality tools and receiving customer feedback firsthand. Those present were fascinated to be able to experience and walk-through departments with VR (virtual reality) goggles before construction had even begun.  
"For me, one of the most interesting aspects of the job is the intercultural contact with many different customers around the world. We work globally, but always take cultural specifics into account. Every country and every hospital is different—a hospital in Germany is different from a hospital in Norway, and that, in turn, is different from a hospital in Mongolia."
"The customers at Kantonsspital Baden weren't happy with their layout planning and therefore reached out to our Siemens Healthineers colleagues in Switzerland, who then contacted us. We looked into the situation and determined that we could really make a positive impact. We particularly concentrated on the workflows for patients and staff. We wanted to bring in a human-centered view, an underlying credo of our work. In the end the client was very happy with our optimized workflows and the project was completed successfully."
"We were the first ones to use these kinds of tools for hospital planning and we pride ourselves on maintaining these capabilities in-house. With them, we can really show what the hospital of the future should look like— whether in terms of digitalization, sustainability, or telehealth."
An accomplished professional committed to learning more and more
Head of Partnership Projects Design Planning
Stefanie Vonhoff studied architecture and worked as a self-employed architect for several years. When she joined the Facility Design and Planning Services team at Siemens Healthineers, she had to start from scratch to learn all the ins and outs of working with hospitals.
Today, Stefanie leads the Partnership Projects Group, where she and her colleagues work to create departmental layout solutions for complex units including Radiology, Nuclear Medicine, Lab and Oncology. Stefanie and her colleagues are recognized as leaders in their field thanks to their expertise and unique approach to executing layout designs.
Stefanie joined Siemens Healthineers in 2008 as a key technology planner. Later she was responsible for women's and men's health. She developed a much deeper relationship with her work through a breast cancer diagnosis and subsequent treatment. Since her recovery, Stefanie has been active in several Siemens Healthineers internal groups; she also drives networking efforts within the organization. This includes her own department's "Exchange Thursday," a weekly event during which colleagues can share information about current projects and the latest developments.
One of Stefanie's favorite projects was in the Netherlands and involved the planning and restructuring of a hospital's radiology department. Early on, all involved realized that simply updating the existing facility would not provide the output the hospital needed. Stefanie and her colleagues supported the client's bold solution and moved jointly forward with the revised plans: the addition of a new building for the Radiology, Emergency and OR departments. Although well established in her career, Stefanie remains committed to learning more.
"We are the best partners when it comes to the layout design of hospitals and their departments. We have years of expertise in the various fields and can provide our clients with the best results, whether it's in regard to workflow concepts, efficiency, or concerns such as patient experience and sustainability. We deliver human-centered solutions."

"This kind of event gives us the opportunity to always be up to date and to take away new input for our projects. Only in this way can we remain true to our most important value, 'bringing healthcare to everyone and everywhere."

"We really appreciated the opportunity to suggest what was best for the hospital, and to see the best possible outcome achieved."
"It's very exciting for me because I'm passionate about learning. That's part of what I love about my work: learning new things every day."
Helping Healthcare Providers Realize Their Visions
Head of Planning Solutions for Cardiology, Interventional Radiology and Surgery
Growing up, Blerim Pruthi always had a passion for cars. In time, that passion led to an education in data engineering at the Siemens Technique Academy. One element of Blerim's experience at the Academy particularly attracted his attention: the Facility Design and Planning department.
Blerim joined Siemens Healthineers in 2008 and has since worked in several key roles. Since 2015 he has been the head of Planning Solutions for Cardiology, Interventional Radiology, and Surgery. The team he leads is responsible for the layout and design of clinical spaces for these three specialties. Blerim and his talented colleagues provide optimal solutions for entire healthcare facilities, individual departments within facilities, or, occasionally, just one important room.
One of Blerim's more recent projects centered on a new heart center that was planned by two hospitals that had merged. The project required the team to anticipate how cardiovascular care will look in 2028. Not an easy task, but Blerim's team met the challenge. "We analyzed and optimized patient pathways and supported the design process for the new center accordingly, showcasing how digitalization can serve as a lever for improved efficiency and better care. An over-arching consideration was that the layout needed to be as flexible as possible, so that it could be changed as needed to accommodate future challenges and circumstances for years to come."
For Blerim, this assignment perfectly characterized what it is about his work that he loves. Blerim is confident in the ability of Siemens Healthineers and teams like his to deliver on the responsibility to enable customers to realize their visions for healthcare.
"Facility design was the most interesting part for me. Then soon it became my passion. As a result, my professional life become more and more about medical engineering. About that time, I saw the job posting to become a medical technology planner at Siemens Healthineers. I knew this was my foot in the door, my chance to really make an impact."
"Our expertise enables us to really optimize the design and workflows. Then we apply the latest technologies to visualize everything— in 3D or virtual reality. These capabilities give our customers the best possible understanding of the workflows and what the environment will look like long before construction even begins."
"We get the opportunity to shape how hospitals—how healthcare— will look in the future."
"We have so many insights in the various clinical fields, in the technology and the architecture, we are well prepared to develop a solution for almost everything. Our mission is to use our competency to collaborate and innovate, and, ultimately, to enable our customers to realize their visions for healthcare."
Delivering the Tools Customers Need to Experience What's Possible
Head of Infrastructure and CAD Support
Jörg Goldberg started his working life as an IT specialist at a telecommunications company, but soon decided that he wanted to pursue a career in a more human centered industry. He started at Siemens Healthineers in 2006 after graduating from Siemens Technique Academy. After working as a Software Engineer for eleven years, he was appointed head of Tools and Visualization in 2017.
Jörg and his team are responsible for creating Computer Aided Designs (CADs). That means they build the foundation for all the tools used for facility and design planning at Siemens Healthineers, including 3D visualizations and virtual reality. For Jörg, his key responsibility is always providing his colleagues with the best and latest tools possible to support Siemens Healthineers customers and earn their trust.
Jörg notes that one of the most challenging and interesting parts of his job is the requirement to be creative, innovative and think outside the box.
A particularly memorable moment in Jörg's Siemens Healthineers career occurred a few years ago in France when he was using virtual reality goggles to show a customer how their OR room could look outfitted with equipment from Siemens Healthineers.
"We make sure that our colleagues can always work with the latest tools and thus show and offer the best solutions to our customers."
"Searching for new ways to further optimize the tools, taking into account all the innovations in the field, and then implementing them successfully is what makes the job so compelling for me."
"It was a really special moment because the doctor who was using the goggles was so fascinated with the experience: He could stand right in front of the OR table. He was able to grab his instruments. He could even move the lights in the room. The virtual reality experience really gave him a feeling for the room and how the solution/design would work."
How to leverage the power of digital twin simulations
Our Workflow Optimization offering helps you to achieve high-quality outcomes in a cost-effective manner. Simulating workflows, it allows you to predict the impact of operational changes in a protected and virtual 3D environment by forecasting processes and layouts of your institution.  
A digital twin of your facility integrates patient pathways, staff scheduling and movements, utilization and performance data from diagnostic equipment, and other data sources to build a dynamic and comprehensive model that you can use as a testbed. 
Our 3D and VR tools are as flexible as you, providing you with a realistic layout experience
Images
Photo-realistic 3D images help to understand the room layout and arrangement of the components.
Video
A high-resolution video fly-through enables you to explore your project before it is built.
SitePlanner
SitePlanner combines 3D features with virtual reality making changes visible in real time.
Real-time, interactive, and virtual experience.
Modern visualization solutions, including tools such as virtual reality enable you to experience your future department before construction has even begun. 
Users and even patients can experience the proposed environment as they walk virtually around the finished hospital department. Using interactive planning tools with a VR interface allows us to design process-oriented and human-centric layout solutions in close collaboration with you, our customers.

Learn more by checking out our white paper
Bring a new experience to you and your team:
Explore examples of rooms equipped with medical devices in realistic 3D
Switch between different modalities from diagnostic imaging, advanced therapies, and laboratory to get an impression of our portfolio and the real room dimensions
Try the built-in augmented reality features for an immersive experience at your fingertips
Experience interactive project reviews with customized scenes
Visit the asset center for white papers, customer insights, and podcasts.
White Papers and Articles
04
Let's unlock new value - together
Connect with us to find out how to implement the Value Partnerships concept in your organization.