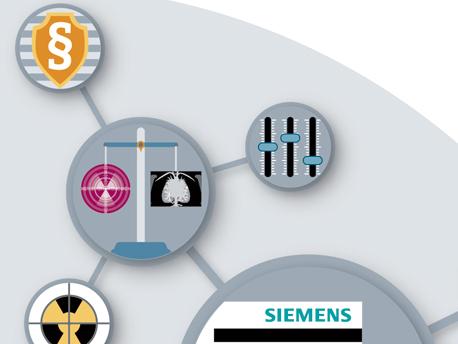 Reasonable Balance
For us at Siemens Right Dose means offering a set of products, solutions and technologies that enable you to identify and realize a reasonable balance between image quality and applied dose.
Our solutions take into account that you and your colleagues are often challenged with having to fulfill constantly changing rules and regulations on this topic. We understand you need your dose emitting diagnostic technologies to be adaptable
and manageable to justify their value for both the patient and your institution. This implies an exact targeting of emitted radiation at all times – precisely what we are aiming for.
Valid Quantification
In addition, it means supporting you with technologies for a valid quantification of results and dose values. In order to help physicians make sound and thus valuable decisions, imaging technologies must provide accurate and reproducible quantification. This also ensures the best protection from unnecessary radiation dose for both patients and your staff. If this is not the case, users and patients alike face the issue of variability of results. An exemplary imaging technology that provides this kind of quantification is the Biograph mCT Flow – the world's first system to offer improved axial noise sensitivity. This system offers innovative solutions that allow the lowest dose to be administered, while still scanning patients faster than ever before.
Value Orientation
The third pillar of our Right Dose approach should demonstrate our effort to offer you a sound value orientation for tangible patient outcomes.
Radiologists and diagnostic care providers in general are faced with the dual mandates to improve patient safety and increase productivity, while ensuring the highest quality and cost-efficient patient care. Within the realm of the Right Dose approach, it is Siemens' goal to sensibly address your clinical, operational and financial needs. We want to transform our offering into sound clinical, operational and financial values for you.