Luminos dRF Max
The smart way to invest in remote fluoroscopy
How can you improve the return on investment of a potentially underutilized fluoroscopy system? By combining remote fluoroscopy and unlimited1 radiography in one!
Increase system utilization and save on costs for an additional system and room with our 2-in-1 Luminos dRF Max2 – a smart investment in fluoroscopy.
Stronger synergies – with a true 2-in-1 solution
Sharper imaging – for fast, confident diagnoses
Safer use – to protect patients and technologists
The MAX effect - where gains multiply
Over the last few years, fluoroscopy examinations were increasingly replaced by sonography, endoscopy, computer tomography, and magnetic resonance imaging. Even though the number of fluoroscopy examinations is dwindling, clinical institutions have to offer fluoroscopy examinations. For healthcare providers, the pressing question is: How can we improve the return on investment of a potentially underutilized fluoroscopy system?
By combining remote fluoroscopy and unlimited1 radiography, our Luminos dRF Max lets you increase system utilization and save on costs for an additional system and room. It delivers high-quality, low-dose dynamic and static images on all types of patients.
Stronger synergies with a true 2-in -1 solution
In times of decreasing fluoroscopy examinations, a solution is required to secure a positive return on investment. With our 2-in-1 Luminos dRF Max, you decide how much fluoroscopy and radiography you really need – thus maximizing system and room utilization.
Sharper imaging for fast, confident diagnoses
To make reliable diagnoses, you need excellent visualization of all anatomical structures. Luminos dRF Max delivers clear images at the lowest possible dose. Plus, intelligent image acquisition and post-processing help keep examination and reading times short.
"In addition to the noticeably optimized workflows, image quality is of particular interest for us radiologists. And I have to say that compared to the previous systems, we saw a quantum leap in this regard" (Dr. med. Gunther Schutze, Private Imaging Center, Bethanien-Hospital, Frankfurt, Germany)
Safer use to protect patients and technologists
The safety of patients and staff may be especially at risk during patient transfers to and from the system. Luminos dRF Max offers smart design features and intuitive system operation to keep both patients and technologists safe.
"And let's not forget the easy transfer and positioning of patients. Several positions are preprogrammed, and the lowest table height of 48 cm is ergonomically perfect, especially for handling disabled, heavy or wheelchair patients. The patient feels much more comfortable now. It also means no more pulling or tilting of patients – I can now focus on other patient issues." (Ben Welckenhuyzen, Ziekenhuis Oost-Limburg, The Netherlands)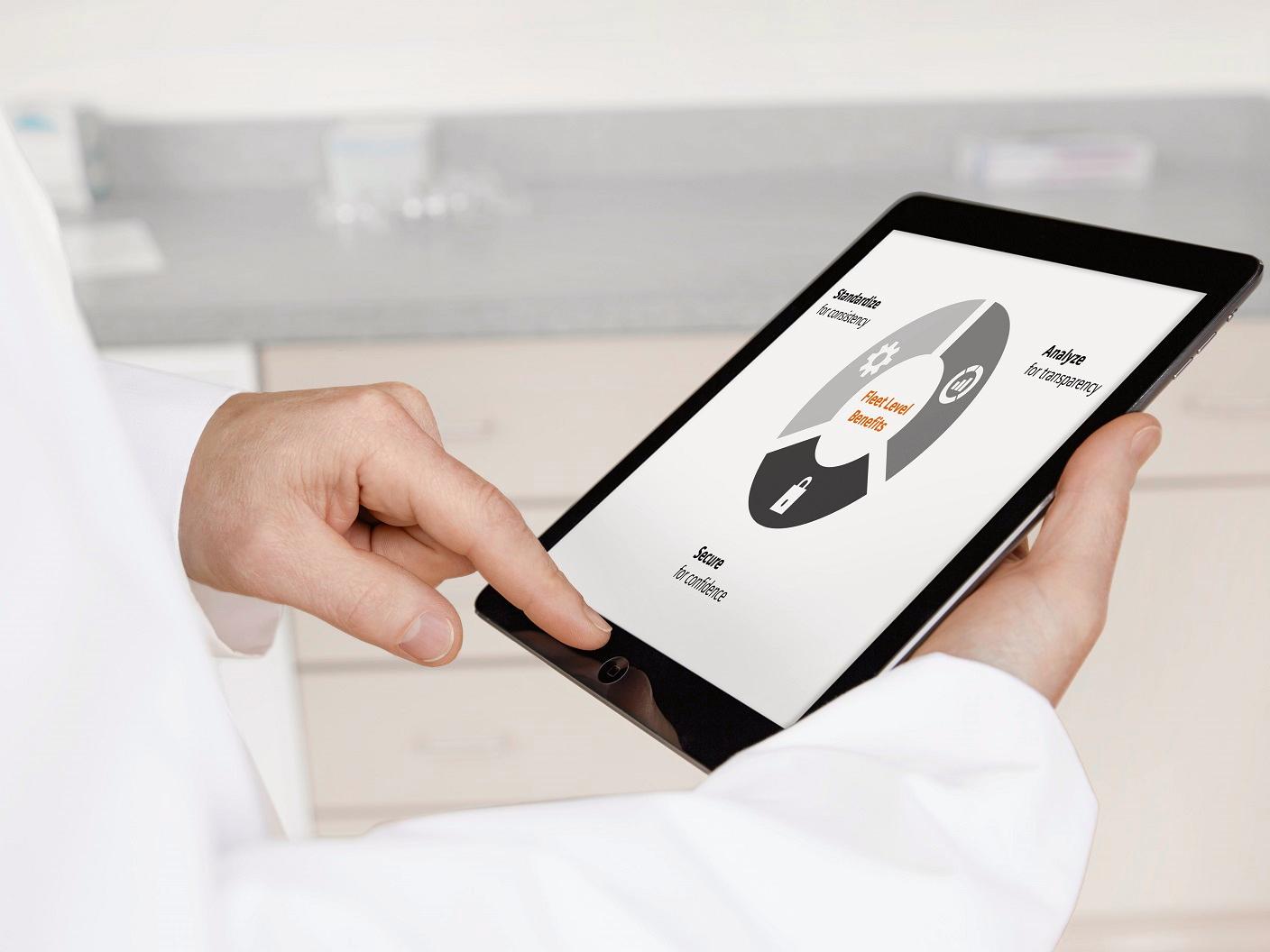 Fleet Level Benefits - unlock your potential and increase the efficiency of your X-ray department
High complexity in diagnostic imaging makes it challenging to run the radiology department efficiently. Siemens Healthineers helps you to reduce complexity by offering specific solutions across the entire X-ray portfolio which let you standardize, analyze and secure the imaging fleet. In this way, you can gain valuable Fleet Level Benefits: consistency, transparency and confidence. This results in improved outcomes, increased efficiency and greater staff and patient satisfaction.
Standardize for consistency
Analyze for transparency
Secure for confidence
Clinical versatility of Luminos dRF Max
Interview with Dr. Caren Landes, M.D. (Consultant pediatric radiologist, Alder Hey children's hospital, Liverpool) on the uses of Luminos dRF and how low table height can be less intimidating to small children.3, 4

Efficiency and consistency with the Fleet

Interview with Alison Hartley, Chief Radiographer and Clinical Manager at Dr Kauffman and Partners Inc., Life Hilton Private Hospital, Hilton, South Africa.
The technology of Luminos dRF Max1 brings you excellent image quality and great usability.
Patient table and tabletop

Table height: 48 cm to 98 cm;
Table tilt: +90°/-45°, +90°/-90° optional;
Max. patient weight: 300 kg;
Motorized longitudinal tabletop travel: 160 cm

Source-image distance (SID)

Max dynamic flat detector

43 cm x 43 cm; Cesium iodide scintillator; 3.4 lp/mm

Anode heat storage capacity: 580,000 J (783,000 HU)

SmartTouch: touch sensitive joysticks;
SmartMove2: automatic movement to positions as defined in the organ programs

MAX image quality with DiamondView Max, Digital Density Optimization and Auto Window

Combined Applications to Reduce Exposure incl. CAREPROFILE2 and CAREPOSITION2 for radiation-free collimation and positioning.

Ysio Max ceiling suspended X-ray tube

Complete system operation with control of generator, tube and imaging system from a single integrated console (MAXtouch) or the system control console.

35 cm x 43 cm x 1.9 cm; 3,3 kg;
Cesium iodide scintillator

24 cm x 30 cm x 1.6 cm;
1.6 kg; Cesium iodide scintillator

Digital Substraction Angiography

Online DSA with remasking, pixelshift, landmark, peak opacification and roadmap

Fully automated tilting technique for long leg and full spine imaging, up to 3 images
Did this information help you?
2Luminos dRF Max is not commercially available in all countries. Due to regulatory reasons its future availability cannot be guaranteed. Please contact your local Siemens Healthineers organization for further details.
3
This customer statement addresses benefits that are valid for both Luminos dRF and Luminos dRF Max as the relevant components and parameters are comparable.
4The statements by Siemens Healthineers customers described herein are based on results that were achieved in the customer's unique setting. Since there is no "typical" hospital and many variables exist (e.g. hospital size, case mix, level of IT adoption) there can be no guarantee that other customers will achieve the same results.
5Applicable for all MAX systems with a software version VF10 or higher