MAGNETOM Vida Fit
Upgrade your MAGNETOM Skyra to MAGNETOM Vida Fit with BioMatrix technology
Powered by the new syngo MR XA software-platform, you can expand your MRI services and meet the needs in a dynamic healthcare environment now and for years to come. Make the most of your initial investment and upgrade to MAGNETOM Vida Fit now.
Customer Experiences
Listen to Dr. Roos and Dr. van Hessling from the Cantonal Hospital in Lucerne (LUKS), Switzerland, talking about their first experiences, upgrade process as well as new clinical possibilities after upgrading from their 3T MRI MAGNETOM Skyra to the new MAGNETOM Vida Fit.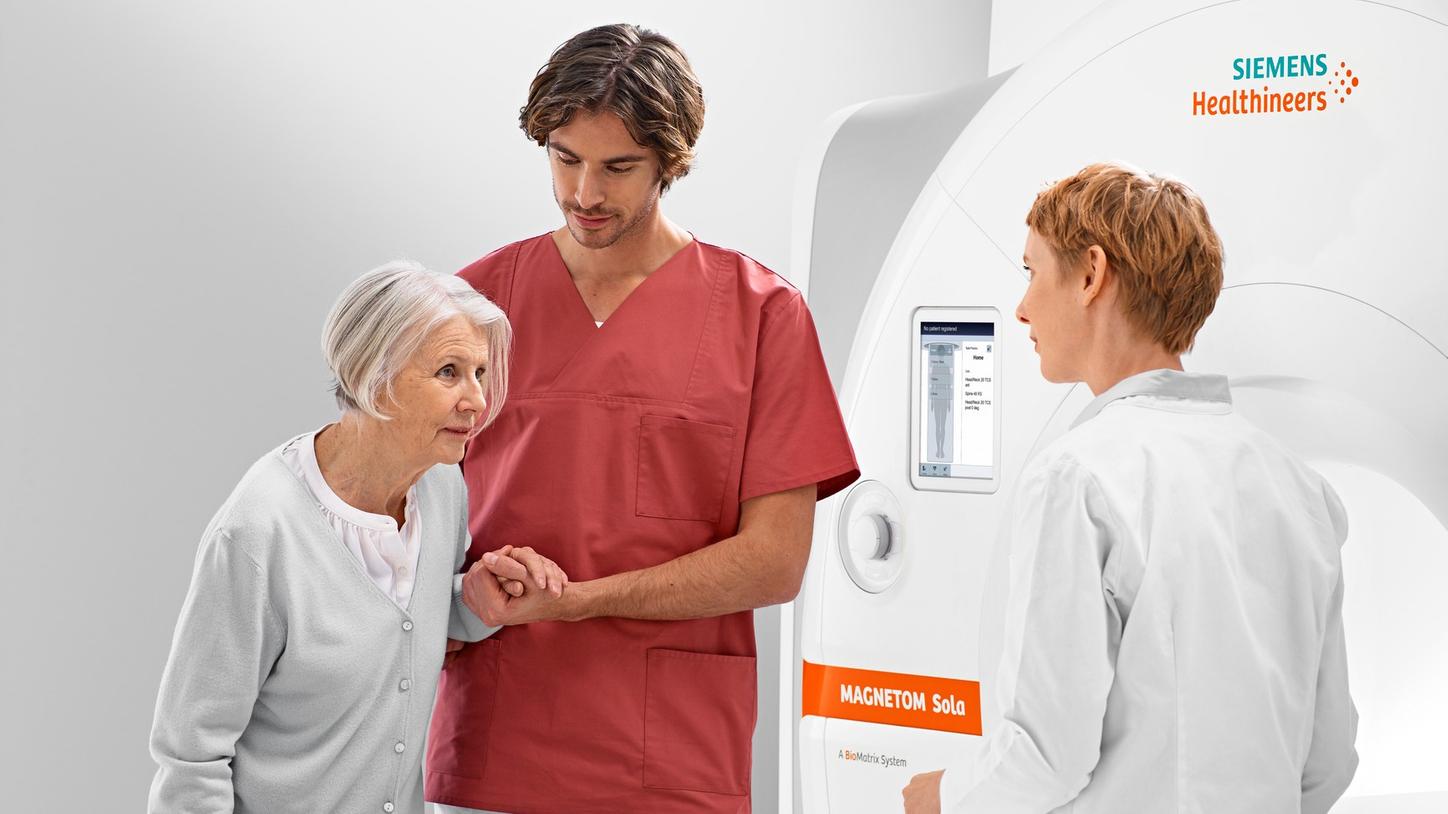 Embrace consistency at 3T with BioMatrix Technology
Being at the core of clinical routine, a 3T MR system has to provide fast and reliable results – for every patient, every time. The upgrade to MAGNETOM Vida Fit achieves a new level of consistency with BioMatrix technology and meets throughput demands with high efficiency. The result: fewer rescans, higher diagnostic confidence, predictable patient scheduling, consistent, high-quality personalized exams.
BioMatrix Sensors
BioMatrix Sensors: Fully integrated in the system architecture, BioMatrix Sensors capture respiratory and cardiac1 motion, which boosts consistency and gives the user more flexibility to select the optimal exam strategy.
Respiratory Sensors automatically detect breathing patterns as soon as the patient lies on the table.
The Beat Sensor is integrated in the BioMatrix Body 181. It is designed for automatic cardiac triggering1 to accurately capture heart phases without the need for ECG leads.
BioMatrix Tuners
BioMatrix Tuners automatically adapt to challenging anatomies such as the head /neck area, the spine and the abdomen, for reliable exams. Even in difficult scan regions, intelligent coil technology consistently delivers excellent homogeneity and fat saturation.
BioMatrix Tuner CoilShim is built into the new BioMatrix head and neck coil. It automatically improves fat saturation and DWI quality in the neck region to boost diagnostic quality and reduce the need for repeat scans.
BioMatrix Tuner SliceAdjust provides distortion-free, whole-body DWI scans and reliable fat saturation for both DWI and TSE sequences2. It avoids broken spine artifacts for excellent correlation with anatomical scans.
 
BioMatrix Interfaces
BioMatrix Interfaces simplify how the user interacts with the scanner and the patient, accelerating patient preparation in order to increase quality and improve cost-effectiveness.
Select&GO lets the operator benefit from artificial intelligence to automatically position patients up to 30%2 faster and avoid repositioning delays.
BioMatrix dockable table with eDrive support provides motorized assistance for transferring patients. Now even the heaviest patients can be effortlessly moved to and from the scanner.
Embrace efficiency with GO technologies and Turbo Suite
With rising patient volumes in the face of falling reimbursement, there is a clear need for greater efficiency in MRI. At the same time, the quality of exam results should not diminish. We are committed to help you transform care delivery by significantly shortening entire examinations for the whole spectrum of clinical MRI. An upgrade to MAGNETOM Vida Fit1, with syngo MR XA201, embraces efficiency at 3T and makes high-quality push-button examinations a clinical reality. GO technologies help you accelerate the entire workflow from patient positioning to result distribution, powered by artificial intelligence.
Additionally, when upgrading your system you get access to Turbo Suite1. Turbo Suite offers the right imaging acquisition solution for your clinical question maximizing efficiency and patient throughput while not compromising on diagnostic quality. It is comprised of disruptive MR acceleration technologies like Simultaneous Multi-Slice and Compressed Sensing, which are tailored to the clinical question. With Turbo Suite you accelerate the complete exam, covering all contrasts, all orientations, static and dynamic imaging, leading to up to 50%2 shorter exams.
Planned images acquired on other MRI systems with Turbo Suite applications
Turbo Suite Essential
Embrace new clinical capabilities and financial opportunities with an upgrade into the future
With MAGNETOM Vida Fit, grant patients access to MRI that previously had to be excluded because of their medical condition or due to the exam's complexity. Free-breathing Compressed Sensing applications help improve the patient experience, while extending your range of services. Significantly simplified procedures with automated workflows strengthen clinical fields with growth potential such as whole-body MRI:
Expand the patient-population suitable for liver MRI and avoid non-diagnostic exams with free-breathing liver dynamics using Compressed Sensing GRASP-VIBE1.
Compressed Sensing Cardiac Cine1 and PSIR HeartFreeze1 to expand the patient-population for Cardiac MRI.
Achieve distortion-free whole-body-DWI as part of a push-button whole-body exam in 25 minutes with Whole-Body Dot Engine3 and SliceAdjust
Overall, with an upgrade to MAGNETOM Vida Fit you gain new financial opportunities
by leveraging its efficiency and new clinical opportunities
by reducing the total-cost-of-ownership of your system
with EcoPower a more cost-efficient energy management system
all in a very short installation time <10 days
at no rebuilding costs
Courtesy: Lucerne Cantonal Hospital, Switzerland
T1 MPRAGE with BioMatrix Head/Neck 20 coil
High-resolution T1 MPRAGE using tiltable BioMatrix Head/Neck 20 coil. This coil can be tilted in multiple angles to better accommodate patients, especially those with severe pain or kyphosis.
Tiltable BioMatrix Head/Neck 20
MAGNETOM Vida Fit offers various technological features after the upgrade, aiding you in obtaining excellent image quality.
| | |
| --- | --- |
| | |
| | |
| | |
| | |
| | Zero Helium boil-off technology |
| | |
| | XQ Gradients (45 mT/m @ 200 T/m/s) |
| | |
| | |
| Maximum number of channels4 | |
| Number of independent receiver channels that can be used simultaneously in one single scan and in one single FoV, each generating an independent partial image | |
| | |
| | |
| | |
| System weight (in operation) | |
| | |
System
MAGNETOM Skyra
MAGNETOM Skyra eco
Other
Please note: An upgrade of system configuration Tim [204x128] is not possible. An upgrade of configurations Tim [204x24] or Tim [204x48] will lead to Tim [204x64].

3Whole Body Dot Engine is optionally available only for systems that already have a scan range of 204 cm and allow whole body (head to toe) imaging.
4Channels (coil elements) that can be connected simultaneously.
5Minimum total space requirement for magnet, electronics, and console room.