Uroskop Omnia Max
Sharper images made smarter
In urology, inferior image quality, insufficient system ergonomics, and suboptimal image management can result in uncertain decision-making, cumbersome case reparation, and even delays during an intervention. Offering superior imaging technology, free patient access, and an unhindered view of all modalities, our urology device Uroskop Omnia Max supports you in optimizing operational efficiency and patient safety.
Sharper images with CARE – with the lowest possible dose
Smart workflows – from patient access to system positioning
Smart integration – for more efficiency and safety
Sharper images with CARE – with the lowest possible dose
Limited anatomical coverage and image quality can result in low diagnostic confidence and a higher patient dose. Delivering distortion-free, high-quality dynamic sequences as well as static images of the entire KUB tract in one exposure and at low dose, the urology device Uroskop Omnia Max supports effective treatments.
Comprehensive dose reduction with CARE2 features – without compromising image quality
Live and reference images side by side during interventions – and endoscopy images in High Definition
Safe imaging, even of children – assisted by radiation-free positioning3 and dedicated parameters
43 cm x 43 cm (17'' x 17'') FD
Capture the entire KUB tract with a single shot
The dynamic flat detector offers 116% more image area4 and lets you see the Kidney-Ureter-Bladder (KUB) tract in one image in exceptional image quality.
Smart workflows – from patient access to system positioning
In some urology procedures, patient access can be an issue – to the point that the entire OR setup has to be adjusted, which slows down the speed of care. By offering truly unrestricted patient access from all sides, Uroskop Omnia Max is a urology device that eliminates the need for patient repositioning.
Patented curved X-ray column design – free patient access from all four sides
One-button system positioning – SmartMove enables fastest and shortest route to any position
Safe operation – of all system and imaging functions with the multifunctional foot switch3 or the hand-held control
Only push a single button – and the system moves to where you need it; e.g., from the patient transfer position to your standard working position.
Smart integration3 ‒ for more efficiency and safety
Having to fetch required images from various sources or transfer patients to different rooms can disrupt processes and create wait times. Enhance patient satisfaction and save valuable time with our one-stop solutions in a safe, digital environment.
One urology workplace for all procedures – helps you boost your workflow and efficiency
Convenient image storage – images from connected modalities are filed along with X-rays in a single patient folder
High level of data security – with a comprehensive cybersecurity package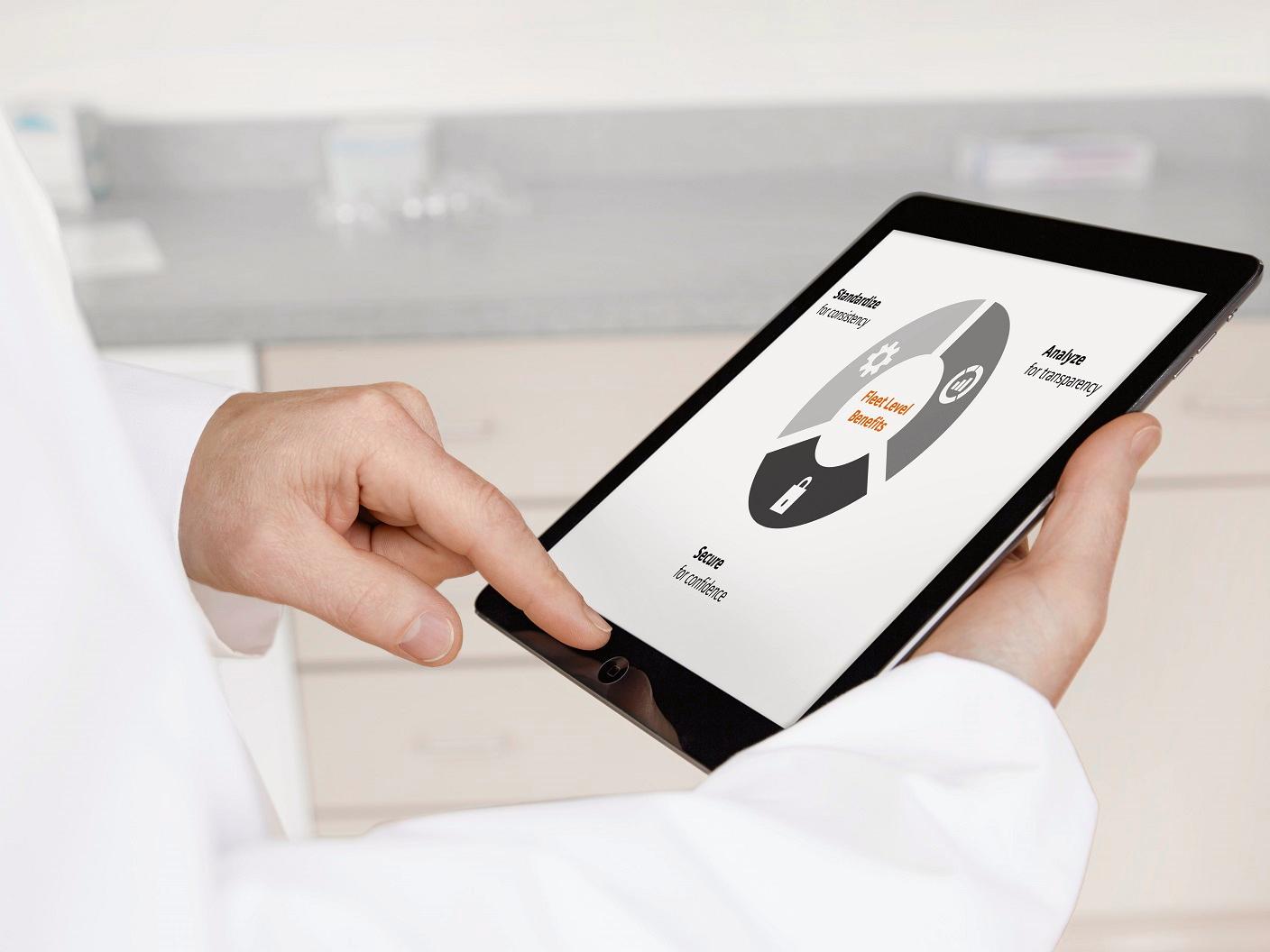 Fleet Level Benefits – unlock your potential and increase the efficiency across your imaging fleet
As healthcare provider you are forced to do more with less, you have to run your radiology department more efficiently. A high level of complexity makes it challenging for you to reach the desired efficiency. Siemens Healthineers offers specific solutions across the entire X-ray portfolio that let you standardize, analyze, and secure your fleet. Experience consistency, transparency, and confidence as valuable Fleet Level Benefits and improve outcomes, increase efficiency – and achieve greater staff and patient satisfaction.
Standardize for consistency
Analyze for transparency
Secure for confidence
One urology machine – various applications
With the imaging provided by the urology device Uroskop Omnia Max, you can offer a broad range of diagnostic and therapeutic examinations ‒ and expand your clinical spectrum even beyond urology.
Urodiagnostics
Endourology
(Video-) Urodynamics
Lithotripsy
Courtesy of: Technische Universität München, Klinikum rechts der Isar, Munich, Germany
Intravenous pyelogram (IVP)
| | | |
| --- | --- | --- |
| | | |
| | High anode heat capacity (820 kHU) and air-cooled | |
| | 43 cm x 43 cm (17" x 17") | |
| | 30, 15, 10, 7.5, and 3 p/s | |
| | 115 cm x 76 cm (45'' x 30'') | |
| | 72 cm to 122 cm (28'' to 48'') adjustable | |
| | ± 90° for examinations with patient seated or standing | |
| | ± 15° around perineal table end | |
| | | |
| System-mounted swivel arm & workstation | Two large 48 cm (19'') TFT displays | |
Did this information help you?
2
Combined Applications to Reduce Exposure (CARE), a Siemens Healthineers initiative for dose reduction
4
Compared to conventional I.I. based C-arms