Artis zeego eco
The future is flexible
Bring unparalleled flexibility to your operating room and interventional suite. The Siemens unique robotic technology enables smoother, swifter, and trouble-free patient positioning and execution of procedures. Enhance your reputation and safeguard the future of your investment with cutting-edge procedures enabled by this unique flexibility and unmatched on-the-spot imaging capabilities.
Image-guided surgical and advanced interventional procedures require cutting-edge technology for exceptional performance. The trend towards minimally invasive treatment increases the importance of advanced, intraprocedural X-ray imaging to positively impact the results of procedures. Change the game in surgical and interventional procedures with the Artis zeego eco by offering state-of-the-art surgical and interventional treatment options with an angiography system that enables trendsetting technologies.
Flexible procedure execution
Increase procedural efficiency by providing uninterrupted, unobstructed access to your target area, and positively impact your workflow by bringing full flexibility to patient positioning.
Smoother and safer procedures
C-arm moves smoothly and quickly from the park position to the table
Shortens transition from open surgery to imaging
Advanced intra-operative imaging delivers essential information when needed
Unmatched patient positioning
Artis zeego's eco robotic technology
Supports table angulations
Eases the execution of the procedure
Saves time and allows individual patient positioning
Flexible isocenter – the key differentiator
Allows to focus on the treatment area
Supports patient positioning
Improves procedure time
Increases physical comfort of patient
Ease the work of your team
Comfortable standing due to adaptable table height
Flexible isocenter maintains the focus on the procedures and the patient
Flexibility – supporting cutting-edge procedures and in-room assessment
Real-time 2D, 3D, and soft tissue visualization enables immediate decision-making and facilitates instant control for better outcomes. Outstanding imaging allows you to understand the current situation and double-check your results while the patient is on the table.
Safeguard your investment and competitive edge with your procedure mix
Artis zeego eco is the ideal imaging component in hybrid operating rooms
Offers 3D imaging for highly comples procedures (e.g. prostate artery embolization)
Eases the execution of the procedure with syngo Embolization Guidance
Achieve better decision-making during the procedure with intra-procedural 3D imaging
High quality imaging right at the table supports outcomes and treatment decisions
Delivers key details about the procedure without disturbing the setup
syngo DynaCT – the gold standard
Supports real-time soft tissue imaging
Enables rotational imaging in just 6 to 14 seconds for soft tissue visualization of large body areas
Industry unique robotic-assisted C-arm
Improve the outcome of procedures and reduce your readmission rates
Contrast media can harm patients, especially with renal issues and can cause further complications, e.g. temporal cancelation of a procedure.
The goal is to shorten the contrast bolus time
syngo Dyna3D High Speed helps to improve outcomes by providing visualization of moving organs with improved sharpness
Flexible use of space and resources
Boost your efficiency with an operating room that enables smoother workflows. Use the valuable resource of your operating room for multiple teams to suit the specific needs of your department, patients, and staff.
Support your clinical team with flexible use of space
Artis zeego eco supports surgical, interventional, or hybrid procedures
Facilitates multiple room usage
Improves the throughput of the department
Leverage space to perform a broader range of advanced procedures
Artis zeego eco has comfortable parking positions to free up space
Fast use of imaging to verify decisions or to document results
Improves significantly the department's outcomes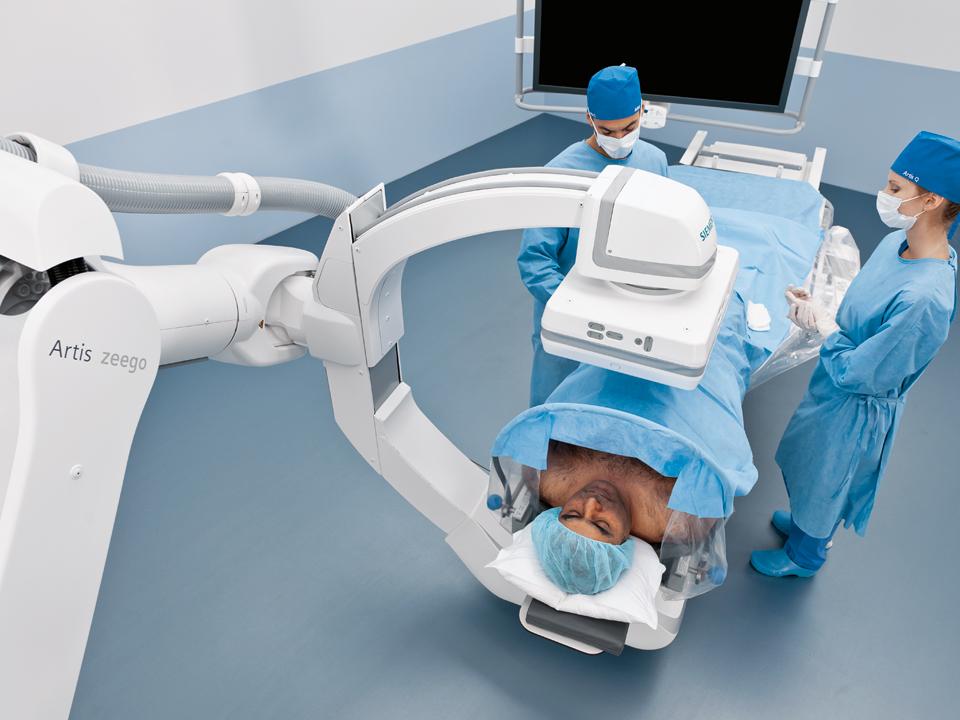 Maintain highest hygienic standards by keeping the laminar airflow steady
Artis zeego eco allows uninterrupted laminar airflow – critical for the highest hygiene standards.
Surgical procedures with highest hygenic requirements can be performed enabling you to increase your room utilization.
Artis eco with PURE® - Adding smooth to smart.
Take your Artis zeego eco even further with our PURE platform to make interventional and surgical imaging easier and improve your system's performance. For example, keep your focus on the patient: With the new heads-up display, there is no longer any need to look down at the control panel. And the 3D Wizard enables all users to perform 3D runs with step-by-step expert guidance integrated into the system.
Interventions in surgery and interventional radiology have different requirements when it comes to the flexibility of an angiography system. The Artis zeego eco meets those requirements. Make use of the tabletop that matches the needs of the surgical procedure for ideal access to the target area and freedom to move. Improve patient outcomes considerably in Interventiona Radiology with a system that allows fast reaction to a patient's changing condition to make the overall process smoother and more efficient.
Flexible table integration for surgical procedures
Make use of the tabletop that matches the needs of the surgical procedure for ideal access to the target area. Give the anesthesia team the best access and freedom to move.
Integrated surgical tables provide ideal access to the region of interest
Artis zeego eco delivers unmatched patient positioning by allowing you to position the patient as desired. This brings ease to the execution of many procedures.
Artis zeego eco knows how the tabletop and the patient are positioned and moves smoothy into the requested position at the user's request.
Unique for C-arm systems, Artis zeego eco is the only system that enables intra-procedural 2D, 3D, and syngo DynaCT imaging even when the patient is sitting.
Flexible patient positioning for interventional procedures
Improve patient outcomes considerably with a system that allows fast reaction to a patient's changing condition. Additionally a cooperative patient is able to make the overall process smoother and more efficient.
Achieve smoother outcomes with flexible patient positioning
Artis zeego's eco maneuverability helps the patient to remain calm and cooperative due to the space perceived.
Artis zeego's eco flexible patient positioning helps produce clinically relevant images at the first attempt.