OPTIQ drastically simplifies the correct system setting and dose usage for the user.
OPTIQ

Redefining image quality and dose in minimally invasive interventions
During a procedure, interventionalists have to see clearly – while keeping dose as low as possible. Following our tradition of innovation, we took an initiative to redefine the principles of automatic exposure control and rebuilt it from the ground up – resulting in our imaging solution OPTIQ. Based on big data, OPTIQ delivers constant image quality throughout a procedure, independent of angulation or patient size, while also significantly reducing dose. Find out more about OPTIQ and how it supports you in expanding precision medicine.
Available in product: Artis Pheno, Artis Icono
OPTIQ - A new approach to image quality and dose
Constant image quality in support of ALARA dose
OPTIQ drastically simplifies the correct system setting and dose usage for the user.The AI-algorithm automatically selects the optimal system settings tailored to each patient and type of procedure.
This enables the physician to focus on the patiënt and the clinical content of the interventions and removes distractions such as adapting the imaging parameters.
With increasing patient attenuation, the conventional detector-dose-driven exposure control leads to a reduction of image quality – even in the average patient thickness range between 20 – 30 cm.
Our newly developed exposure control OPTIQ uses a contrast-based technique, supported by intelligent, self-adjusting algorithms. It automatically considers SID, collimation settings, grid status, and patient thickness – and finds and applies the best suitable combination of the 5 radiation exposure parameters and the detector dose as an additional variable. This new exposure control constantly aims to achieve the requested contrast-to-noise ratio at the lowest possible dose.
The basis for this complex functionality is a vast database containing 300 million entries. With every image acquisition, the system checks up to 15,000 possible parameter combinations with the goal to select the most dose-efficient one for a specific imaging situation.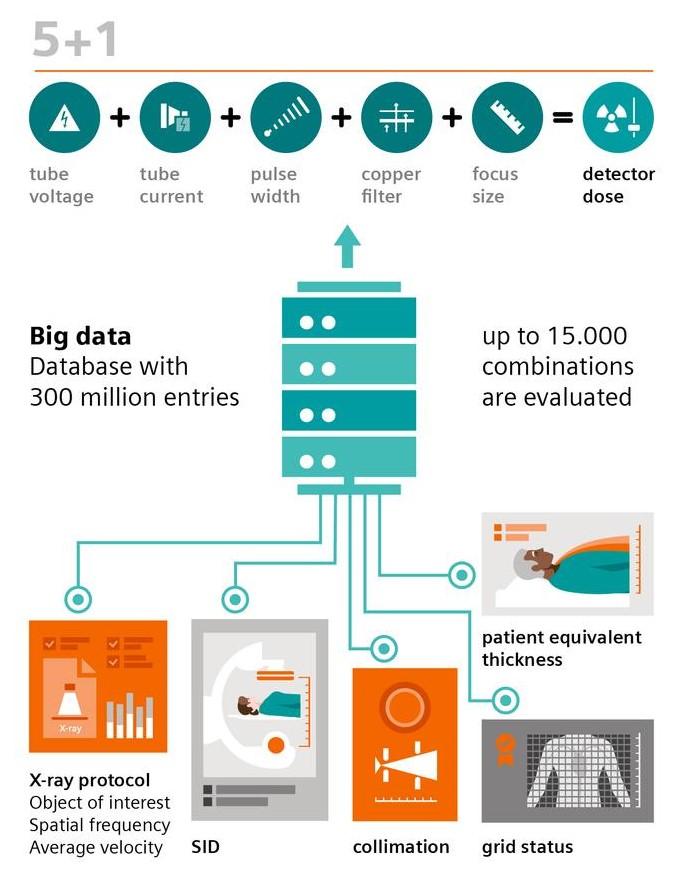 OPTIQ therefor achieves constant image quality at the lowest achievable dose, automatically evaluating and selecting 5+1 parameter combinations at a speed unmatchable for humans.
Optimized visibility of details and devices
For interventional procedures, devices like guide wires, coils, and stents are indispensable. The market is constantly growing, with new devices emerging made from different materials – and each one needs to be clearly visible without an increase in dose.
Structure Scout automatically optimizes the visibility of different devices and materials, based on their individual dose absorption property. This material-specific imaging is based on preset values. As a result, the system automatically adapts its exposure control parameters to the material used.

See for yourself: OPTIQ makes the difference
Image courtesy: Prof. René Chapot, MD, Alfried Krupp Krankenhaus Essen, Germany
OPTIQ Roadmap: Significant improvements of device contrast over vessel map
"Impressive is the quality of the Fluoroscopy and the quality of the Roadmap. Increased image quality goes together with a reduction in doses."4
Prof. René Chapot, MD
Head of the Department of Neuroradiology,
Alfried Krupp Hospital, Essen, Germany
Find out what your peers say about OPTIQ
Prof. René Chapot, MD, discusses high image quality at low dose.
Further literature and information on OPTIQ
Avez-vous jugé cette information utile?