ADVIA Automation Solutions
ADVIA Automation Solutions
How can I transform my lab to deliver peak performance?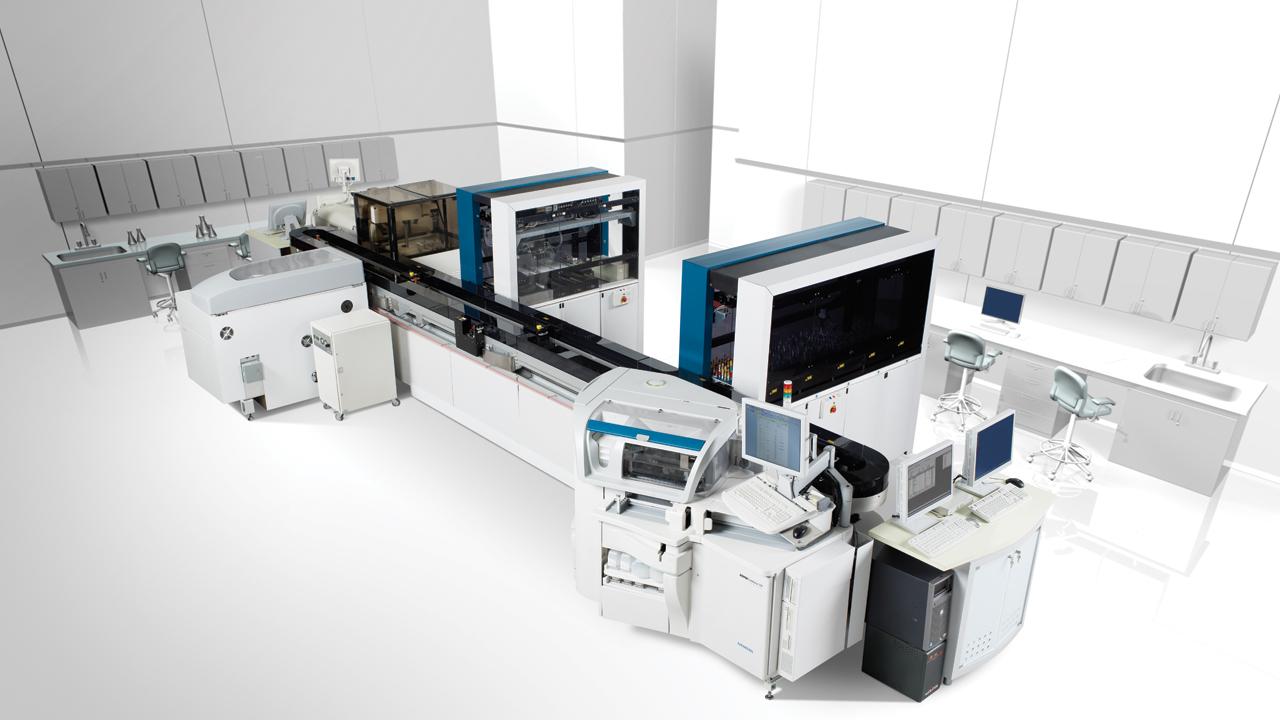 ADVIA Automation Solutions
Using ADVIA® Automation Solutions, you can help maximize lab productivity through expanded capacity and enhanced automated lab management. This multi-discipline system offers high capacity and increased throughput, and fully integrates with specimen processing management, centrifugation, and decapping.
The plug-and-play approach for adding or switching instruments and components allows each system to evolve as your needs change.
Peak performance – Handle all your workload, get results completed on time, and meet your TAT goals
Process efficiency – Reduce the number of tubes and labor steps required in sample processing
Expansive menu – Offer more than 275 assays for screening, diagnosis, prognosis, and monitoring of most disease states
Capacity for growth – Drive volume and revenue through outreach and elimination of send-outs
Confidence – Customized to work seamlessly with your lab's components
ADVIA® Automation Solutions let you cope with the demanding workloads by combining peak performance instruments with scalable sample management capabilities. This allows hospitals and commercial laboratories to transform their operations and prepare for the future.
Peak Performance
ADVIA Automation Solution delivers peak performance thanks to its test exception management and holistic design processing.
ADVIA Automation Solution can handle the "what ifs" in your day. It has the ability to manage your workload and get the results completed on time to consistently meet your TAT goals. ADVIA Automation Solutions apply the right principles to deliver reliable results:
Single-tube transportation facilitates sample routing
Flexible, puck-based system simultaneously handles multiple tube sizes
Peak performance analytics with point-in-space technology efficiently manages heavy workloads
Optimal synchronization of track, analyzers, and informatics permits superior exception management without affecting capacity for handling routine workloads
Predictable, consistent TAT optimizes your workflow
Unified process manages your routine and STAT testing
Adapts to a variety of workload challenges - from 300 to more than 20,000 tubes per day
Process Efficiency
ADVIA Automation Solution optimizes your process by harnessing the power of your primary tube. You can combine multiple disciplines onto one platform:
Front-end specimen aliquots are eliminated by the combination of menu, point-in-space technology, and multi-step sorting. ADVIA Automation Solution creates a true core laboratory where operations and knowledge meet.
Immunochemistry specimens – urine, serum, or plasma – consolidated without exceptions.
Continuous operation – no need to pre-sort, triage, or separate
Routine and STAT testing combined into a single process
Individual tube management queuing STAT priorities consistently to meet ER expectations
Hematology, coagulation, and urinalysis included whenever needed
Extensive Menu
ADVIA Automation Solutions offer one of the key ways in which a lab can achieve maximum efficiency and productivity: by incorporating as many assays as possible into a common track system.
Eliminate workstations within the lab and streamline processes. ADVIA Automation Solutions consolidate several workstations with a comprehensive onboard menu:
Perform more than 275 assays for screening, diagnosis, prognosis, and monitoring of most disease states
Optimize your lab workflow without increasing your staff
Reduce your send-out expense while offering a broader menu
Expand into areas such as allergy, infectious disease, fertility, and other specialty testing
Capacity for Growth
ADVIA Automation Solutions have built-in capacity to account for significant volume growth. The speed of the clinical automation system and the analyzers (chemistry and immunochemistry) will allow you to easily bring in more outreach business…
or add on new tests without adding instruments or FTEs. ADVIA Automation Solutions let you handle unexpected occurrence without the need to drastically change what you are doing.
We currently have customers processing from 300 tubes/day to 4000 tubes/day with 1.5 – 2.5 FTEs. Many of our current customers have experienced massive growth without adding any additional FTEs.
Confidence
Automation is a core business at Siemens. Automate your lab with the confidence that we have the expertise to help achieve your laboratory's automation goals.
Every ADVIA Automation Solution is customized to work seamlessly with your selected components. We continue to invest in the future with new software updates, new products, instrument connectivity, and continued R&D investments. Get the results that you have been striving for:
Throughput that increases productivity while reducing errors
Healthcare IT integration
Total hospital design
Turnkey implementation
__________________________________________________________
ADVIA Centrifuge Module
New, fast, flexible Centrifugation Module
The new Centrifuge Module meets growing volume and turnaround requirements with its capacity of 72 tubes per cycle yielding up to 300 tubes per hour. The flexible design enables multiple centrifuge modules to be connected, resulting in increased sample capacity per cycle. New features include:
The ability to process multiple tube types
The flexibility to route tubes based on spin requirements
The ease of prioritizing STAT samples
The support from a proven design
The new Centrifuge Module quickly and efficiently processes STAT and routine samples in intermixed tubes and caps with minimal attention or intervention by the operator. This module showcases another great example of Siemens innovation that supports peak performance for your laboratory.
ADVIA® Automation Solutions offer performance-driven analytical power in a reduced footprint, minimizing lab renovation, and accelerating improvement.
Flexible configurations customized to your needs
Solutions that meet your lab's needs, regardless of size or scope – from routine and university hospitals to large commercial labs
Handles your current workload and can manage your growth seamlessly with minimum expansion
Combine all high-volume testing disciplines into a single, fully automated system
Chemistry
Immunoassay
Hematology
Coagulation
Urinalysis
Pre- and post-analytical sorting and archiving
Centrifugation and decapping
Comprehensive information management
Let us help you configure an ADVIA Automation Solution to meet your needs
ADVIA® WorkCell® Automation Solution                 

ADVIA® LabCell® Automation Solution

Chemistry, Immunoassay, Hematology, Coagulation, Urinalysis

Up to 1,600 tubes per hour

Starting with minimum workload and up to more than 20,000 samples per day

 Up to 2 Sample Managers, each with 1,000-on-board sample capacity and unlimited archiving possibilities

Up to 4 Sample Managers, each with 1,000-on-board sample capacity and
unlimited archiving possibilities

Connects to ADVIA Chemistry XPT System, ADVIA 1800/2400  Clinical Chemistry Systems, ADVIA Centaur® XP/XPT† Immunoassay Systems, Dimension® RxL Max® Integrated Chemistry System, Dimension Vista® Intelligent Lab System, Sysmex® CS-5100 System*, and IMMULITE® 2000/2000 XPi Immunoassay Systems

Connects to ADVIA 120/2120i/Autoslide Hematology Systems, ADVIA Chemistry XPT System, ADVIA 1800/2400 Clinical Chemistry Systems, ADVIA Centaur XP/XPT† Immunoassay Systems, CLINITEK Atlas® Urine Chemistry Analyzer, Dimension RxL Max System, Dimension Vista System, IMMULITE 2000/2000 XPi Systems, Diagnostica Stago STA-R Evolution Hemostasis System, and Sysmex CS-5100 System*
* Not available for sale in the U.S.
Note: Sysmex is a registered trademark of the Sysmex Corporation
The products/features (mentioned herein) are not commercially available in all countries. Due to regulatory reasons their future availability cannot be guaranteed. Please contact your local Siemens Healthineers organization for further details.