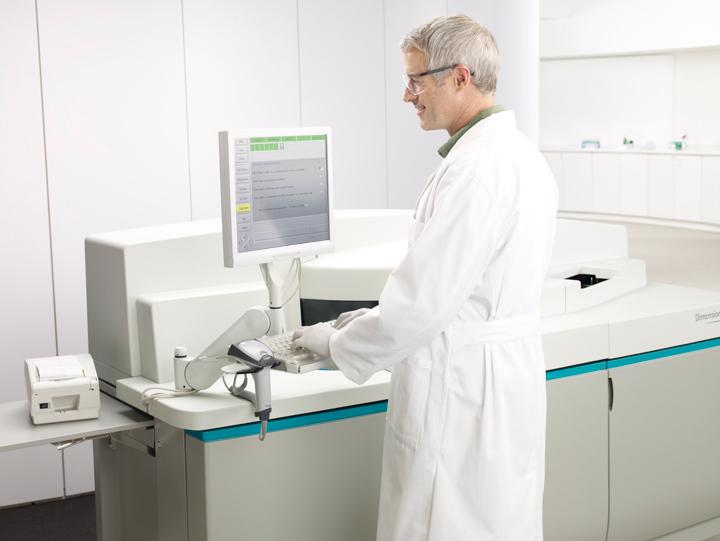 When survival is on the line, the quality of tacrolimus
results cannot be compromised. The Siemens Dimension®
Integrated Chemistry Systems Tacrolimus (TAC) assay
provides confidence in patient results and improved
productivity for complete care of transplant patients.
Confidence in complete transplant-patient care 
The Dimension TAC assay eliminates manual sample pretreatment steps to deliver tangible clinical and analytical benefits. Excellent precision across the entire assay range enables care management of transplant patients at any phase of immunosuppressant drug (ISD) therapy and at any therapeutic target level.
 
Count on reliable results with a proprietary automated pretreatment that minimizes the risk of matrix effect and a predecorated chrome particle that enhances the stability of the reagent.
Deliver sensitive results with a limit of quantification (1 ng/mL) specified by the clinical practice guidelines† for tacrolimus minimization regimens.
Provide an assay with good agreement with the LC-MS/MS reference method.
Avoid errors with a built-in software check that flags false positives.

Fast tacrolimus results: whenever, wherever they are needed 
Since no manual sample-pretreatment steps are required, tacrolimus testing can be added to the routine daily workload of any laboratory, eliminating the need for specialized equipment freeing up valuable personnel.
 
Increase productivity and reduce sample-handling errors with fully automated TAC results available in less than 15 minutes—anytime, day or night.
Manage the health of both the transplant patient and graft with consolidated tacrolimus testing. More than 91 assays are available on the Dimension systems, including the four most commonly monitored ISDs: mycophenolate, cyclosporine, sirolimus, and tacrolimus.
Assay Analytical Performance
Affinity chrome-mediated immunoassay (ACMIA)

Fully automated onboard the system. No manual sample pretreatment required.

1.0–30.0 ng/mL (1.3–39.0 nmol/L)

Limit of Quantification (LoQ)

Reagent Onboard Stability

Closed onboard (at 2–8°C): 30 days
Open well: 2 days