Diabetes: From Early Detection to Better Patient Management (2017)
Diabetes affects millions of people globally. This poster describes the im-portance of testing HbA1c levels of diagnosis and subsequent monitoring of diabetes and prediabetes. It includes information about using the albumin-to-creatinine ratio (ACR) test for early detection of kidney disease.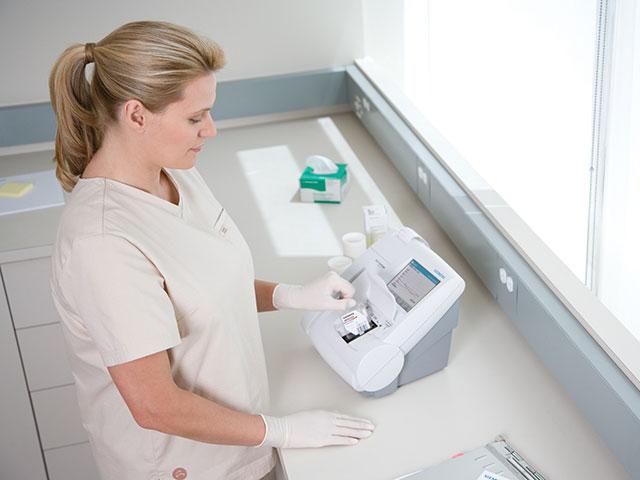 A Pioneering Approach to Diabetes Treatment (2015)
Pediatrician Dr. Henk-Jan Aanstoot is fighting the rising tide of diabetes in children in the Netherlands with an innovative care-and-treatment program that is reducing long-term blood sugar levels in young diabetics and the need for hospital visits.
Implementation of Point-of-Care Testing in an Ambulatory Practice of an Academic Medical Center (2014)
Am J Clin Pathol.: A Massachusetts General Hospital / Harvard Medical School study reported decreases in follow-up phone calls and letters of 89% and 85%, respectively, and a 61% decrease in patient revisits following im-plementation of point-of-care testing, which included the DCA Vantage® An-alyzer*
Diabetes: the Past, the Present, and the Challenging Future (2014)
MLO: The HbA1c level reflects the integrated glucose value over the pre-ceding 12 weeks. Epidemiological studies have shown that HbA1c values are superior to glucose in estimating the risk of microvascular complica-tions.
C-Peptide: Roles in Diabetes, Insulinoma, and Hypoglycemia (2009)
Provides a concise review of C-peptide production and physiology, explores its application in diabetes testing, and reviews its well-established role in hypoglycemia and insulinoma. A comparison of C-peptide assays on the Siemens Healthineers immunoassay systems is also provided.
Perspectives Articles (2009)
Key Opinion Update: Microalbuminuria Test Methods
Siemens spoke with Chris Price, MD, about recent changes regarding urinary albumin testing found in the 2008 recommendations of the American Diabetes Association, Standards of Care in Diabetes.

Early Detection Is Key
Discusses how prompt detection is the key to prevention, and how elevat-ed urine albumin levels are providing an early warning sign for physicians.
Help Fight Diabetes with Iron Man!
Siemens Healthineers and Marvel superhero Iron Man teamed up to join the fight against childhood diabetes. See how Iron Man and Daisy, a young girl with diabetes, are working together as Diabetes Heroes!
Join the fight here