IMMULITE 2000 XPi Immunoassay System
The highly reliable IMMULITE® 2000 XPi system is easy to use and has one of the largest automated immunoassay menus available. Medium- to high-volume laboratories can incorporate specialty and allergy testing into routine workloads to improve productivity and efficiency.
Customized automated startup for daily routine maintenance and quality control scheduling
Reagent onboard stability of 90 days
Tube-top sample cups for micro-sample handling
Home screens with at-a-glance status on a 19 inch touch screen monitor
Options available for direct water feed and bulk solid waste chute
Siemens Automation solutions available through VersaCell® Systems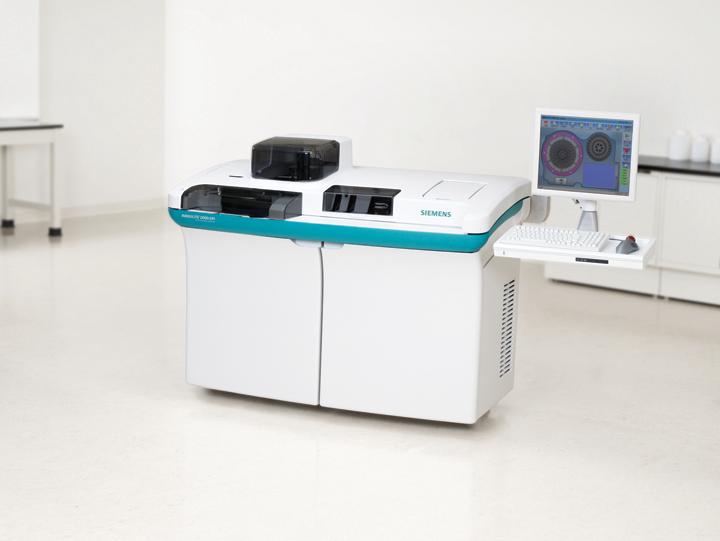 IMMULITE 2000 XPi Immunoassay System
The IMMULITE 2000 XPi system is a continuous random access immunoassay analyzer with a maximum throughput of 200 tests per hour. This design increases workflow and enhances productivity for medium- to high-volume immunoassay laboratories by incorporating specialty and allergy testing into one platform. 
The IMMULITE 2000 XPi system has the reliability expected from the IMMULITE family of products.
Enhancing the Laboratory workflow
90 day onboard stability of reagents minimizes waste
Maximum throughput of 200 tests per hour
No pause sample loading to enhance turnaround time
Re-run, dilution and reflex capabilities to minimize technologist time
AutoStart functionality, including automated daily maintenance and quality control scheduling, reduces hands-on operations
Improving efficiency through the Intuitive and Easy to use Software
19 inch touch screen monitor for easy navigation
Color coded consumable levels always available at a glance
User configurable dilution and reflex testing to meet laboratory needs
Providing flexible solutions
Cost effective automation available through connectivity through VersaCell® solutions
Scalable connectivity to Siemens track based automation solutions
Allergy
AlaTOP Allergy Screen*
Allergen-Specific IgE 3gAllergy™
Allergen-Specific IgG*
Allergen-Specific IgG4*
ECP*
IgE, Total
Anemia
EPO*
Ferritin
Folate
RBC Folate
Vitamin B12
Autoimmune
Anti-CCP
Bone Metabolism
Osteocalcin*
Pyrilinks-D
Cardiac
CKMB*
D-Dimer*
High-Sensitivity CRP
Myoglobin
NT-proBNP*
Troponin I
Diabetes
C-Peptide
Insulin
Microalbumin
Growth
Growth Hormone (hGH)
IGF-I
IGFBP-3
Hepatitis
HBsAb
HBsAb Quantitative
HBc IgM
HBc Total
HBsAg
HBsAg Confirmatory
Inflammation
IL-2R*
IL-6*
LBP*
Metabolic
ACTH
Cortisol
Homocysteine
Oncology
AFP
CA 125 (OM-MA)
CA 15-3 (BR-MA)
CA 19-9* (GI-MA)
Calcitonin
CEA
Free PSA
PAP
PSA
Other
ß2-Microglobulin
Gastrin
Nicotine Metabolites*
Reproductive Endocrinology
Androstenedione
DHEAS
Estradiol
Free Beta HCG*
FSH
hCG
LH
PAPP-A*
Progesterone
Prolactin
SHBG
Testosterone
Unconjugated Estriol
Special ID
EBV-EBNA IgG*
EBV-VCA IgG*
EBV-VCA IgM*
H. pylori IgG
Syphilis
Therapeutic Drug Monitoring (TDM)
Carbamazepine
Digitoxin*
Digoxin
Phenobarbital
Phenytoin
Theophylline
Valproic Acid

Thyroid
Anti-TG
Anti-TPO
Free T3
Free T4
Intact PTH
T Uptake
Thyroid Binding Globulin (TBG)
Thyroglobulin (Tg)
Total T3
Total T4
TSH
TSH, 3rd Generation
TSI (Thyroid Stimulating Immunoglobin)
ToRCH
CMV IgG
CMV IgM
Herpes I & II IgG
Rubella IgG
Rubella IgM
Toxoplasma IgG
Toxoplasma IgM
Veterinary
Canine TLI
Canine Total T4
Canine TSH
Canine Free T4
Random access immunoassay system

Up to 200 tests per hour in batch or random access mode

Samples and Sample Handling

12-16 mm diameter
75-100 mm heights
10 x 50 microtubes with tube-top racks

15 position sample racks; 90 samples fully loaded; Continuous loading

Serum, plasma, urine – assay dependent

Pressure-transducer technology with clot detection, clot flagging, and short sample detection

Automatic Sample
Processing

Reflex, re-run, and dilutions

Code 39, Code 128, Codabar, UPC,and I-2 of 5 (Interleaved)

Reagents and Reagent Handling

Reagent On Board Sability

Allows system to identify lot number, and determine when calibrator adjustment needed, and the tests remaining in the reagent wedge

19 inch touch sensitive screen

Automated daily maintenance cycle completed according to time programmed by the laboratory

200 - 240 v, 6 AMP
50/60 Hz
Did this information help you?
The products/features (mentioned herein) are not commercially available in all countries. Due to regulatory reasons their future availability cannot be guaranteed. Please contact your local Siemens Healthineers organization for further details.