Performance Plans
Maximizing equipment performance at defined costs
Interruptions to clinical operations due to equipment failure impact patient care and jeopardize revenue streams. A service agreement is best when it cuts both ways: It keeps your medical equipment performing strongly and offers plannable costs for essentials like maintenance, repair, and service parts.

Performance Plans are standard service agreements from Siemens Healthineers that support the optimal operation of your medical equipment. Each Performance Plan is based on a solid core foundation of Preventive Maintenance to meet the regulatory, quality, and safety requirements of your industry. They further offer Corrective Maintenance, Service Parts, and a range of innovative service options at fixed costs to improve your clinical operations. Our Performance Plans can be adjusted to your needs and individual requirements – with the option to define high uptime needs where it matters most.
With our Performance Plans, you can enjoy benefits such as
Equipment uptime
enhance equipment performance and benefit from uninterrupted operations as well as compliance with regulatory guidelines through certified OEM know-how and fast support
Quality results
advance your competitiveness and deliver optimal diagnostic and clinical outcomes through expert maintenance and quality assurance
Managed budget
keep your expenditures under control through service coverage tailored to your needs and budget at fixed costs
Choose between Performance PRO, PROTECT, PLUS, and TOP, and tailor our wide variety of services exactly to your needs: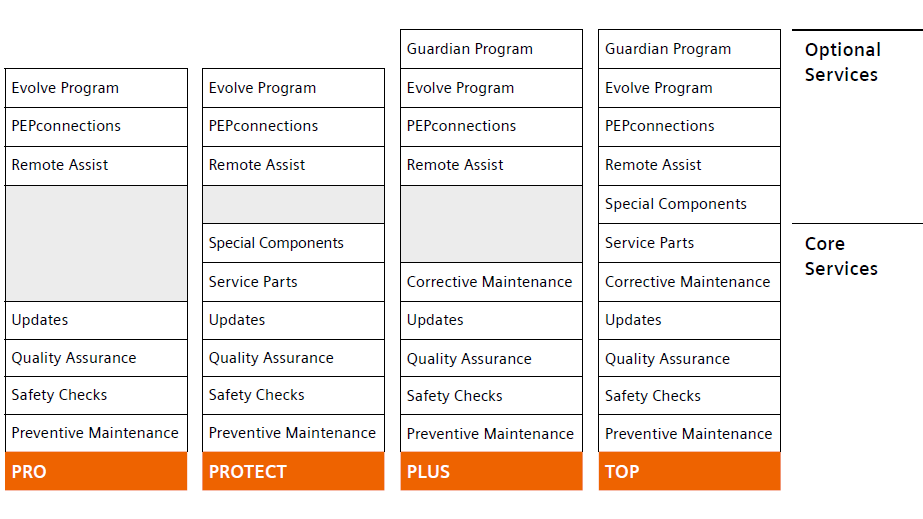 Let's solve it - together.
Connect with us to find out how this service can help accelerate your digital transformation journey.
PEPconnections: Subscription required. Availability of subscription depends on country.
Remote Assist: Prerequisites: stable SRS connection with adequate bandwidth.
Guardian Program: Guardian deliverables vary by device and are not applicable to all Siemens Healthineers equipment. Ask a local Customer Service representative for advice.