Symbia Intevo
SPECT/CT that improves your image
Discover expanded clinical reach as well as a new standard of care and distinction for your organization with the hybrid SPECT/CT technology of Symbia Intevo™.
Move your technology ahead of the rest
Have confidence in knowing that with the improved image quality and localization gained through the addition of CT, you now have the opportunity to offer a new standard of care. With Symbia Intevo, the industry's highest SPECT sensitivity1 and finest reconstructed resolution along with high-performance CT come standard on every system. As a result, you have the assurance of knowing every exam is performed with the highest1 image quality.
Achieve satisfaction through efficient results
In just a single examination, Symbia Intevo SPECT/CT imaging provides a more complete picture of your patient's condition—allowing you to quickly make decisions that result in successful treatment strategies. Shortening the time to reach a sound diagnosis leads to better care as well as a more satisfying experience for all.
Build your business on better outcomes
Generate the kinds of competitive advantages that come from adopting innovative molecular imaging advancements. The advanced SPECT and CT technologies inherent across the Symbia Intevo family of systems let you expand your imaging services and further distinguish yourself in the eyes of referring physicians, patients, and the medical community through a reputation for providing quick and meaningful results.
Diagnostic spiral CT
HD detectors
AUTOFORM™ collimators
Patient positioning monitor
Innovative bed design
Flash 3D iterative reconstruction
CARE Dose4D
Automatic Quality Control (AQC) and Automatic Collimator Changer (ACC)
xSPECT Bone™
xSPECT Quant™
Broad Quantification™
IQ●SPECT™
SPECT/CT helps evaluate for inducible ischemia in a patient with a history of coronary disease
A SPECT/CT myocardial perfusion scan showed no sign of significant stress-induced ischemia or transmural scars, nor inferior and posterior wall attenuation with CTAC. The normal ejection fraction (EF) was 78%.

Scanner: Symbia Intevo™ SPECT/CT
SPECT/CT assists in accurate localization of neuroendocrine tumor metastases
SPECT/CT localizes multiple tracer-avid somatostatin receptor-rich hepatic metastases, thereby helping in accurate localization of lesions and differentiation of lesion from physiological uptake.

Scanner: Symbia Intevo™ SPECT/CT
SPECT/CT localizes peri-auricular lymph sentinel node to aid in precise surgical removal
SPECT/CT imaging precisely defines a small peri-auricular sentinel lymph node due to accurate coregistration of anatomical information from the CT, with focal tracer uptake in the sentinel node seen on SPECT, allowing for precise surgical removal.

Scanner: Symbia Intevo™ SPECT/CT
SPECT/CT accurately defines position of focal uptake to aid in localization of parathyroid adenoma
SPECT/CT-enabled localization of exact anatomical position of the parathyroid adenoma, which helped guide precise surgical exploration

Scanner: Symbia Intevo™ SPECT/CT
SPECT/CT helps characterize liver lesions with correlation of anatomical and functional information
CT shows focal hypodense liver lesions with absence of tracer uptake on SPECT. Correlation of anatomical information of liver lesions by CT and hepatocyte function by SPECT helps characterize the liver cysts.

Scanner: Symbia Intevo™ SPECT/CT
99mTc xSPECT Quant enables robust and reliable measurement of therapeutic effectiveness
xSPECT Quant™ across multiple time points quantifies the decrease of metabolic activity in the bone in a patient with metastases from prostate cancer. In addition, the uptake measured during anti-androgen therapy at the three time points correlated with a decline of prostate-specific antigen (PSA).

Scanner: Symbia Intevo™ SPECT/CT
xSPECT Bone and 99mTc xSPECT Quant demonstrate details of lytic giant-cell tumor in upper fibula
xSPECT Bone™ and xSPECT Quant™ show grossly increased skeletal metabolism in bony mass (SUVmax 91.7) in the upper part of right fibula. The pattern of well-defined focal lytic areas on the CT, with heterogeneous uptake pattern on xSPECT Bone, is strongly suggestive of giant cell tumor of proximal fibula.

Scanner: Symbia Intevo™ SPECT/CT
123I xSPECT Quant enables standardized quantification for appropriate diagnosis in equivocal motion disorders
In addition to a visual read of a SPECT/CT study, xSPECT Quant™ using 123I in 123I-Ioflupane enables standardized quantification assessment to aid in diagnosis in equivocal motion disorders.

Scanner: Symbia Intevo™ SPECT/CT
111In-Octreotide imaging with xSPECT Quant allows a more accurate assessment of neuroendocrine tumor (NET)
xSPECT Quant™ aids in neuroendocrine tumor (NET) assessment with SPECT/CT by determining changes in tumoral and non-tumoral tracer concentration in order to determine tracer retention within lesions and washout in critical organs.

Scanner: Symbia Intevo™ SPECT/CT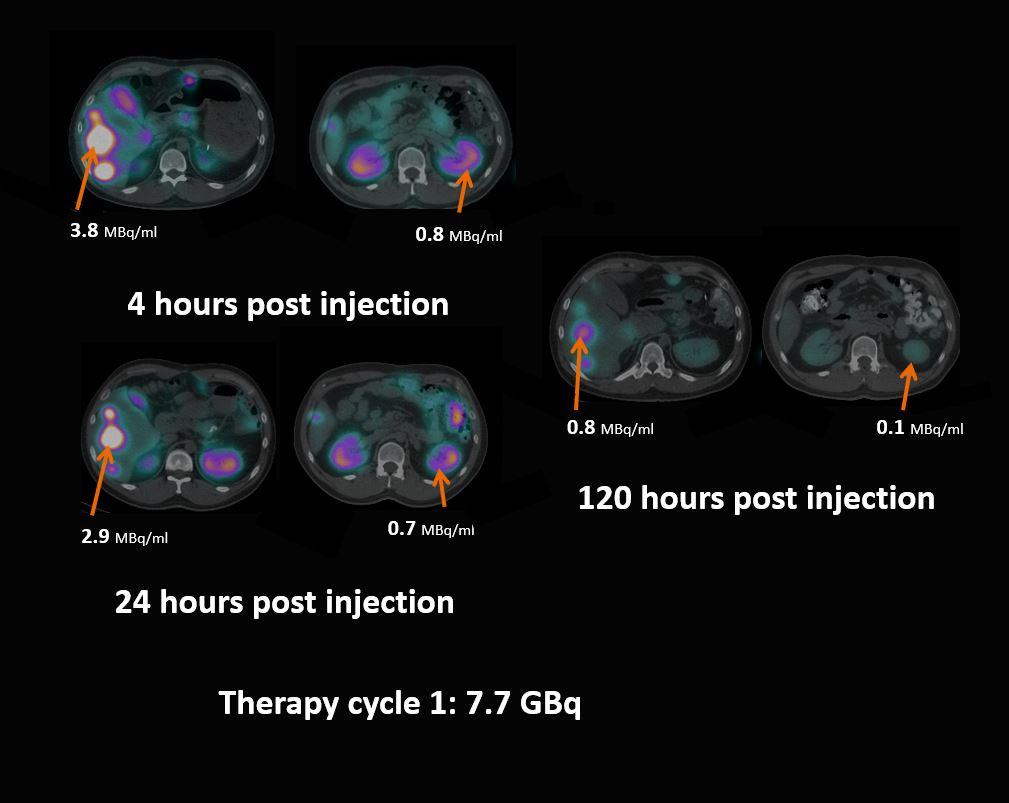 Sequential xSPECT Quant studies determine tracer retention for absorbed dose calculation
Sequential SPECT/CT with xSPECT Quant™, performed at multiple time points, was used to assess renal and tumor absorbed dose. Studies showed significant response of tumor with shrinkage ,as well as significant reduction in uptake, compared to previous study suggesting positive response to radionuclide therapy.

Scanner: Symbia Intevo™ SPECT/CT
SPECT/CT aids in detection of vertebral and pelvic degenerative and inflammatory skeletal pathology
A SPECT/CT study was conducted for evaluation of skeletal pathology. SPECT/CT images confirmed increased radiographic tracer uptake. These findings are consistent with osteitis pubis and degenerative changes of the lower lumbar spine.

Scanner: Symbia Intevo™ SPECT/CT
xSPECT Bone sharply delineates right pars and laminar fracture in pediatric patient
xSPECT Bone™ shows sharp delineation of focal increased uptake corresponding to a chronic left L5 pars defect, as well as an incompletely healed fracture in the right lamina of the L5 vertebra.

Scanner: Symbia Intevo™ SPECT/CT
xSPECT Bone shows excellent anatomical detail of the carpal bones in patient with scaphoid fracture
xSPECT Bone™ sharply delineates hypermetabolism at the scaphoid articular surface of the scaphoid-trapezium joint, which reflects bone remodeling secondary to adjacent healed scaphoid fracture following trauma.

Scanner: Symbia Intevo™ SPECT/CT
xSPECT Bone delineates severity and extent of intertrochanteric hip fracture
A SPECT/CT study to assess the severity and extent of fracture and the status of right femoral head. xSPECT Bone™ sharply delineates the fracture lines, including fragmented bony margins, thereby helping visualize the displaced fragments and their relationship to adjacent soft tissue.

Scanner: Symbia Intevo™ SPECT/CT
SPECT/CT helps evaluate for inducible ischemia in a patient with a history of coronary disease
A SPECT/CT myocardial perfusion scan showed no sign of significant stress-induced ischemia or transmural scars, nor inferior and posterior wall attenuation with CTAC. The normal ejection fraction (EF) was 78%.

Scanner: Symbia Intevo™ SPECT/CT
SPECT/CT assists in accurate localization of neuroendocrine tumor metastases
SPECT/CT localizes multiple tracer-avid somatostatin receptor-rich hepatic metastases, thereby helping in accurate localization of lesions and differentiation of lesion from physiological uptake.

Scanner: Symbia Intevo™ SPECT/CT
SPECT/CT localizes peri-auricular lymph sentinel node to aid in precise surgical removal
SPECT/CT imaging precisely defines a small peri-auricular sentinel lymph node due to accurate coregistration of anatomical information from the CT, with focal tracer uptake in the sentinel node seen on SPECT, allowing for precise surgical removal.

Scanner: Symbia Intevo™ SPECT/CT
SPECT/CT accurately defines position of focal uptake to aid in localization of parathyroid adenoma
SPECT/CT-enabled localization of exact anatomical position of the parathyroid adenoma, which helped guide precise surgical exploration

Scanner: Symbia Intevo™ SPECT/CT
SPECT/CT helps characterize liver lesions with correlation of anatomical and functional information
CT shows focal hypodense liver lesions with absence of tracer uptake on SPECT. Correlation of anatomical information of liver lesions by CT and hepatocyte function by SPECT helps characterize the liver cysts.

Scanner: Symbia Intevo™ SPECT/CT
99mTc xSPECT Quant enables robust and reliable measurement of therapeutic effectiveness
xSPECT Quant™ across multiple time points quantifies the decrease of metabolic activity in the bone in a patient with metastases from prostate cancer. In addition, the uptake measured during anti-androgen therapy at the three time points correlated with a decline of prostate-specific antigen (PSA).

Scanner: Symbia Intevo™ SPECT/CT
xSPECT Bone and 99mTc xSPECT Quant demonstrate details of lytic giant-cell tumor in upper fibula
xSPECT Bone™ and xSPECT Quant™ show grossly increased skeletal metabolism in bony mass (SUVmax 91.7) in the upper part of right fibula. The pattern of well-defined focal lytic areas on the CT, with heterogeneous uptake pattern on xSPECT Bone, is strongly suggestive of giant cell tumor of proximal fibula.

Scanner: Symbia Intevo™ SPECT/CT
123I xSPECT Quant enables standardized quantification for appropriate diagnosis in equivocal motion disorders
In addition to a visual read of a SPECT/CT study, xSPECT Quant™ using 123I in 123I-Ioflupane enables standardized quantification assessment to aid in diagnosis in equivocal motion disorders.

Scanner: Symbia Intevo™ SPECT/CT
111In-Octreotide imaging with xSPECT Quant allows a more accurate assessment of neuroendocrine tumor (NET)
xSPECT Quant™ aids in neuroendocrine tumor (NET) assessment with SPECT/CT by determining changes in tumoral and non-tumoral tracer concentration in order to determine tracer retention within lesions and washout in critical organs.

Scanner: Symbia Intevo™ SPECT/CT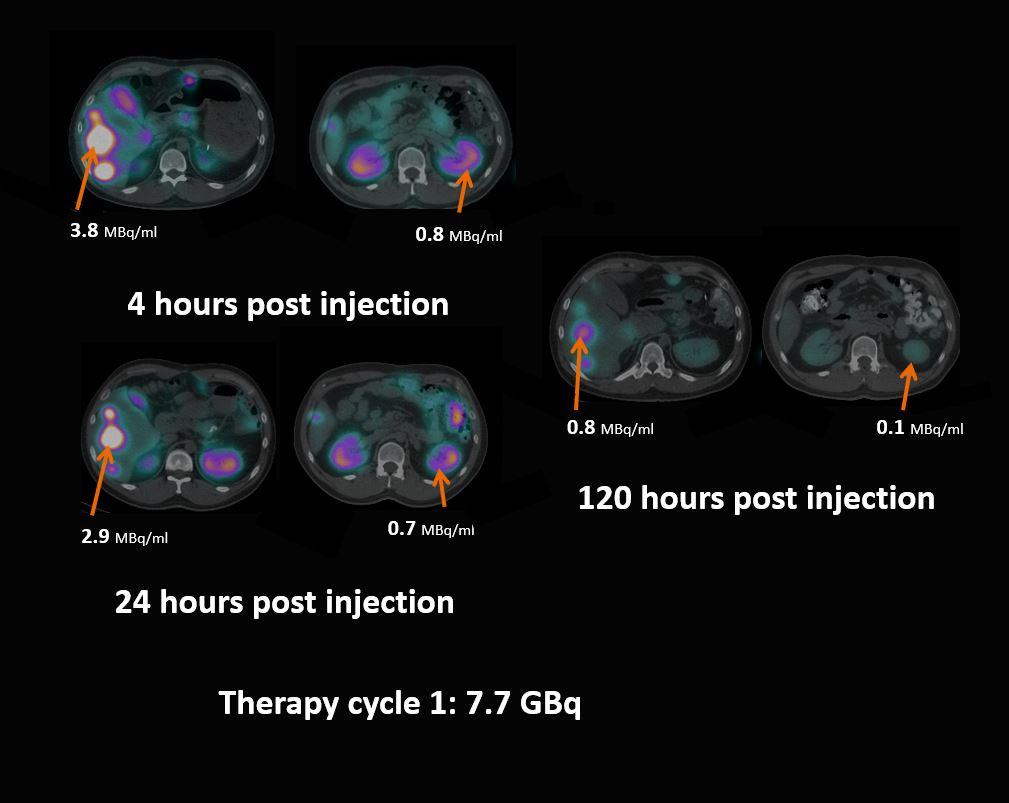 Sequential xSPECT Quant studies determine tracer retention for absorbed dose calculation
Sequential SPECT/CT with xSPECT Quant™, performed at multiple time points, was used to assess renal and tumor absorbed dose. Studies showed significant response of tumor with shrinkage ,as well as significant reduction in uptake, compared to previous study suggesting positive response to radionuclide therapy.

Scanner: Symbia Intevo™ SPECT/CT
SPECT/CT aids in detection of vertebral and pelvic degenerative and inflammatory skeletal pathology
A SPECT/CT study was conducted for evaluation of skeletal pathology. SPECT/CT images confirmed increased radiographic tracer uptake. These findings are consistent with osteitis pubis and degenerative changes of the lower lumbar spine.

Scanner: Symbia Intevo™ SPECT/CT
xSPECT Bone sharply delineates right pars and laminar fracture in pediatric patient
xSPECT Bone™ shows sharp delineation of focal increased uptake corresponding to a chronic left L5 pars defect, as well as an incompletely healed fracture in the right lamina of the L5 vertebra.

Scanner: Symbia Intevo™ SPECT/CT
xSPECT Bone shows excellent anatomical detail of the carpal bones in patient with scaphoid fracture
xSPECT Bone™ sharply delineates hypermetabolism at the scaphoid articular surface of the scaphoid-trapezium joint, which reflects bone remodeling secondary to adjacent healed scaphoid fracture following trauma.

Scanner: Symbia Intevo™ SPECT/CT
xSPECT Bone delineates severity and extent of intertrochanteric hip fracture
A SPECT/CT study to assess the severity and extent of fracture and the status of right femoral head. xSPECT Bone™ sharply delineates the fracture lines, including fragmented bony margins, thereby helping visualize the displaced fragments and their relationship to adjacent soft tissue.

Scanner: Symbia Intevo™ SPECT/CT
SPECT/CT helps evaluate for inducible ischemia in a patient with a history of coronary disease
A SPECT/CT myocardial perfusion scan showed no sign of significant stress-induced ischemia or transmural scars, nor inferior and posterior wall attenuation with CTAC. The normal ejection fraction (EF) was 78%.

Scanner: Symbia Intevo™ SPECT/CT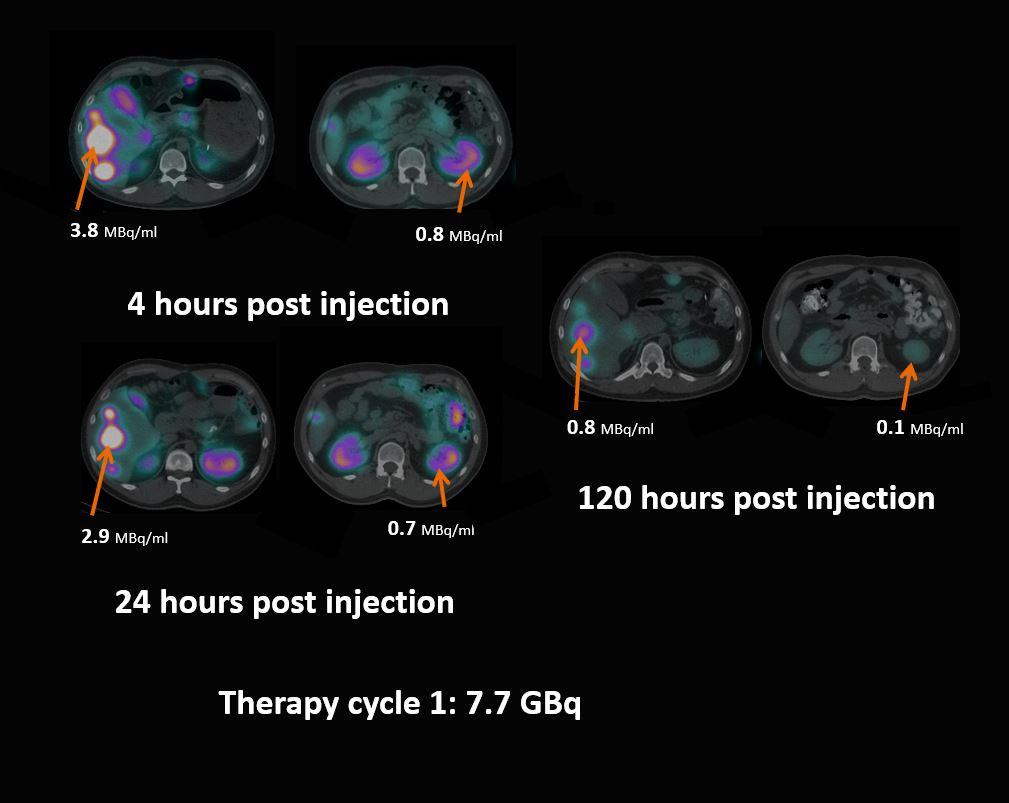 System sensitivity (LEHR at 10 cm)

Static, dynamic, gated, SPECT, gated SPECT,
dynamic SPECT, whole-body, whole-body SPECT,
SPECT/CT, xSPECT™
3
Accuracy of Bq/ml Quantification in Reference to NIST, Measured Using NEMA NU2-94 Test Phantom for 99mTc with LEHR and 177Lu MELP