teamplay Insights1
Maximize your insights, optimize your value
How do you find the right balance between optimized resource utilization and the possibility to offer slots for priority and emergency cases?

How would you make decisions on how to reduce wait times for diagnostic imaging appointments, all the while managing patient backlog?

How do you conduct reporting of performance indicators to monitor whether you have achieved your set goals? 

teamplay Insights …
provides deep performance insights, helping to optimize workflows and resource utilization, e.g., to better understand numbers of no-shows
enables tailored, in-depth analytics, helping to tackle sophisticated challenges like requirement patterns for priority cases
assists in achieving individual performance targets by interactive trackers and standardized reports
Our solution for performance insights
With teamplay Insights, you get broad access to your radiology department data to discover insights you could not have found before. Build highly flexible, personalized and interactive data visualization boards for both a monitoring view of your radiology department as well as for a deep dive analysis in specific use cases. Create trackers to check and report whether you will reach your set goals. Analyze and better understand numbers of no-shows and requirement patterns for priority cases. Take deep dives into your dose data to help better understand reasons behind dose outliers, and then decide on measure to be taken to remedy said outliers. Or, find out what the busiest times are to schedule enough staff. With this knowledge at hand you can take well-informed decisions to improve resource utilization. Maximize your insights, optimize your value.
Investigate how to increase throughput to reduce wait times for diagnostic imaging appointments with your institution specific metrics in your teamplay Insights dashboard: check which scan protocol has the most potential to be shortened in order to to scan more patients in equal time. Track your progress using interactive trackers. Reduce wait times and achieve performance targets easily.
Find out how to eliminate inefficiencies throughout your whole institution while delivering high-quality care with teamplay Insights in your personalized dashboard. Compare the performance of your locations, the average exam duration and the number of dose events per scanner. Identify your best practices to achieve both; optimized resource utilization and standardized care.
What does teamplay Insights do for you?
Get broad and convenient access to operations data, easily build your very own metrics and graphs, simply drag and drop
Track individual targets and KPIs (Key Performance Indicators) with customizable dashboards
Create tailored communications to management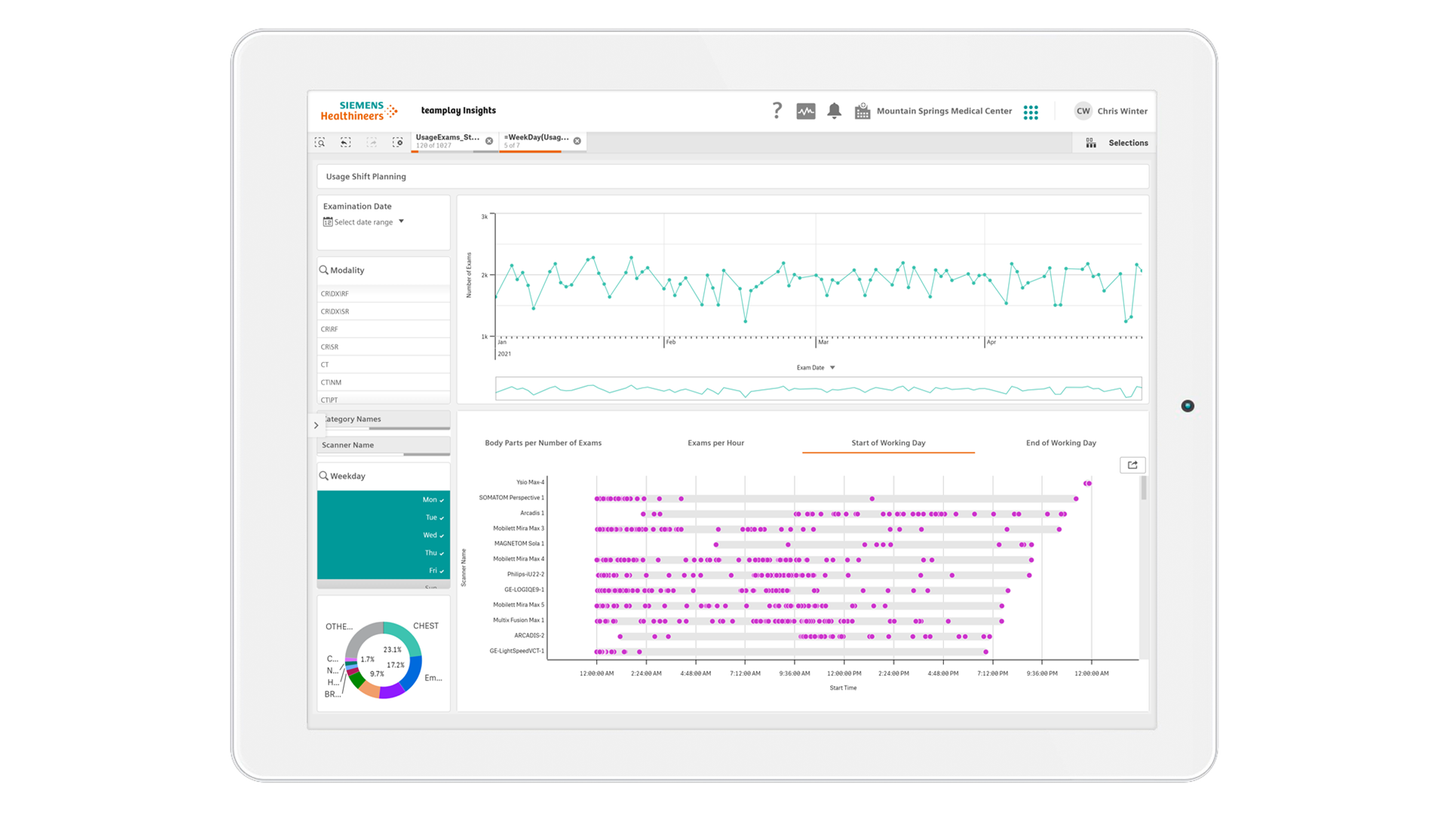 You want to ensure the appropriate scheduling of staff for your radiology department. In this overview, you see usage patterns per scanner, including opening hours and peak times. As well as providing an objective rational for staff scheduling and more.
You would like to shorten the duration of exams to enable the scanning of more patients per day to reduce your patient backlog. With which protocols should you use to start? Shortening the duration of the exams which are performed most often (size of box) and having the longest duration (dark color) will have the most impact on your workflow. You can see in this example that you need to start to analyze the MRI Prostate protocol.
You need to report the key performance indicators (KPI) to management to monitor individual target achievement. You can create trackers for the goals you set for your department and use them in your regular reports. In this case, your goal is to reduce exam durations.
"teamplay Insights is an indispensable tool for a multi-system multi-site activity. It gives us the opportunity to analyze and better understand the flows related to our activity by evaluating any corrective action. It's hard to remember our life before teamplay arrived, as this tool has become a part of our daily routine."
Michel Paret
Service head MRI, GIE IRMAS, Saint-Priest-Jarez, France
1
teamplay products are not commercially available in all countries. Due to regulatory reasons their future availability cannot be guaranteed. Please contact your local Siemens Healthineers organization for further details.