SOMATOM go.Top
Destáquese en procedimientos avanzados de TC
SOMATOM go.Top
Su SOMATOM go. Escáner de TC para obtener excelentes resultados en todo el espectro clínico
SOMATOM® go.Top brinda soporte a todos los usuarios para proporcionar la mejor exploración posible para cada tipo de paciente, sin importar las demandas y los desafíos clínicos. Está diseñado para la personalización de procesos y cuidados, lo que permite que cada operador se adapte de manera óptima a cada paciente e indicación, mientras interactúa con los pacientes de una manera más personalizada que nunca antes. Produzca excelentes resultados para todo el espectro clínico, incluida la obtención de imágenes de energía dual, y ofrezca lo que otros no pueden hacer, para un negocio de TC exitoso.
Características y Beneficios
"The mobile workflow: More than ever, the patient is in the center of the whole examination."

Carla Susana Ribeiro Pinto
CT radiographer at Centro Hospitalar de São João, Porto, Portugal
Work more efficiently and patient-friendly
We built SOMATOM® go.Top around a new mobile workflow to bring an unparalleled level of flexibility and mobility to your daily CT procedures.
The tablet gives you total freedom over how you work and lets you stay with the patient for longer
The integrated injector arm lets you position the injector where you need it, when you need it, and makes for a neat and organized working environment
With the new workplace design you can set up the workstation in the same room, outside the scan room, or in a separate control room
The integrated 2D camera makes it easy to spot even micro-movements and keep the patient in the right position
The easy-to-use Bluetooth remote control makes CT workflow processes more efficient
 
With the SOMATOM go.Top CT scanner, users can spend most of the time with the patient – which results in higher efficiency, higher patient comfort, and fewer motion artifacts.
On the left: A standard workflow. The CT operator spends most of the time in the control room.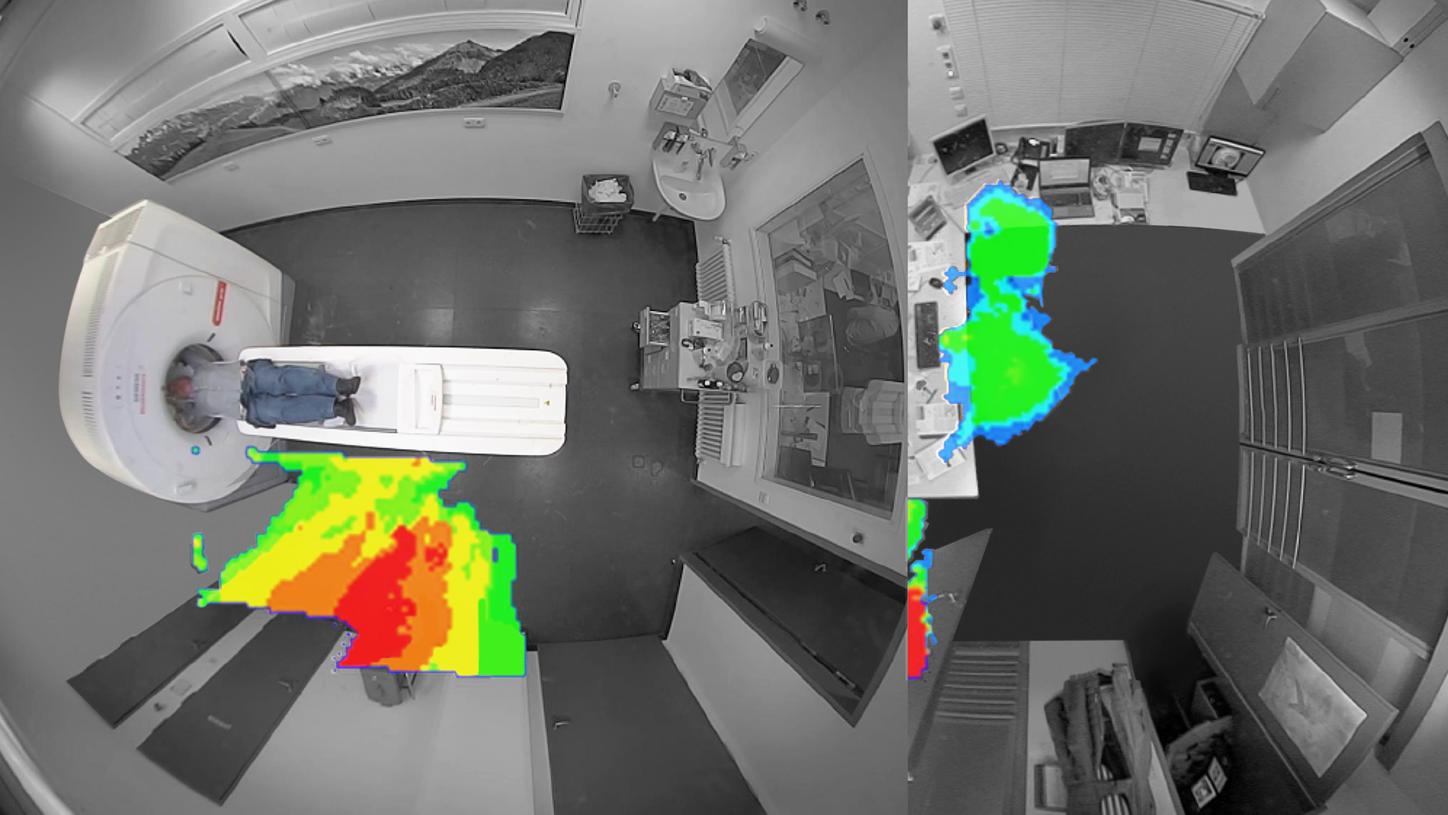 In comparison, the unique new mobile workflow of SOMATOM go.Top, based on tablet-operation and automation.
Automate your workflow with GO technologies
Our GO technologies are now available for the first time in both routine scanning and advanced clinical fields. They help standardize and simplify all departmental processes – from patient setup to image distribution, archiving, and reading.
Scan&GO: a tablet app that allows you to control scans remotely. In cardiac CT, Scan&GO even simplifies electrode handling and ECG monitoring.
Check&GO: an intelligent algorithm that flags up problems with coverage or contrast media distribution as they occur. It can ultimately reduce the number of recalls.
Recon&GO: performs zero-click postprocessing, making it part of the standard reconstruction tasks. It saves time and cuts down on workflow steps.
CT View&GO: an all-in-one, cross-specialty viewing solution that provides a large variety of clinical applications in one workflow. It is also available as an independent console.
 
Go for the full clinical spectrum with patient-centric technologies
SOMATOM go.Top enables you to confidently offer specialized CT procedures, including Dual Energy and cardiac CT, for additional diagnostic information. With patient-centric technology and workflows to optimally adapt to each type of patient, all operators can turn challenging fields into routine – and serve the full clinical spectrum.
Speed and standardization in acute care
Help your operators perform at 100 percent, regardless of experience. Our workflows and technology allow you to move fast and make confident, patient-focused decisions when every second counts.
 
Routine-ready Dual Energy
Increase your diagnostic confidence for all types of patients with TwinBeam Dual Energy. By acquiring low- and high-kV datasets in a single scan, it visualizes information that would otherwise go unseen – with no dose penalty.
 
Clinical consistency in cardiac CT
Stay ahead of the competition with optimized preparation, fast scanning, and standardized results in every cardiac case. Seamless integration of GO technologies allows you to devote more time to your patient.
 
Sensitive scanning in pediatrics
Put the wellbeing of your little patients – and their parents – first. Use the mobile workflow to stay close to the child as you prepare the scan, and minimize radiation exposure with dedicated pediatric solutions and the Tin Filter.
 
Patient-centric technologies in routine CT
Deliver consistent and reliable results in routine CT. Guided workflows and cutting-edge technologies allow you to optimally adapt to each patient in routine oncology, vascular, orthopedic, and neuro imaging.
 
Intuitive functions in CT-guided intervention
Our tablet-based solution Guide&GO is the latest innovation in CT-guided intervention. Intuitive functions help you accurately navigate and target, while advanced dose features protect both you and your patients.
 
Give your CT business a new push forward
Setting yourself apart with a wide variety of clinical cases is a chance to give your CT business a new push forward. Our guided workflows in Dual Energy, for instance, have the potential to significantly improve your reputation. 
Additional revenues can also be generated through higher throughput – based on quicker positioning, simplified workflows, and the high-performance Athlon® tube. Add to that lower installation expenditure and running costs, and you'll see why we say that the SOMATOM go. platform was built to make success your daily business.
Benefit from premium support
The Siemens Healthineers Connect Plan1 is an all-new service plan that comes standard with the investment of SOMATOM go.All. It fully utilizes the capabilities of the connection to our digital platforms – SRS, PEPconnect2, teamplay Fleet – and to our remote services. This allows you to receive seamless support. It covers the second and third year after system purchase and gives you the financial confidence of premium service, matching your total cost of ownership requirements. Additionally, you can optionally upgrade to a full service contract.
Siemens Healthineers Connect Plan 
Multi-year service package, included in the system purchase price, to improve scanner uptime
Affords you financial certainty from day one
Many aspects of service – including spare parts3 – covered in the scanner purchase price
Higher uptime, improved workflows, efficient support, and streamlined training
Blended learning with PEPconnect2
The industry's first online personalized education experience
Combines self-study training material, face-to-face training, and online learning
Staff training can begin even before system delivery
Especificaciones Técnicas
| | |
| --- | --- |
| | |
| | |
| | 7.0 MHU (17.5 MHU equivalent value) |
| | 75 kW (187 kW equivalent value with SAFIRE4) |
| | 70, 80, 90, 100, 110, 120, 130, 140 kV |
| | |
| | |
| | |
| | |
SOMATOM® go.Top has a patient table with a scannable range up to 160 cm that can hold up to 227 kg. The table is equipped with newly designed accessories such as a paper roll holder, an infusion stand, and a storage box on the side. 
Upgradable to the table that can hold up to 300 kg and has an extended scannable range of 200 cm.
¿Fue útil esta información?
1Powered by Smart Remote Service. Siemens Healthineers Connect Plan is subject to regional adaptions/restrictions.
2PEPconnect availability is subject to regional restrictions.
3Excluding X-ray tube and tablet. Additional tube and tablet coverage solutions are optionally available.
4In clinical practice, the use of SAFIRE may reduce CT patient dose depending on the clinical task, patient size, anatomical location, and clinical practice. A consultation with a radiologist and a physicist should be made to determine the appropriate dose to obtain diagnostic image quality for the particular clinical task.