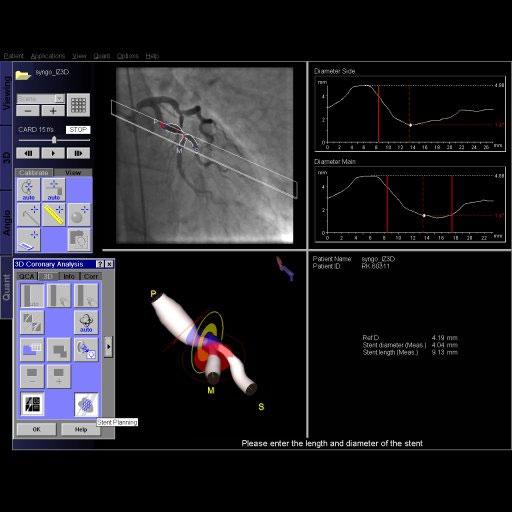 The 3-dimensional quantification tool for coronary arteries
syngo IZ3D offers automated detection and 3D analysis of single and bifurcated coronary arteries from angiographic X-ray projection images. Out-of-plane magnification and foreshortening errors are minimized by calculating true geometric shape in 3D space from two or more 2D X-ray projections.
An interactive rendered view of the coronary artery in 3D helps you visualize and assess the geometry. syngo IZ3D offers improved analysis of difficult lesions and segment anatomy.
Benefits
Results are validated to be accurate and reproducible
Eliminates out-of-plane magnification and foreshortening errors
Automatic calibration, no catheter calibration required
Interactive 3D rendered view for assessment of shape
Fast and user friendly
For scientific studies and patient care
A clinical study conducted by:
- Biomedical Engineering, Erasmus MC, Rotterdam,
- The Netherlands Interventional Cardiology, Erasmus MC, Rotterdam,
- The Netherlands LKEB, Department of Radiology, Leiden University Medical Center, Leiden,
- The Netherlands Inter Cardiologic Institute The Netherlands, Utrecht, The Netherlands
compares the results of syngo IZ3D (based on CAAS QCA-3D, Pie Medical) against ANGUS intravascular ultrasound and reports a high correlation of the 3D geometry and the vessel lumen between both methods.

Study published in
Catheterization and Cardiovascular Interventions 73:620–626 (2009)
Download study here
(Pie Medical Imaging)
The statements by Siemens' customers described herein are based on results that were achieved in the customer's unique setting. Since there is no "typical" hospital and many variables exist (e.g., hospital size, case mix, level of IT adoption) there can be no guarantee that other customers will achieve the same results.
System
ARTIS pheno
Artis Q
Artis Q.zen
Artis zee
Other
Please note: Additional technical prerequisites may apply. Upon receiving your request, your local Siemens representative will clarify whether your system meets the requirements.