Mammomat Select
Makes your day the easy way
Providing access to mammography for early breast cancer detection can be a challenge, especially when budgets are limited. An analog system that is easy to use and provides images at the right dose is a cost-effective way to offer women the standard of care they need.

Mammomat Select is a system that combines proven expertise in analog mammography with smart features. It allows for ease of use, lower dose and minimal cost of ownership. Improve your financial performance with Mammomat Select.
Siemens Healthineers' Mammomat Select is our analog mammography system designed to make your day the easy way. Discover all the benefits and features of Mammomat Select at a glance.
Easy to touch screen - Streamline your workflow
Reduce staff training requirements to a minimum with the EasyTouch user interface.
Gain full access to the exposure controls from a single console
Enjoy easy operation and automated procedures throughout the mammography exam
Change dose settings and compression force with just one touch 
Easy to dose right - Select the right dose for each woman
Give every woman the same high standard of care with dose saving features that keep exposure to a minimum.
Obtain the right dose easily for each exam with OpDose
Achieve optimal image quality with breast thickness and Automatic Exposure Control (AEC) measurements
Easy to invest low - Profit from flexibility in service and upgrades
Reduce the total cost of ownership with compact space requirements, easy installation and flexible service packages.
Configure the mammography system according to your needs
Increase patient throughput with features like isocentric rotation and fully motorized system movements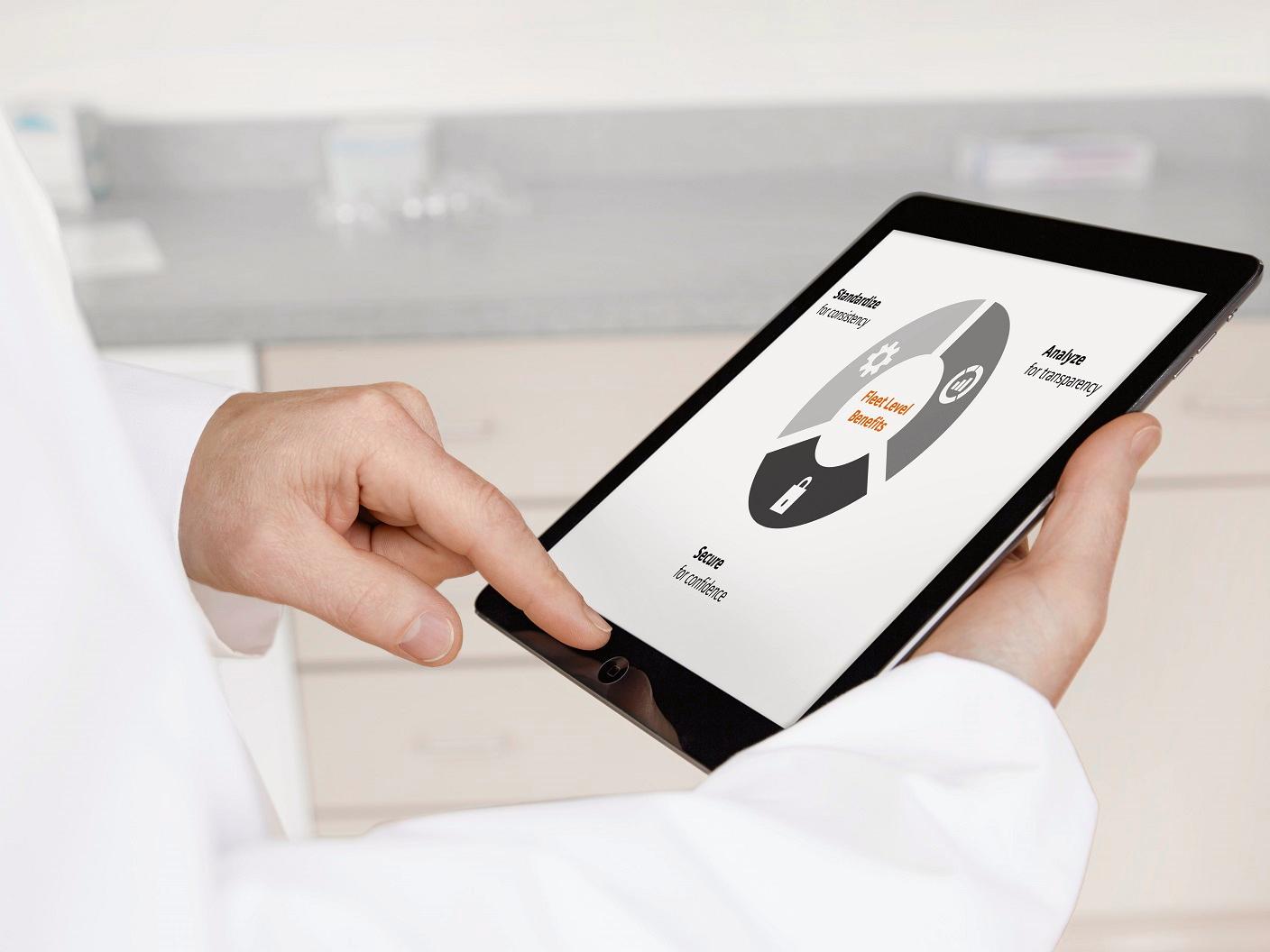 Fleet Level Benefits - unlock your potential and increase the efficiency of your X-ray department
High complexity in diagnostic imaging makes it challenging to run the radiology department efficiently. Siemens Healthineers helps you to reduce complexity by offering specific solutions across the entire X-ray portfolio which let you standardize, analyze and secure the imaging fleet. In this way, you can gain valuable Fleet Level Benefits: consistency, transparency and confidence. This results in improved outcomes, increased efficiency and greater staff and patient satisfaction.
Standardize for consistency
Analyze for transparency
Secure for confidence
An efficient and easy-to-use analog mammography system can help you offer your patients a high standard of care. Have a look at what our customers say1 about their experience with Mammomat Select.
Great image quality with less effort
"We are very happy with the new Siemens Mammomat Select. It is easy for the technicians to use, which in turn helps us to optimize examination times. The image quality is great, giving me more confidence in my diagnosis."
Mammography equipment for a more comfortable examination
"With its features, Mammomat Select fits into our workflow, making things faster and more personalized. Its ergonomic design is better for patients and more user-friendly for technicians. The touch console makes our job much easier."
The right choice for easy and fast examination
"Mammomat Select is modern and easy to use. The X-ray exposure is very fast after pressing the button. Patients like the soft compression speed. The touchscreen panel is very simple to use."
Mammomat Select is a system that combines proven expertise in analog mammography with smart features. Take a look at the technical data for more information.
| | |
| --- | --- |
| | |
| | Film-Screen or CR cassette |
| | |
| | |
| | – 135° to + 180°, motorized, isocentric rotation with preselectable rotation |
| Vertical travel, motorized | 75 cm to 133 cm (object table) |
| | |
| | |
1
The statements by Siemens Healthineers' customers described herein are based on results that were achieved in the customer's unique setting. Since there is no "typical" hospital and many variables exist (e.g., hospital size, case mix, level of IT adoption) there can be no guarantee that other customers will achieve the same results.