Cinematic Anatomy

Your virtual learning experience in anatomy education
Cinematic Anatomy is an immersive application designed to improve teaching anatomy at medical universities, schools and hospitals while enhancing scientific and interdisciplinary interaction between medical stakeholders and helping to increase patient communication.
Based on the patented Cinematic Rendering algorithm CT and MR DICOM data are visualized in a three-dimensionally photorealistic view enabling to easily understand the spatial characteristics of anatomical structures and to teach the diversity and complexity of human anatomy.
Explore the application with our Demo Movies
Cinematic Anatomy improves anatomy education with various features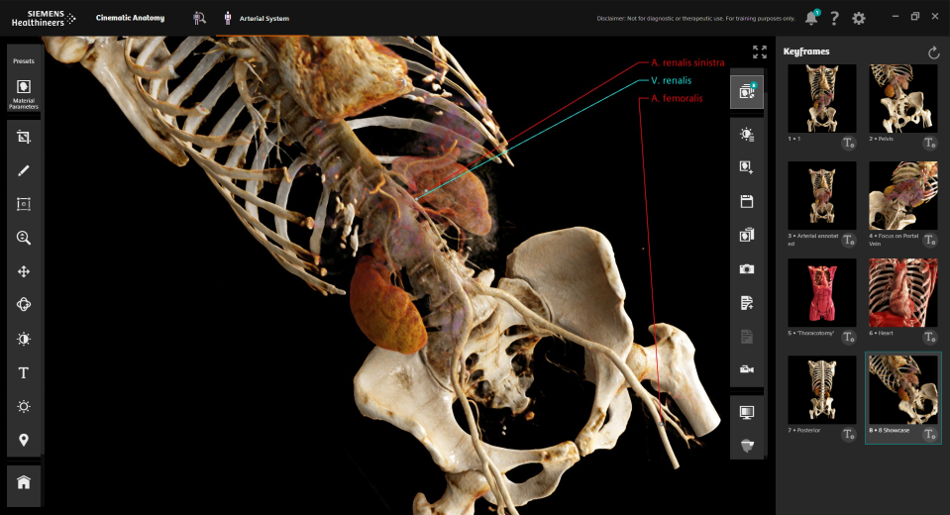 Cinematic Anatomy helps to address your needs
Cinematic Anatomy helps students to
Better and faster understand anatomical structures and spatial characteristics through photorealistic 3D visualization
Combine knowledge from 2D anatomy books with 3D visualization
Understand the diverse and complex individual anatomy, anatomical variations, pathology, and age-related degeneration
Reduce dependency on body donations while decreasing the cost of cadaver courses, models and illustrative materials
Enhance your institution's reputation and its attractiveness to students   
Cinematic Anatomy helps you to 
Sustain patient loyalty while increasing patient satisfaction with improved visualization of complex anatomical problems
Enhance training of resident physicians with CR for better understanding of spatial relations
Enhance workforce productivity while reducing time with improved interdisciplinary communication among physicians and patients.
Provide accurate spatial visualization of research results and ease of sharing contents and images with peers
Enhance your reputation as cutting-edge institution 
Cinematic Anatomy helps you to 
Improve visual presentation with a flexible setup for new subject areas. 
Open up new content fields with the possibility to explain medical content in an easy way and attract your institutions for a new audience 
Enhance your institution´s reputation and differentiate from competitors
Explore what our customers think about Cinematic Anatomy
"The advantage of virtual dissection with Cinematic Anatomy – apart from the cost – is that it's reversible. And because the photorealistic visualizations are from real patient cases, you still feel a high emotional engagement of the students."1
Franz A. Fellner, mD, Head of Radiology Johannes Kepler University Linz, Austria
"The quality of the visualization of structures and tissues with Cinematic Rendering is amazing. It allows for lively lectures and intensifies the understanding of anatomical structures and spatial characteristics through photo-realistic visualization. I am totally convinced that this application must and will find its way into the anatomy education in the near future."1
Prof. Dr. Michael Scholz, Anatomical Institute Friedrich-Alexander University Erlangen
Cinematic Anatomy Q&A sessions
Would you like to discover more about the new application from Siemens Healthineers using MR and CT cinematic rendering to help you teach anatomy. Please register with the contact form below.
Available dates:
Q&A sessions for new / trial license user
Mondays 3.30 – 4.30 pm (CET) 
Thursdays 8.00 – 9.00 am (CET)   
Cinematic Anatomy Expert Talk series - latest sessions
Did you miss our sessions? Just watch the replay and relive the highlights.
Try it out and download your Cinematic Anatomy application now.
After installing the software enter your product license key when opening the application.

Explore more materials about Cinematic Anatomy
Vond u deze informatie nuttig?
Wilt u ons uw feedback geven?
1
The statements by Siemens Healthineers' customers described herein are based on results that were achieved in the customer's unique setting. Since there is no "typical" hospital and many variables exist (e.g., hospital size, case mix, level of IT adoption) there can be no guarantee that other customers will achieve the same results.